Recipes: Sweeten up Diwali with yummy desserts
Sweet somethings for your festive table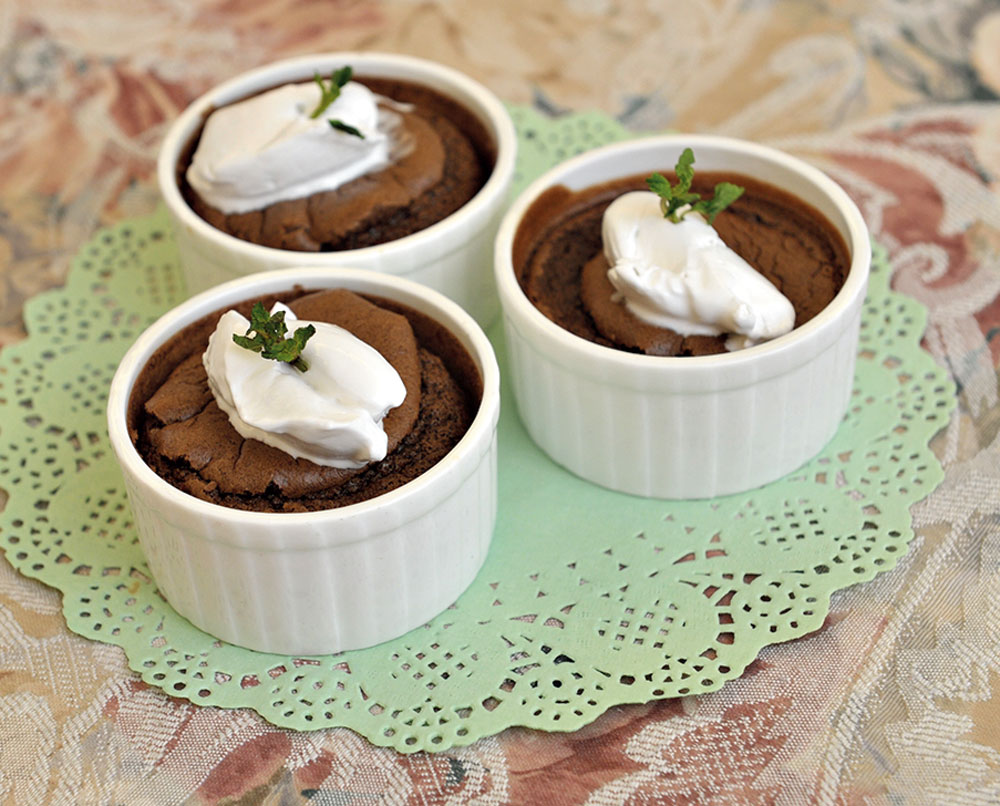 ---
---
Dark Chocolate & Coffee Souffle

Ingredients:
50g dark chocolate
2tbsp corn flour
1tbsp cocoa powder
1tsp instant coffee powder
4tbsp powdered sugar
150ml milk
3 eggs
Method:
Separate the egg whites and yolks and discard one egg yolk.

Preheat oven to 190°C.

Put the chocolate in a pan. Add in the corn flour, cocoa powder, coffee powder, 1tbsp sugar and milk. Heat gently to melt the chocolate. Stir until the mixture thickens. Allow to cool a bit and then stir is the 2 egg yolks.

Using a hand beater, whisk the egg whites till stiff peaks form. Keep adding the remaining sugar and whisking until the whites are nice and firm.

Stir ¹/³ rd of the whites into the chocolate-yolk mixture and fold gently to mix well. Fold in the remaining whites and mix until well combined. Do not over-mix to retain the light, airy consistency.

Divide this between six ramekins or servings dishes and bake for about 12-15 minutes until the souffles are well risen.

Spoon a dollop of fresh cream on top and garnish with a fresh mint sprig. Serve immediately.

Pritika Sen Suraiya, Owner of Caramelle, Calcutta

Almond Orange Florentine's
Ingredients:
2 egg whites
100g powdered sugar
260g almond flakes
1 orange zest
Method:
Mix all the ingredients together.

Dip your hand in a bowl of water and pick up portions of the mix to make little mounds on the lined pan, well spaced apart.

Dip a fork in the water and flatten each mound very thinly. Try to make them as thin as possible without creating too many gaps between the almond slices.

Place the pieces on a tray and bake at 110°C for 10-12 mins.

Take it out and garnish it with chocolate ganache and a chocolate chips.

Sneha Singhi, Owner of Paris Cafe, Calcutta

Dates & Almond Torte Cake
Ingredients:
½ cup dates chopped
50g sugar
30g butter
130g almonds
½ tsp cinnamon powder
½ tbsp flour
1tsp vanilla essence
2 eggs
Method:
Preheat oven to 180 °C. Grease a baking tin with butter and dust with a light coat of flour. Grind the almonds and half the sugar in a mixer until fine crumbs are obtained. Chop the dates into small pieces.

Combine the almond-sugar mixture, chopped dates, cinnamon powder and flour and give it a dry mix.

Separate the egg whites and yolks. Melt the butter separately.

Combine remaining sugar, egg yolks, melted butter and vanilla essence.

Fold egg yolk mixture into the dry ingredients and mix well.

Separately using a hand mixer, whisk the egg whites until stiff peaks form. Now, lightly fold the whites into the almond-yolk mixture and mix well to form a light cake batter.

Pour into the greased cake tin and bake at 180°C for 30-35 mins. Cool completely then de-mould.

Garnish with fresh orange slices and flaked almonds.

Pritika Sen Suraiya, Owner of Caramelle, Calcutta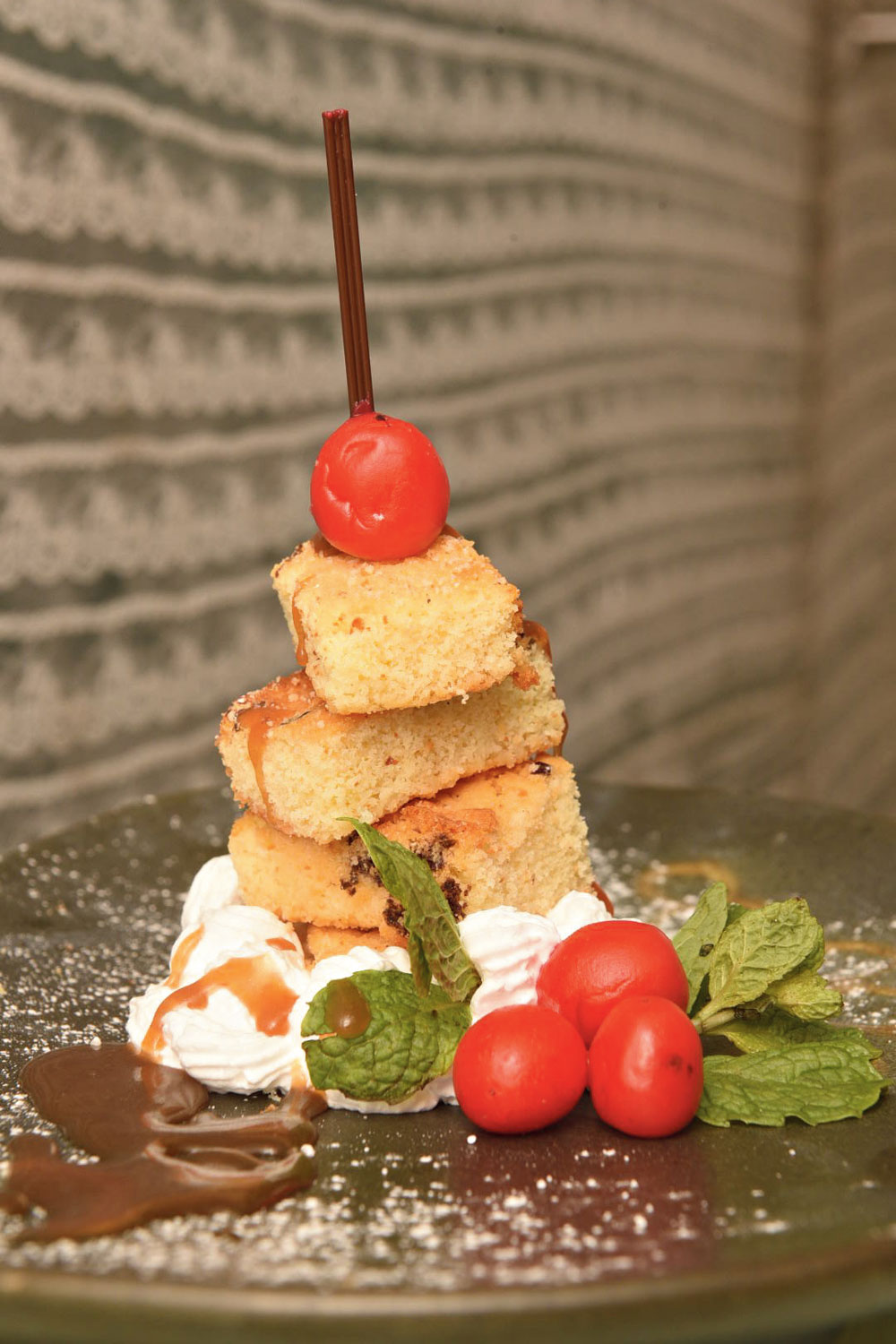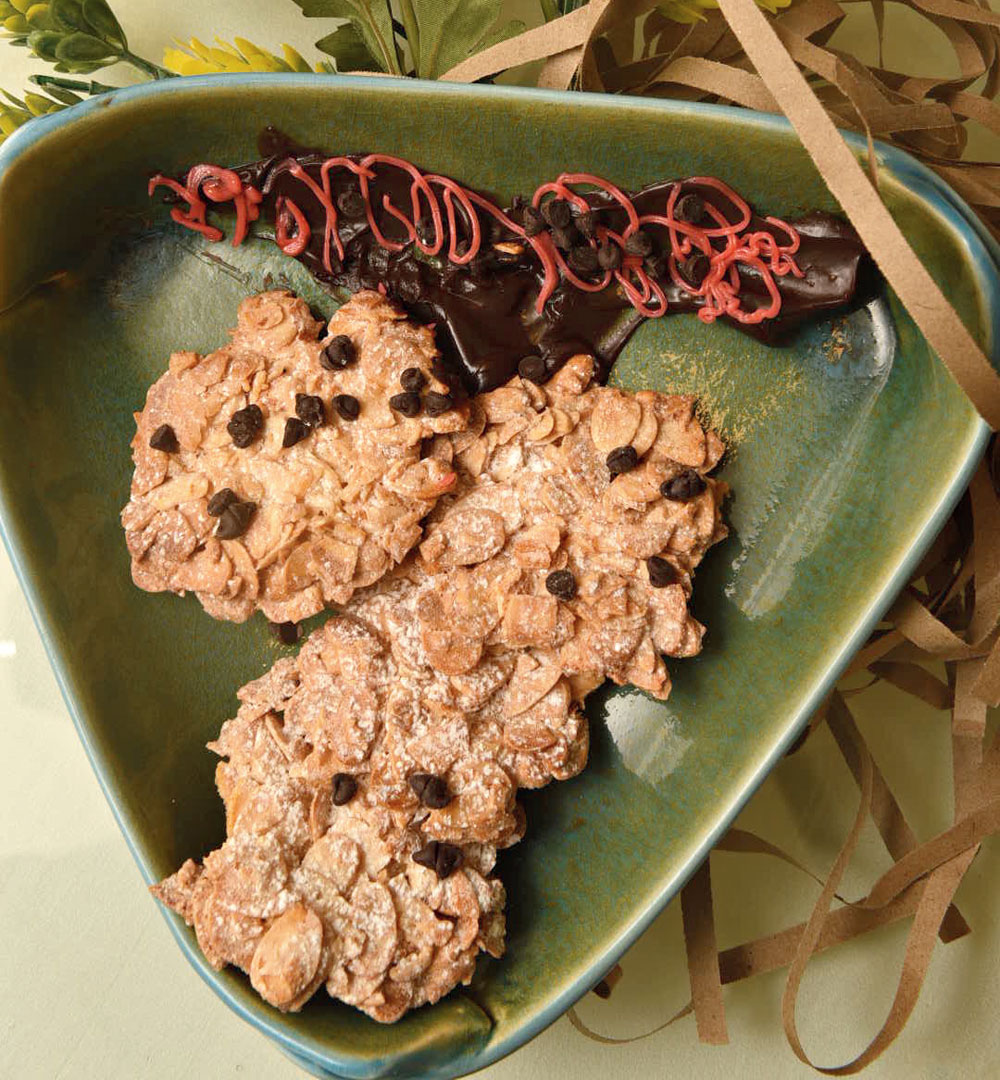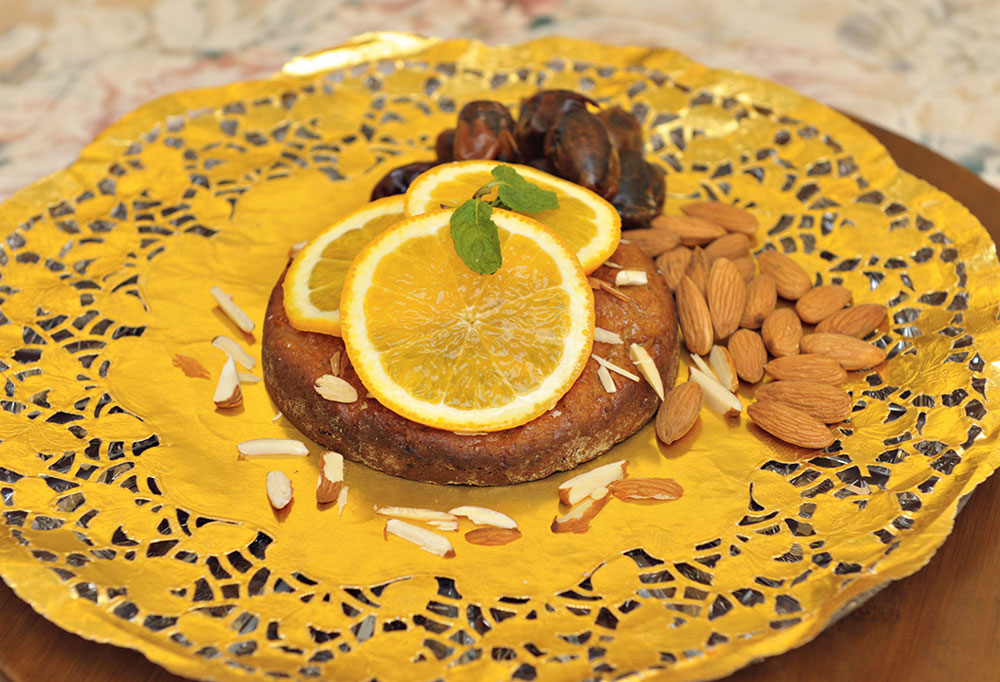 Rose Blondie with Salted Caramel Sauce

Ingredients:
1 & ½ cup chopped white chocolate
1tbsp vanilla essence
½ cup butter
1 & ¼ cup flour
2 Eggs
A pinch of salt
¹/³ cup sugar
A handful dried rose petals
For salted caramel sauce:
1 cup sugar
¹/³ cup water
2 tbsp butter
¾ cup cream
2 pinches sea salt
Method:
Preheat oven to 175°C.

Grease a 9x9-inch baking pan. Melt white chocolate and butter in the top of a double boiler, over simmering water or in the microwave. Stir occasionally until smooth. Set aside to cool.

In a large bowl, using an electric mixer, beat eggs until foamy. With the mixer still running, gradually add the sugar and vanilla. Drizzle in the melted white chocolate mixture.

Combine the flour and salt; fold in the white chocolate mixture using a rubber spatula or wooden spoon. Fold in rose petals. Spread the batter evenly into the prepared pan.

Bake for 25 minutes in the preheated oven, or until a toothpick inserted in the middle comes out clean. Cool pan on a wire rack before cutting into bars.

Method for salted caramel sauce:
Add the sugar to a heavy-bottomed saucepan, shake it so it lies evenly. Add water to fully moisten the sugar.

Place the pot over medium heat and cook until the sugar dissolves and turns clear.

Raise the heat to medium high, and cook the caramel until it turns golden. Turn the heat off and immediately add the heavy cream.

Add the butter and stir everything together until the caramel smooths out. If you wish, add vanilla extract.

Let the caramel sauce cool to room temperature, then transfer to a jar and refrigerate.

PS: You can store and use the caramel sauce in the freezer for up to three months.
Sneha Singhi, Owner of Paris Cafe, Calcutta