Sweet 16
Gopa Sarkar, a resident of CE Block, New Town, rustles up some party snacks to help you celebrate your birthday at home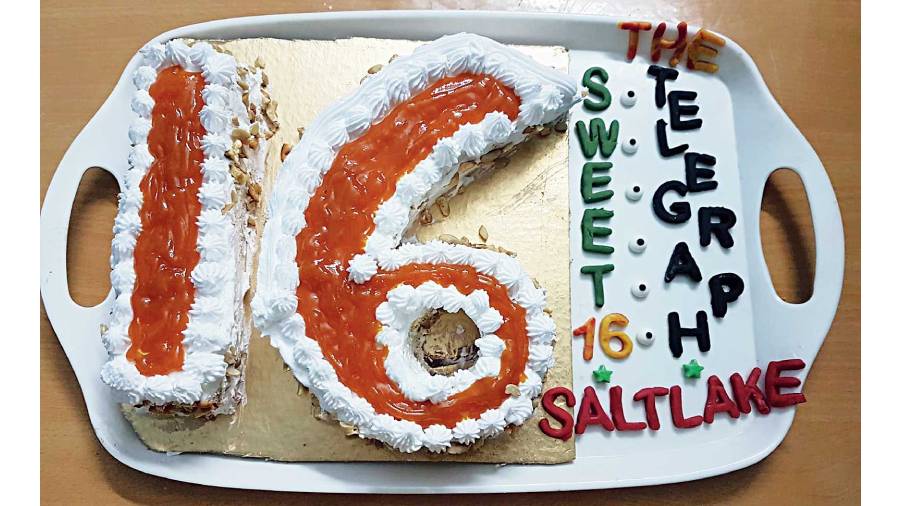 ---
Salt Lake
|
Published 06.08.21, 10:19 AM
|
---
Mango Sponge Cake
Ingredients
• Flour 300g
• Eggs 8
• Oil 300g
• Sugar powder 220g
• Baking powder 11/2tsp
• Vanilla essence 11/2tsp
• Mango puree from 2 large mangoes
Method
Mix the eggs and sugar powder and beat for five minutes. Add the vanilla essence. 
Add the flour and baking powder and use a spatula to "cut and fold" the mixture. Mix well.
Take a baking tin, 8" x 6" in size, and grease. Pour the mixture in. Pre-heat the oven to 180° and bake at 180° for 20 minutes.
Once the cake is baked, cut it in the shape of the digits "1" and "6" and cut in one or two layers. On the first layer, add whipped cream and on the second mango crush or tiny bits of mango.
Smear the sides of the cakes with whipped cream. With a small nozzle make decorative flowers outlining the digits "1" and "6".
Separately, boil the mango puree with sugar. Once this mixture has cooled, pour it in the centre of the digits.
Nargisi kofta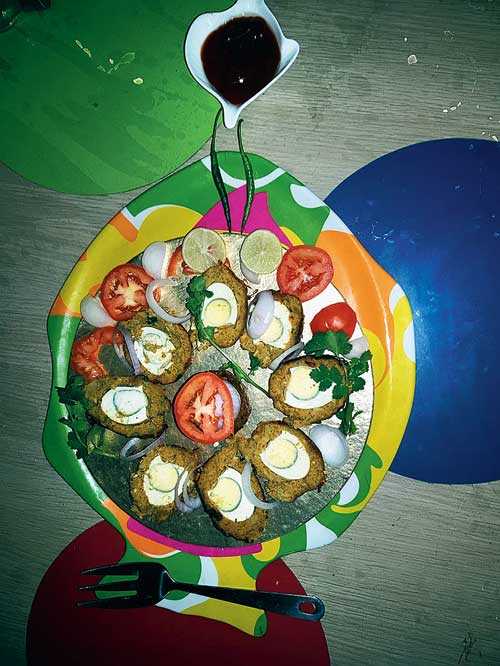 Ingredients-For the balls-
• Chicken paste 400g
• Ginger garlic paste 1tsp
• Paprika or red chilly powder 11/2tsp
• Salt to taste
• Turmeric powder 1/2tsp
• Garam masala 1tsp
• Black pepper powder 1/2tsp
• Coriander powder 1tsp
• Jeera powder 1/2 tsp
• Bhaja besan in 'shukno khola bhaja' style 2tbsp
• Boiled potato 1
Add ons-
• Boiled egg 7-8
• Raw eggs 2
• Bread crumbs 100g-150g
• Milk 2tbsp (optional)
• Refined oil as per requirement
Method-
Pour together the ingredients of the "ball" above and mix well. Once it takes the consistency of a dough, use your hands to make "balls" out of them. Make a depression in each ball and insert a boiled egg in. Wrap it all around with more of the mixture and bread crumbs. Refrigerate for 10 to 15 minutes.
Now smear the balls with the raw eggs and some milk if you please. Deep fry and serve.
Sujir pakora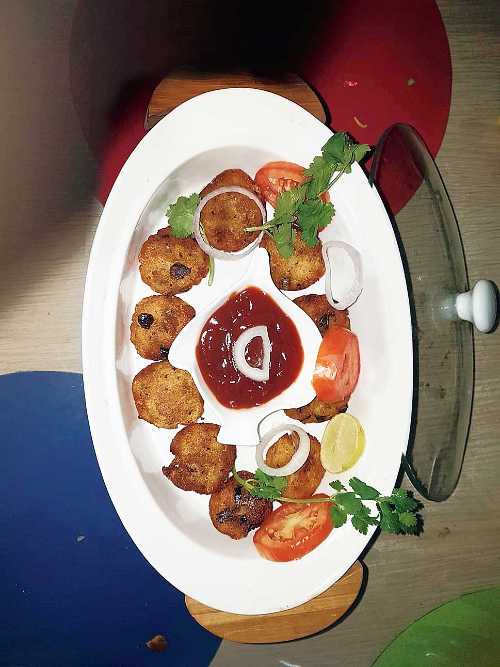 Ingredients-
• Suji 1cup
• Potato 1
• Curry leaves a few sticks
• Green chillies 4-5
• Black pepper 1/2tsp
• Salt to taste
Method-
Boil the potato and add the pepper, chillies, curry leaves. Mash well.
Heat up a cup of water. Once it is heated add the suji and stir.
When the water dries up add the
potato mixture to the suji to result in a dough. Use your hands to make balls out of this and flatten them slightly.
Fry, serve and enjoy the snacks.
Aam shatwo Chutney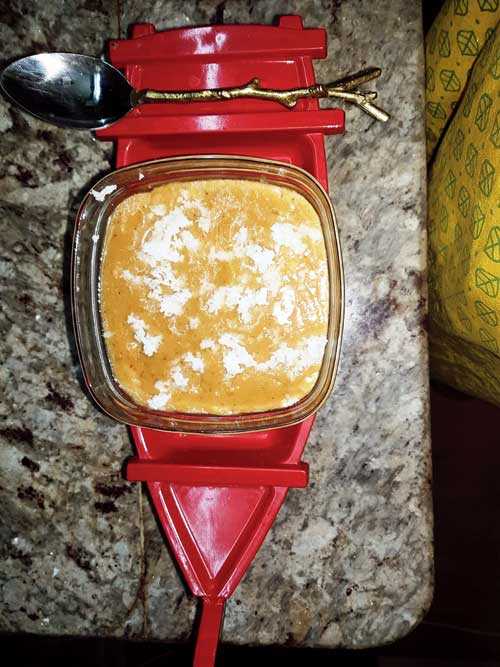 Ingredients -
• Aam shatwo- 1 small slab as available in markets
• Raisins 15
• Grated coconut 4tbsp
• Juice of half a lemon
• Sugar 2tbsp
• Salt 1 pinch
Method-
Add the aam shatwo, raisins and sugar to some water and let it soak.
Add the grated coconut and salt to the mixture and blend in a mixie.
Add the lemon juice. Taste to check if the chutney is sweet enough. Else add sugar and water as required.
The dish is ready. You can garnish it with grated coconut or raisins.