Manjri Agarwal cooks with her children and stirs up healthy dishes with a punch of flavours
Some easy-to-make and healthy recipes that you can try making along with your child during this lockdown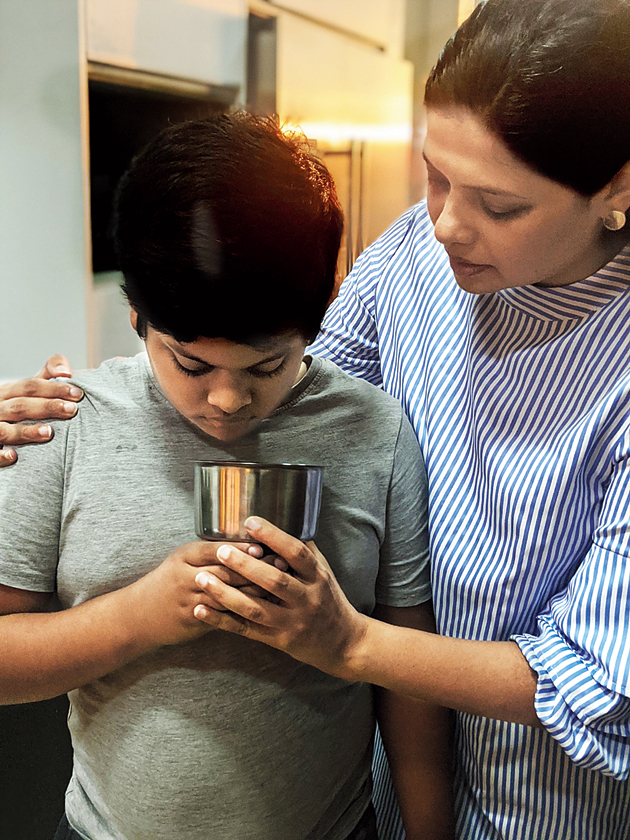 ---
---
I am sure this lockdown has helped many discover their passion and talent. I see so many parents sharing their talent with their children. While some are singing, some are working out together and some are tending to plants, I am cooking with my boys. Part of it is also because I don't know anything else, nor do I enjoy anything more than being in the kitchen. Cooking is not gender specific now and, in fact, I do believe that it's a life skill, just like swimming, driving or cycling. We all should know how to prepare meals in order to feed ourselves because who knows where we might be locked down in the future.
I have been cooking with the boys for the past 10 years now and I can safely leave them in the kitchen to prepare a meal all by themselves. But this has come with a lot of persistence and tough love. They have burnt themselves, cut themselves, scraped their skin and much more but it's part of the learning process. So I do encourage all you readers to take the children into the kitchen and let them have fun with textures and flavours and you will be surprised what they come up with.
Here are some easy-to-make and healthy recipes that you can try making along with your child during this lockdown.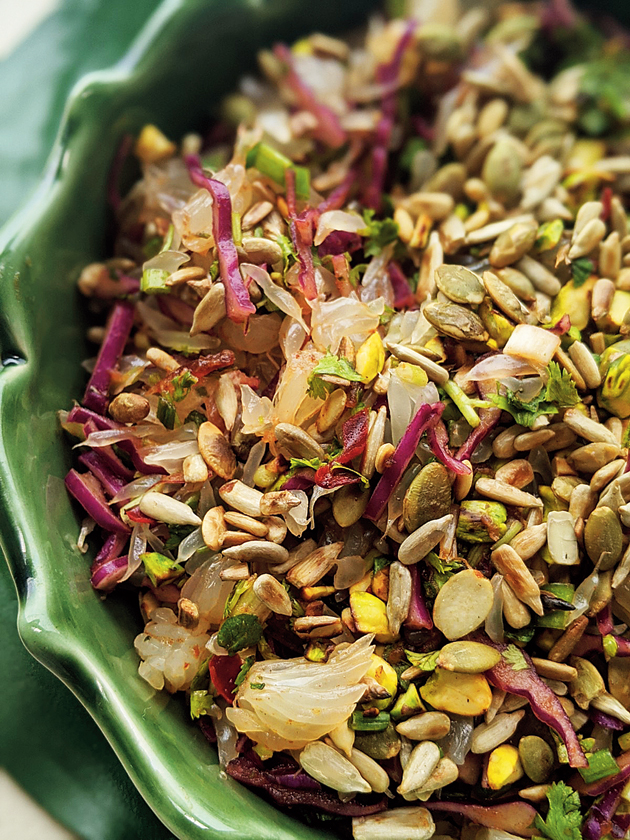 Pomelo & Pistachio Salad

Ingredients:
Pistachio, 10g
Pumpkin seeds, 10g
Pomelo or large pink grapefruit, ½
Red cabbage, finely shredded, ½
Red chilli, deseeded and chopped, ½
Dates, 4
Large mint leaves, 10
A handful of coriander leaves
Ingredients for the dressing:
Chilli paste, 1tsp
Tamarind chutney, 2tsp
Juice of one lime
A pinch of flaky sea salt
Method:
Crush the pistachios very lightly, using a pestle and mortar.
Warm a dry frying pan over medium heat and add the pistachios and pumpkin seeds. Toast for two minutes or until golden brown, shaking the pan to keep the seeds moving so that they don't burn.
Remove from the pan and keep aside.
Cut the top and bottom off the pomelo or pink grapefruit. Using a small sharp knife, take the skin off and all of the pith. Then carefully cut between the membranes to release the segments. Set aside.
Wash the cabbage and cut lengthwise. Place in a bowl.
Soak the dates in warm water to soften. Then break them in half with your finger, discard the stones and then cut lengthwise and add to the bowl. If your dates are very sticky, handle them with some water.
Tear the mint and coriander leaves and put them into the bowl. Add the pomelo or grapefruit slices.
Mix the ingredients for dressing together in a small bowl, using a whisk.
Add half of the nuts and toasted seeds to the bowl, pour over the dressing and mix well. Make sure everything is thoroughly coated.
Scatter over the remaining nuts and seeds to serve.
Manjri Agarwal is a food writer and health coach. Reach her on bigplatesmallplate@gmail.com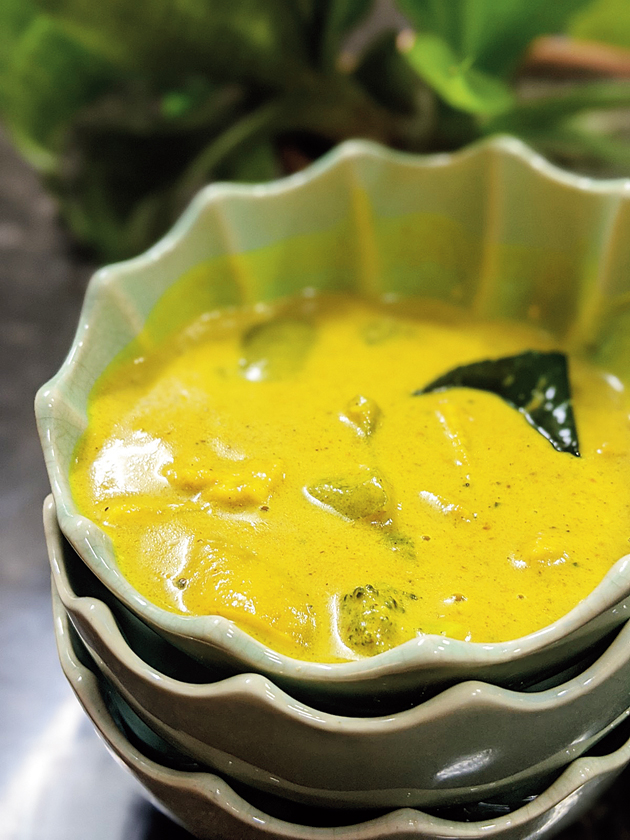 Yellow Curry with Rice
This curry is an immunity booster with turmeric, ginger and onions. Perfect in these circumstances.
Ingredients for the paste:
Red chillies, chopped, 3tbsp
Lemongrass, 1 stick
Onion, finely chopped, ½
Garlic, chopped, 1tbsp
Piece of ginger or galangal, chopped, ½"
Lemon juice, 1tbsp
Salt, 1tsp
Fresh turmeric or powder, 3tbsp
Roasted spices:
Coriander seeds, ½tsp
Peppercorns, ½tsp
Star anise, 1
Fennel (sauf), 1tsp
Cloves
Cinnamon, 1"
Ingredients for the curry:
Yellow curry paste, 5-6tbsp
Homemade coconut milk, 2 cups
Thick coconut milk or cream (canned), ½cup
Vegetable stock, ½cup
Mixed vegetables (red and yellow peppers, broccoli, mushrooms, zucchini), 3cups
Green peas, boiled, ¼cup
Palm sugar or jaggery syrup, 1tbsp
Fresh red chillies or green chillies, 3 pieces
Oil
Salt and light soy sauce for taste
Basil leaves, for garnish, 7-10
Method:
For the paste, mix roasted spices with all the other ingredients and make a fine paste in a processor.
Heat oil and add the curry paste. Cook till the oil separates.
Add salt and vegetables. Cook the vegetables lightly.
Add green peas and mix well.
Then add the coconut milk and bring to a boil.
Add all the remaining ingredients. Keep stirring constantly.
Cook till the vegetables are done.
Serve hot with red rice or any small-grain rice.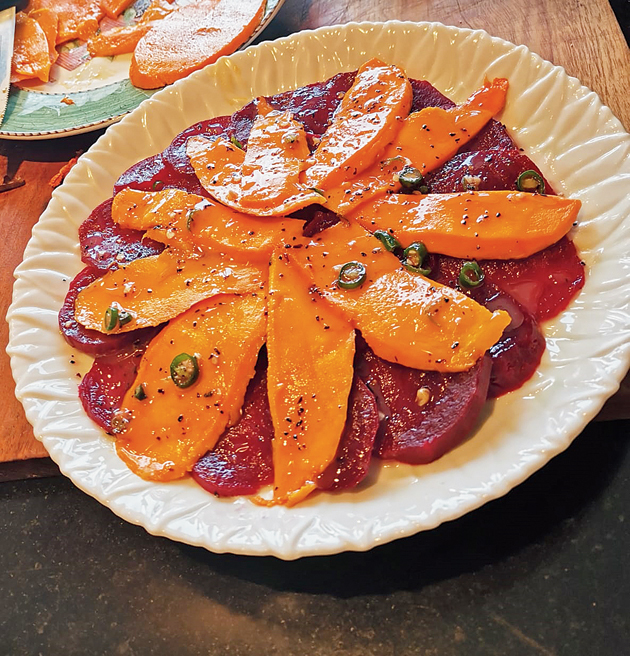 Beetroot & Mango Salad

This is a great summer salad especially since mangoes are in season.
Ingredients:
Extra virgin olive oil, 1½tbsp
Apple cider vinegar, 2½tbsp
Green chillies, chopped, 2 pieces
Salt and pepper to taste
Beetroot, 2 pieces
Alphonso mango, 1
Method:
Boil the beetroot and make slices.
Take a ripe mango and make thin slices of it.
Arrange the beetroot on a round plate and top it with the sliced mango. Keep it in the refrigerator to chill.
For the dressing, emulsify the olive oil, apple cider vinegar, salt and pepper. Make sure that the vinegar does not sink to the bottom and it's nicely emulsified using a hand whisk.
Add chopped green chillies to the dressing. The chillies should soak in the dressing for at least 15 to 20 minutes.
Remove the salad from refrigerator and pour the dressing. Serve immediately.
For added flavour, you can add crumbles of feta cheese on top.