If there's something that has been given precedence over anything else in the F&B industry in recent times, it's innovation. Restaurant and cafe owners have come up with innovative ways in order to stay afloat like developing DIY kits and rolling out comprehensive, delivery-only menus. From making a Sunday brunch at home more fun by rolling sushi with your family to throwing a party for two with some pre-mixed cocktail mixers, thanks to the DIY kits available, you can now turn yourself into a chef or a mixologist in a jiffy, without stepping out and compromising on the safety aspects.
These kits come with a set of ingredients in specific quantities and a guided manual to help you make the dish or cocktail. The specially curated delivery menus on the other hand, focuss on delivering comforting and fuss-free food.
Here's some of the city-based restaurants, cafes and pubs that are keeping it new and fresh with their interesting DIY kits and specially curated delivery menus.

Fancy a platter of sushi or a nice and comforting bowl of udon?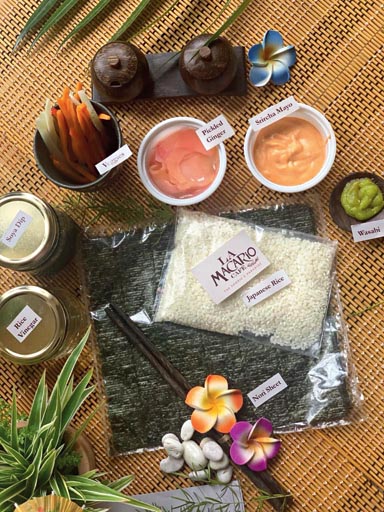 La Macario Cafe, which opened doors five months back, has you covered with their DIY food kits that range from salads to something gourmet Sourced by the Telegraph
La Macario Cafe, which opened doors five months back, has you covered with their DIY food kits that range from salads to something gourmet. The Wood Street address has five different DIY kits as well as sauces and dips like creamy mushroom and hummus that can be used in a variety of dishes. The cafe is open for self pick-ups as well.
"We have got amazing response from the customers (for DIY Sushi Kit) and this is our first DIY product. They thought that the taste was 100 per cent authentic and absolutely perfect, and it was easy to make," said Radhika and Sumita Jalan, co-founders of La Macario Cafe.
On offer: Five types of DIY food kits. Think DIY Sushi Kit with options like Veggies with Sriracha Mayo, Spicy Shiitake Mushrooms, Cream Cheese & Asparagus, and Tempura; DIY Udon Noodles with udon, veggies and a tangy sauce; DIY Khao Suey Kit with noodles, a spice paste, coconut milk and condiments like fried onion and garlic, crushed peanuts, spring onions and cucumber; and DIY Pizza & Pasta Kit, which comes with the option to choose either regular flour or a whole-wheat base or pasta. You can also opt for a pre-made base or a pizza dough that you can roll. You can choose tomato or pesto sauce for your pasta. To check what's available one can go through Swiggy or the cafe's social media handles on Instagram and Facebook, or call on (+91)7439093294 for directly placing your order. Prices start from Rs 315.

All set to celebrate its first anniversary,
The Daily has come up with a variety of options to celebrate its birthday month. With a new section called The Daily Pantry, the Satyen Dutta Road address is bringing the cafe close to you. It now has on its menu pre-marinated meat sealed inside a vacuum package that can just be slapped on a pan and cooked, and cocktail mixers that come with stirrers and garnishes. There are frozen dumplings that come with the cafe's spicy sauce, created in-house, which can be either steamed, fried or pan-fried and frozen up to 10 days. Five varieties of
DIY food kits are available as well.
"Our cocktail mixers, marinades and sauces have been doing very well. I feel this is the way ahead at the moment. Most people are cooking at home and want to spruce up their meals," said Urvika Kanoi, chef-owner, The Daily.
On offer: While the pre-marinated dishes include Peri Peri Chicken/Paneer, cocktail mixers are available in flavours like Sparkling Raspberry Lemon and Elderflower Fizz. The five DIY kits, with prices starting from Rs 325, include Pork Belly Bun, Pomodoro Fettuccine, Quinoa Risotto, Smashed Avo! and Picola Borsa — all from the regular menu. You can either place an order on Swiggy and Zomato, opt for a self pick-up, or call on (+91) 80170 99950.

The modern European dine den on Shakespeare Sarani — The Salt House too, has its share of DIY food kits and plans to launch DIY cocktail mixers soon. The three varieties of DIY food kits include pizza, pasta and cookie kits. "We realised there was a huge market for DIY kits as people were preferring to buy such kits and ingredients from us and cook in the safety of their homes. We started with pizza bases, which were a huge hit, and soon expanded to other products such as sauces, handmade pastas and cookie kits," said Saloni Jhunjhunwalla, partner, The Salt House.
On offer: While the Pizza Kit includes a whole-wheat or a flour pizza base, a sauce and mozzarella, the Pasta Kit has a linguine or pappardelle pasta, a tomato-basil, basil-parmesan-pesto or Alfredo sauce and parmesan or yellow cheddar. Baking a cookie isn't always the easiest thing to do, especially if you want some deliciously moist yet crunchy cookies. The restaurant's DIY Eggless Belgian Chocolate Chip Cookie Kit, which comes with a set of detailed instructions, helps you make six cookies and comes with butter, sugar, vanilla milk, Belgian chocolate chips, and a dry mix of baking soda, baking powder, flour, cocoa powder and salt. You can either order through Swiggy or Zomato, call directly on (+91)9836732154, or pick your order up yourself. Prices for the food kits start from Rs 400.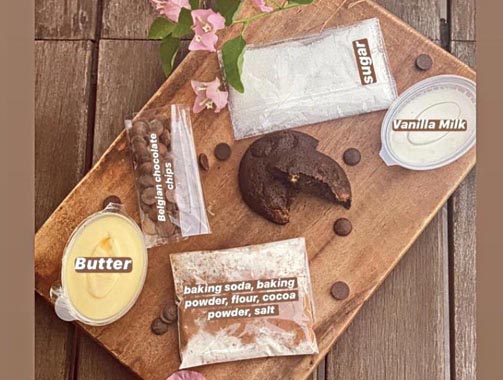 The Salt House too, has its share of DIY food kits and plans to launch DIY cocktail mixers soon Sourced by the Telegraph
Grace — the restaurant located inside Kolkata Center for Creativity that serves modern Indian vegetarian food, started its delivery and takeaway service on July 6 with nearly nine new dishes, along with some vegan options. "We at Grace aim to embrace the 'new normal'. As you cannot visit us, we would like to reach out. Grace assures you contactless delivery and a possibility for a takeaway," said Richa Agarwal, chairperson, Kolkata Centre For Creativity and CEO, Emami Art.

On offer: Dishes like Mango Miso 'n' Cumin, Cinnamon & Coconut Roasted Paneer, Red Lentil Soup, Jalapeno Corn & Chickpea Burger, Cheese Sauce Risotto, Trio of Mushroom, Beetroot Medium Rare, Kalo Chaler Payesh, and others. The starting price of the dishes is Rs 250. They are available on Swiggy and Zomato. However, you can also place a call on (+91)9836752666 / 03366232337 and opt for self pick-up.

The Sector V pub, The Brewhive's delivery-only menu is compact and focuses on familiar, comforting dishes. Essentially a pub, The Brewhive came up with this delivery-only concept last month. "We came up with this compact, delivery menu offering comfort food from various cuisines. Food that people would like to reorder, and can be consumed after the time taken for delivery. We have consciously kept the pricing nominal, considering everyone is going through a tough phase. There have been several repeat customers, which shows we are doing something right!" said Vijyant Shah, co-founder and director, The Brewhive.
On offer: A potpourri of dishes from burgers to wraps, pizzas, pastas, Indian and Chinese staples and desserts. Think Kolkata-style Egg Roll, Chilli Paneer Frankie, California Pizza, Chicken Tandoori Pizza, Fish Finger, Penne Arabiatta, Chilli Chicken, Dal Makhni, Tawa Paratha and Brownie with Hot Chocolate. They are available on Swiggy and Zomato with prices starting from Rs 29. You can also call directly on (+91) 6292121484/ 85 and get the food delivered to your doorstep as the pub has its own delivery fleet as well.