He was a favourite to win Season 9 of MasterChef Australia. Ben Ungermann lost out by just one point in a photo finish, but the 33-year-old former model is now a rockstar chef, travelling the world and gathering new food experiences before he sets his sights on his long-term food goal — getting a Michelin star.
Recently, Ben was in Calcutta as part of his collaboration with Johnnie Walker Gourmet Experiences to curate a menu paired with Johnnie Walker whisky at Serafina, the Italian dine den at Quest. The chef — who is known as 'Australia's Ice Cream King' — also whipped up a Johnnie Walker-infused ice cream at a masterclass at Serafina, before settling down for a chat with us.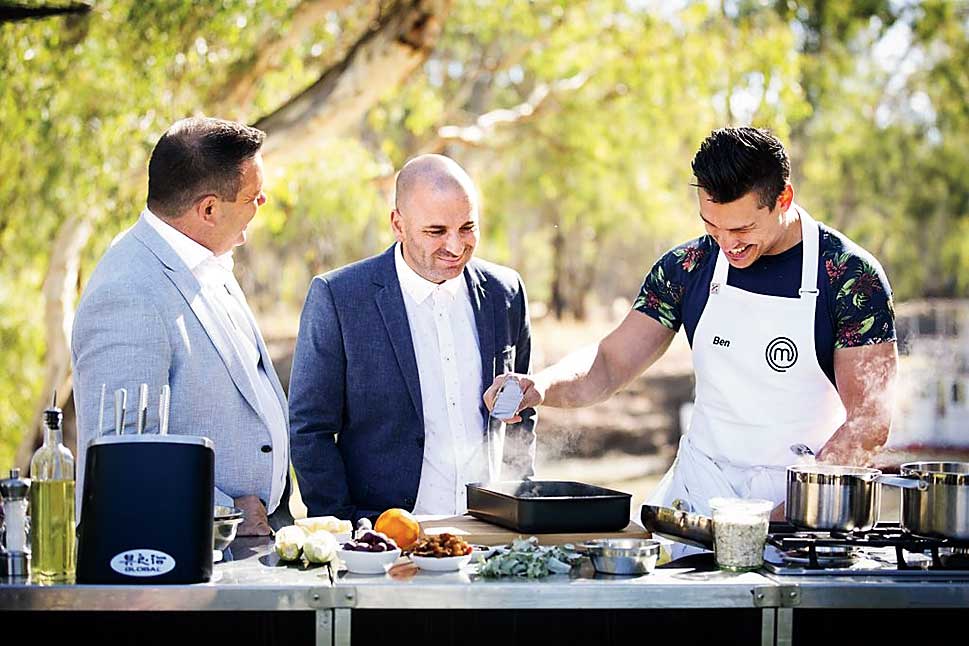 Ben with judges Gary Mehigan and George Calombaris on MasterChef Australia 9 Image: Agency picture
What kind of doors has being a runner-up on MasterChef Australia opened up for you?

Oh, so many doors! It's insane, because two years ago, no one knew who I was and now I am travelling to different countries and living out of my suitcase for over a year. I have been riding the wave. When we were competing on the show, we were told that it's the biggest cooking show in the world and we were like, 'Ya, okay' (laughs and rolls his eyes). I didn't fully understand it then — though I knew the show is televised in 130 countries — but I know how big it is now. Also, I was aware that the show was big in India, but I didn't understand the magnitude of it till the time I got here.
I finished runner-up and it was a very close final. If I just expected things to fall into my lap, I would be nowhere right now. So yes, it did give me a stepping stone, but I've had to work just as hard now as I did when I was on the show.
Are you in touch with your fellow contestants or with the show's judges?
There have been a few occasions when I have been in a country and one of the three judges also happened to be there. It happened recently in The Netherlands and then in South Africa. All the judges — Gary (Mehigan), George (Calombaris) and Matt (Preston) — have been a huge support.
As far as the contestants are concerned, I am in touch with a few of them. Not everyone on the show got along (smiles), but I am still thick with the boys who stayed in my room. I am in touch with Ray (Silva), Trent (Devincenzo), the other Ben (Benjamin Bullock) and also Lee (Behan). They are probably some of my closest friends now.
You were known as the 'Ice cream King' on the show and even now. What is it about ice creams that fascinates you so much?
The funny thing is that before I went on the show, I hadn't made a single dessert in my life! I was actually terrified about making desserts because for me, cooking is all about love. Making pastries and ice creams is more of science than love… you have to get every ratio right. That kind of put me off from making desserts but on the show, we were told that we would have to be versatile if we wanted to go far in the competition.
I decided to try my hand at ice creams and I discovered, much to my surprise, that I had a knack for it. So my weakness actually became my strength.
On the show you looked like you had been making ice creams all your life!
(Laughs) Now you know! I have a different philosophy when it comes to making ice creams. My process involves no heat, it's completely glacé. I keep knocking air constantly into the mixture and so it turns out very fluffy. I don't use any stabilisers or preservatives, it's 100 per cent natural in every sense.
Do you cook Indian food?
I do, but I'm very careful with putting it out there. I really respect Indian cuisine and the reason I don't cook too much of it is that I really want to learn a lot more about Indian cuisine before I cook it extensively. I think Indian cuisine is the most complex in the world; it requires layers and layers of spice. Every time I come to India, I try and learn as much about Indian food as I can. Something I want to do in 2019 is fuse Indian food with European cuisine.
Having said that, I love Indian mutton curry. My best friend in Australia is Indian and though we don't really eat goat in Australia, every Christmas, I hang out at his place just to have that mutton curry!
What's your favourite thing to cook for your family?
I cook a lot of different things, but their personal favourite — and I guess the favourite of every Australian family — is Spaghetti Bolognese. My kids love it. It's their comfort food.
I know you are asked this pretty often, but do your good looks get in the way of people taking you seriously as a chef or does it add to the appeal?
(Laughs) It's a double-edged sword. If you have charisma, it sometimes adds to your appeal and people want to see you. But I've also got comments like, 'Oh, he's a pretty boy! Can he really cook?!'
What are your short-term and long-term food goals?
I've been travelling for over a year now and I've tried to learn as much as I can. I've worked in some Michelin-star restaurants and my end game — maybe not in one or two years, it could even be 10 years — is to be the first MasterChef Australia contestant to earn a Michelin star. I don't just make ice creams, I've been pigeonholed into that, but there's so much more I can do.
There have been talks of opening up an ice cream salon in Bangalore. The idea is to get people to not only come in and have ice cream like a normal ice cream parlour, but also whip up a proper plated dessert for them using ice cream. I feel India needs to have some out-of-the-box desserts. It should hopefully happen in 2019.
When you aren't cooking and travelling the world, what will we find you doing?
I will probably be at the gym! I love playing soccer. As a chef, it's important to take care of your body because it's a very stressful job and you are constantly eating on the go.
QUICK 8
A dish I wish I could make better: Goat curry, for sure. I need to improve.
A dish I nail every time: Ice cream. I have been making this variation of vanilla ice cream of late that I think is the real deal.
The best compliment for my cooking: I did a collaboration in Thailand with a hotel whose restaurant is pushing for a Michelin star. A regular diner at that restaurant came up to say that my food was the best he had ever tasted and if it was up to him, he would give me a Michelin star there and then!
A dish I can eat every day: There isn't a dish like that, but I love oysters.
I could eat them for the rest of my life… I would be a happy man.
An underrated ingredient: I come from Dutch lineage and there, they don't use pumpkin at all, which is a shame. I think it's very underrated and I have been working with pumpkin a lot over the last few months.
An overrated ingredient: Truffles. It's so expensive and most chefs think that just putting truffles in a dish makes it gourmet, but that isn't the case.
Comfort food for me is: At the moment I am living in Indonesia and it's Nasi Goreng.
If not a chef, I would be: I wanted to be a footballer, but I wasn't good enough. Maybe I would be a video game designer.