Manjri Agarwal writes about incorporating ancient science of Ayurveda in modern life
The earlier we rely on food for remedies, the less medicine we will have to take as we age.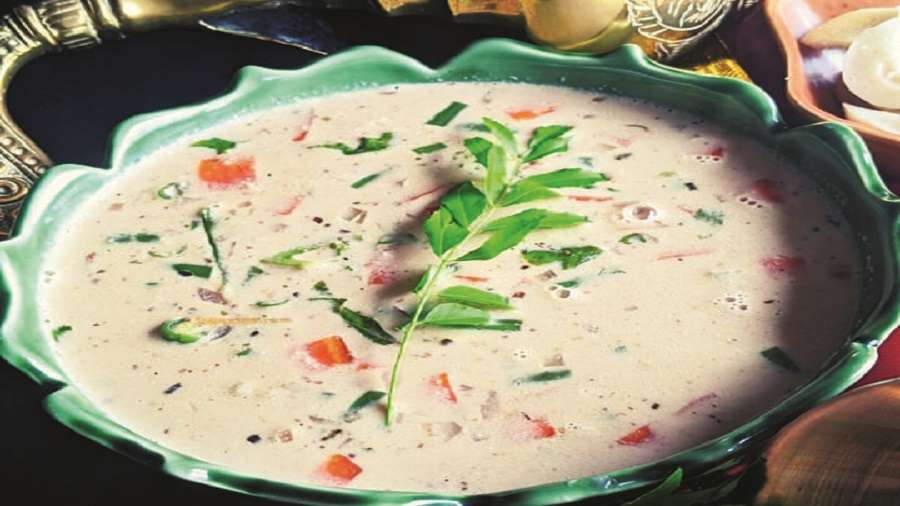 ---
---
My journey in health and fitness began three years ago with a trek to Mt Kilimanjaro. I discovered my love for the mountains and trekking and wanted to get fitter and stronger to challenge myself further. Soon, I realised that it had to match with a good diet. I then came across a course, based out of New York, to become a certified health coach. It created a great foundation for me and I decided to marry my learnings with the food I created. One of the modules was on Ayurveda and it completely mesmerised me.
Ayurveda originated in my homeland and our ancestors had so much knowledge. It's unfortunate that it has not been passed down generations, I had thought. So, I wanted to explore this rich field of therapy and eventually even found the perfect teacher to learn from.
My learnings have been transformational as I look at food very differently now and imbibe the elements of Ayurveda in my cooking. Food is medicine and preventive. The earlier we rely on food for remedies, the less medicine we will have to take as we age.
The word Ayurveda literally means 'the science or knowledge of life'. It's a 5,000-year-old teaching on health and holistic living and is considered the mother of all healing systems. It's comprised of five superior elements — earth, space, air, water and fire. And a combination of these elements make up a dosha — kapha, pitta and vatta. While kapha gives structure and stability to our body, pitta is responsible for the transformation in our body, and vatta brings movement in our body.
Along with the dosha, it is also important to study the shadhrasha or the six prominent tastes in Ayurveda. Each dosha has a dominant taste that helps enhance the dosha but we must have the opposite to balance the other doshas or reach a tridosha state of being. The six tastes are sweet, salty, sour, bitter, astringent and pungent.
Our diets should include a good balance of all tastes for optimal health, and to avoid any diseases, or ill effects on our body. Below are three ingredients, which I feel are very relevant to include in our daily lives, along with three recipes. Each recipe is shadhrasha in nature and a balance of all six tastes.
Coconut
Our body needs a balanced source of carbohydrates, proteins, fats, vitamins, minerals and fluids. While we know the sources for most of them, we tend to stay away from fats. When we talk about necessary fats we mean the good fats that our body needs. Besides many more functions, good fats or healthy fats support good cholesterol (HDL) which helps in lowering the bad cholesterol (LDL). Coconut is one such healthy fat and plant that has immense health benefits. Coconut milk, coconut water, coconut flesh, grated coconut and even coconut oil play a tremendous role in our well-being. Below is a recipe of Kerala Vegetable Stew that I have made using coconut oil and coconut milk, which also gives the dish a mild sweetness. The rasa or taste of the coconut is sweet, making it a great balance to pungent spices such as black pepper, green chillies etc.
Ingredients
Blanched vegetables (cauliflower, broccoli, carrot, beans), 2 cups
Onion, chopped, 1
Garlic, chopped, 10g
Ginger, julienne, 10g
Green chilli, slit, 2
Curry leaves, 8-10
Whole black pepper, 15g
Coconut oil, 10ml
Coconut milk thin (home-made), 150ml
Coconut milk thick (canned), 100ml
Coconut oil, 3tbsp
Salt to taste
Cloves, cardamom and cinnamon, crushed slightly, 1tbsp (each)

Method
Heat coconut oil in a deep pan and splutter the crushed spices. Add onions, ginger-garlic, curry leaves and green chilli and saute for a few minutes till the onions become soft. Don't make the onions brown.
Add the vegetables and combine well.
Pour the coconut milk in and add salt. Bring to boil and reduce the heat. Simmer and cook till vegetables are tender. It will take 10 minutes approximately.
Add thick coconut milk and cook for five more minutes and remove from fire.
Garnish with curry leaves. Serve hot with steamed rice or appam. I serve it with hot steaming idlis.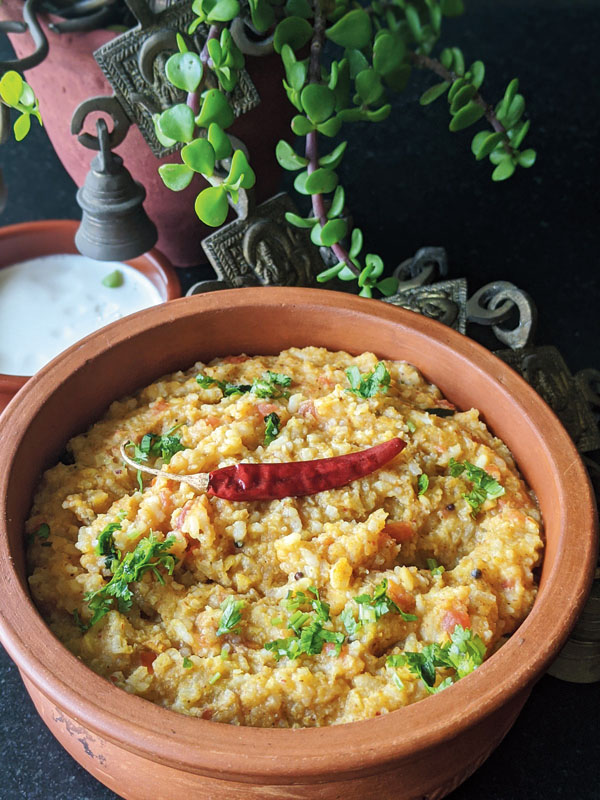 Ghee
Ghee is a magical, heavenly substance that has got itself a bad name due to its calorific value. It is shadhrasha is nature and tridosha too, which means it has all the six tastes as well as is suitable for all doshas to consume. It contains good fats which help our brain to function and also kill other fat cells.
The lubricative properties line the digestive tract for easy passage of food into the stomach and intestine, avoiding any bruises in the tract along the way. Ghee is excellent for our skin as a moisturiser and even for the scalp for better hair growth. Below is a recipe that is made in pure ghee and is a meal in its own. It is a popular South-Indian khichri and its flavours remind me of the prasad we get at many temples in the southern part of the country.
Bisi Bele Bath
Ingredients
Moong dal, washed and soaked, 1cup
Short-grain rice, washed and soaked, 250g
Tamarind juice, ½ cup
Mustard seeds, 1tsp
Cashewnuts, coarsely chopped, 2tbsp
Tomatoes, chopped, 2-3
Ghee, 4tbsp
Salt to taste
A few curry leaves

For the spices to be ground:
Coriander seeds, 2tbsp
Dry red chillies, 8 pieces
Grated coconut, 1 cup
Urad dal, 1tsp
Moong dal, 1tsp
Turmeric, 1tsp
Fenugreek seeds, 1tsp
Garam masala, 1tsp
A pinch of asafoetida

Method
Cook the dal in three cups of water until soft. Dry roast the spices and grind them to a fine powder.
Add washed rice to the cooked dal and cook again till soft.
Add tamarind juice, powdered spices and salt and mix well. Cook with just enough water so that the mixture is semi-dry when cooked.
Heat ghee in a small pan, add mustard seeds, curry leaves, cashews and tomatoes. Cook until the tomatoes are soft. Pour this over the rice-and-lentil mixture.
Mix well. Serve piping hot as is or with yoghurt.
Aloe Vera
Our gut is the second brain in our body. A good gut health will keep you away from diseases, will make your skin glow and, most importantly, make you feel great. Unfortunately, given our lifestyles, we all have a leaky gut due to the refined foods we consume, be it in the form of sugar, flour, oil or packaged foods. Aloe vera is one such plant that can help the lining of the gut and hence enhance digestion, improve absorption of nutrients and heal the gut. It is also applied externally on the face in the form of masks, and also used for hair treatments. The most popular way to have aloe vera is in the form of juice or powder. It is very easy to grow it at home and instead of juicing the pulp you can eat it for even better results. Below is a recipe of an aloe vera toast that I created for better gut health. I have used green chutney which is shadhrasha in taste and topped it with home-grown microgreens.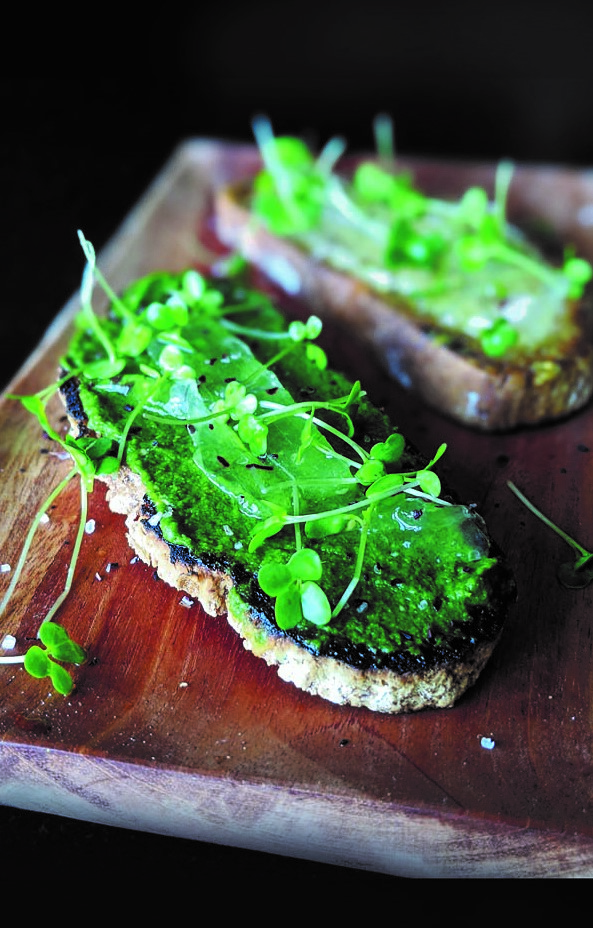 Aloe Vera Toast
Ingredients:
Aloe vera, 1 leaf
Green chutney, 2tbsp
Sourdough bread, 2 slices
Microgreens or rocket leaves, few
Salt and pepper, to taste
For the Green Chutney:
Handful of coriander leaves
Smaller quantity of mint leaves
Ginger stick, 2"
Garlic cloves, 2
Green chillies, 2
Juice of 1 lime
Salt to taste

Method
Grind all the ingredients to make the green chutney and keep aside.
Toast the sourdough bread in a toaster. Spread 1tbsp of green chutney on the toast.
Slit the leaf from the side and peel it off exposing the transparent pulp. Cut the pulp into slices and spread on the toast.
Top with salt and black pepper and sprinkle microgreens and enjoy immediately.

Manjri Agarwal is a food writer and health coach. Reach her on bigplatesmallplate@gmail.com or @bigplatesmallplate on Instagram