For Rakhee Jain, functional is the key word in styling food and space
The London-based food and interior stylist has names like Lakshmi Mittal and S.P. Hinduja on her client list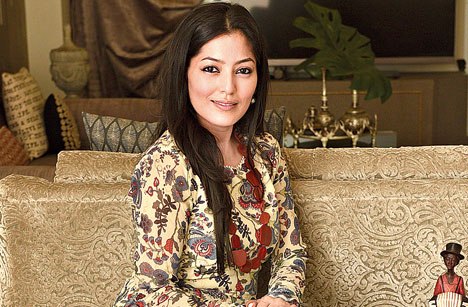 ---
Published 07.08.18, 12:00 AM
|
---
For London-based food and interior stylist Rakhee Jain, design is a "malleable" concept. The Calcutta girl has a food-styling business in London with names like Lakshmi Mittal and S.P. Hinduja on her clientele; closer home, there's Shashwat Goenka's wedding on her CV. Jain was in Calcutta — where she now has an office — when t2 caught up with her.
How did you foray into the world of styling food?
I started out working with a friend in Calcutta who runs an interiors company here. Once I moved to London, I sensed a gap in the market for Indian food, especially for someone like me who can't cook to save her life. So if I needed to invite a few people, I couldn't do a restaurant takeaway as that's not the norm there. So I started a company that was catering home-cooked food and started catering for the house parties of the Mittals and Hindujas, when I realised that we needed to up the game and work on the presentation and that's where the design background came in handy.
Our presentation had to set us apart from other people because we couldn't put a tag every time as it's a house party, where too much of me or my brand couldn't be visible.
Delhi-based celebrity chef Ritu Dalmia saw my work and encouraged me to do the presentation for her food, while doing outdoor catering. So I stepped in to iron out these issues for the caterer and event planners; they didn't need to worry about how the food would look and that's how this started.
Tell us about Lakshmi Mittal's house parties in London...
We get about a couple of weeks to service a party at his house and there, we do the catering as well. In that case, generally the decor is mostly done by florists, so we need to speak to them. Guests number from 50 to 200. If it's outdoor, we try to match the colour-board, and if it's at home, we like to use their silverware, dress it up, still make it interesting and give it the layers that it needs and present it well. Food-wise, I try to do some Calcutta stuff like Gur Ka Rasgulla, street chaats, Gulab Patti Sandesh and they love it because they are from here. ]
And, now you are designing spaces as well...
I think "design" is a very malleable genre of work. In the food space, I am quite busy with my work and projects, simply because there aren't many people doing what I do. And interior designing is an extension of what I do.
Designing is in everything you do. And so the service with regards to interiors that I am offering is where I am not doing the contractual job for a person. But what I am helping them do is to give them an idea of a colour sense that matches with their personality, curate it in a way that it all comes together as one picture for the client. Sometimes, clients have either too much of a budget-constraint or none at all. And I come in here as the regulator who will help them buy the right piece of art, put it in the right place, put the colours together. So I help people style their lives, their accessories, crockery, even their personal stationery.
What is your style?
With regards to food, I work with the event planners' mood board, so it's less of my personality. There I am more of the supporting designer as I want to enable the event planner's work to tie in with the food. My underlying principles, though, are to keep things simple, clean and functional. Now, I have teams to make sure that everything is clean, temperature-safe, food-safe — the glues, paints, linen, the dye that they use to paint the linen.
Wherever I travel, I try to imbibe what I can. It's the same, when it comes to doing interiors. It's about keeping it simple, functional and clean. I like to bring in the Indian elements through art, sculpture and workmanship.