When I invite my sons, who are now in their late 20s, home to dinner, the first question they ask is: "What's cooking?" I would like to think that they are, at some level, interested in our company, in the possibility of family gossip and lively conversation but the real carrot undoubtedly is food.

Food ticks many boxes — the obvious one is taste. We love tasty food but in India our food appeals to a heightened sensitivity and palate. It is "umami" and once anyone eats anything made in India, they simply can't go back to their previous palate. Then there is the emotional box, one where the mere mention of a dish can evoke aromas of childhood and memories of love or romance. The intellectual box — food is the new "poetry" and food photography the new "art".

Food has replaced reading and aimless dreaming. Pity about the loss of traditional poetry but as the Internet has replaced the book, so food has replaced literature. Lastly, food is an equaliser. It is democratic and crosses the boundaries of religion and politics. Everyone likes flavours and everyone has access to the Internet. You only have to look at the last three months to see that.

People used to go on holiday to relax. They would typically visit friends or family in the countryside and spend the holidays in a safe comfortable environment where they did very little. Today a holiday means experiences and entertainment. This is important for personal growth (that's what we tell ourselves) as well as social interaction and food has become a large part of that. It is both nourishing, a talking point and has a recognisable set of values. So food is something neutral and rises above any controversy or discussion.

Magical backwaters

So where in India do you travel for these culinary experiences? Well just about anywhere really. Thanks to entrepreneurs and living tradition, good food is available in restaurants, boutique hotels on boats while you glide down backwaters as well as in homes of people who choose to share their culture. Kerala is a great place for the latter. You really don't need to go to a hotel or formal restaurant for a silky-smooth stew and hot appam. In the backwaters, almost every "toddy shop" is happy to rustle up some local fare at midday for any passerby.

I have had many memorable meals in Goa. Most people don't know that I am Goan by ancestry. Though I have never lived in this lush green, laid-back land, I have been visiting for over 30 years. India's sunshine state has attracted wave after wave of migration, from Europeans looking for a bit of inexpensive, warm bliss, to the intellectual "literati" who seek the tranquillity to create and write. As for me, it is the Goa of great food and culinary traditions that I love to explore. There's so much more to Goa than sex, drugs, raves and beach bumming. There is still a very fine, deep-rooted food tradition and a love for life that is second to none in India. Scratch the surface and you'll find it. I anticipate each visit with a yearning to eat, drink and relax — my holy trinity — and to feel blessed by the sight of Goa's rich red soil. Over the years, I have discovered its backwaters, local haunts, famous ingredients and seasonal nuances.

So what is Goan food? To the uninitiated, it usually starts at a beach shack. Shacks offer no nuance, no subtlety and no claim to authenticity. Visit a modest local restaurant, speak to a Goan home cook, read a couple of books and you will encounter a rich culinary world where Portuguese customs intermingle with local traditions, where Catholic dishes differ from Hindu and where restaurant food catering to the tourists' palate is light years away from home-style cooking.
Kainchi Kebab with Imtiaz Qureshi

I remember learning Hyderabadi dishes from Mumtaz Khan at her home in Hyderabad decades ago. What I came away with was not just recipes and techniques, but stories of a bygone era, of a Nizam rich beyond imagination, of nawabs and palaces and adaab and the sound of thumping silver varak near Charminar. It wasn't just the taste of say, for example, safed pullau. It was the fact that somebody sieved the rice and khoya through a muslin cloth several times in order to achieve the refinement necessary. Hyderabad is probably the only place in the country today where you still find biryani in which raw meat and rice are cooked together. This is an art form and only really skilled cooks achieve perfection.
This is true of Lucknow too. Home to the Nawabs of Awadh, the city became the centre of North Indian or "Moghlai" cuisine. Most of the great dishes of what we know as North Indian cuisine today were invented there. After the mutiny of 1857, most of the better cooks from the royal courts subsequently found themselves jobless and fled to Lucknow (Awadh) and Hyderabad where local nawabs were keen to employ them.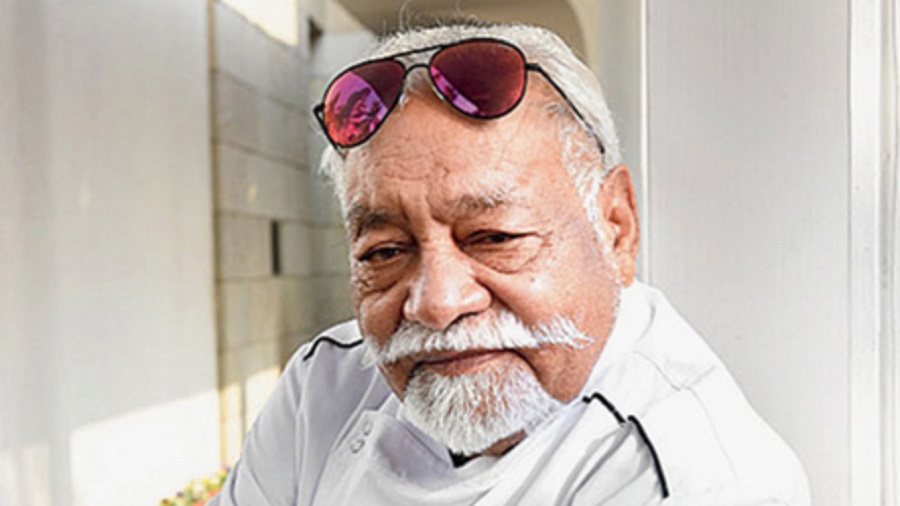 Imtiaz Qureshi is a sly chef with many secrets up his sleeves! His personal favourite dishes, he says, are those cooked by the women of his family, simple everyday dals and kormas Karen Anand, The Telegraph and PTI
One great name is Imtiaz Qureshi (born into a family of traditional chefs) from whom I tried to learn some culinary secrets many years ago… in vain. He's a sly chef with many secrets up his sleeves! The old charmer, the inimitable maestro of masala, whose forefathers cooked for the nawabs of Awadh, cleverly manoeuvred the conversation to something else, every time I asked him for his recipe for garam masala (undoubtedly one of his real secret weapons). His personal favourite dishes, he says, are those cooked by the women of his family, simple everyday dals and kormas. Was he still capable of cooking a simple recipe though, the kind you whip up in a couple of minutes, which do not need a thousand complicated ingredients, for which you need to trek around town? Within a second he asked for some breast of chicken and a pair of scissors.

"I am going to show you Kainchi Kebab. This was invented when there was leftover raw chicken or mutton, intended for Pasanda, in the house." We worked with chicken and mutton, although he insisted that "Delhi (actually Jaipur) has the best mutton in the country."
He sprinkled a bit of this and that and then asked me to mix the lot as he watched carefully out of the corner of his eye… as if to test my skills. Within a minute, the kebabs were dusted with besan, deep fried and walloped by all of us. It was perfection.
Lucknow is also the place for wonderful pulao. It is hard to find a genuine pulao nowadays in restaurants. For commercial reasons, everyone seems to serve what they call 'biryani'. Real pulao is more than some peas and curry powder thrown into rice. Pulaos were considered superior to the biryani in medieval Delhi. They were made with rice, meat and meat stock cooked together whereas in biryanis, rice was cooked separately and then mixed with cooked or marinated meat and then cooked again. And unknown to many who simply know Lucknowi biryani and Tunday kebab, Lucknow has some of the best chaat in the country.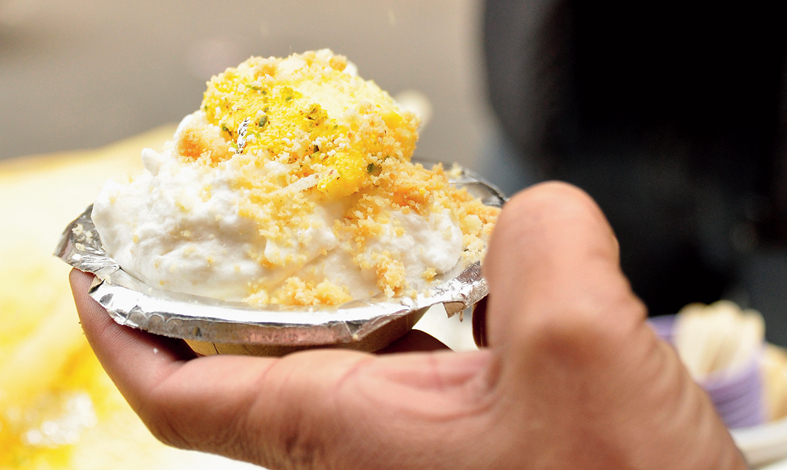 Daulat ki Chaat Karen Anand, The Telegraph and PTI
The magic of Delhi

Chaat is something we excel in. Nowhere in the world can you find the sensation of sweet, sour, crunchy and spicy served on or off the streets. If there is one thing you cannot miss when you go to Delhi, it is chaat (which means 'to lick') — golgappa or pani puri, raj kachori, fried aloo chaat, aloo tikki, dahi bhalla, papri chaat and so on — all topped with sweet tamarind and green chutneys, chaat masala and sometimes sweet yoghurt are simply irresistible. You can still find the best Dahi Bhalla at Natraj in Chandni Chowk and the tastiest chole bhatura in Sadar Bazar but a much more civilised place to try them all is Bengali Market in New Delhi.
Chandni Chowk, in the old city, near Red Fort, was once home to the best street food in the city. However, it is still worth fighting your way through the crowds in Chandni Chowk for Jalebi Wala, the rabdi-kulfi next door and the Glass-wali rabdi from Giani's di Hatti. It is easy to see the Mughal legacy with the number of halwais (sweetmeat shops) and syrupy drink vendors in this part of the city.
You can eat phirnis in shakoras (unglazed earthenware pots) and at times, if you are lucky, you may see Daulat ki Chaat — milk foam or froth, sold on leaves. For me Delhi is most beautiful in winter, when the air is crisp and cold. Familiar sights are cartloads of rewdi and gajak, nut and sesame brittle made with jaggery, red carrots, tender peas in their pods and plump white turnips on every street corner sold by men in sweaters and furry hats, mufflers hiding their rosy cheeks.
I love the little bunches of purple narcissus you can buy in Bengali market and kanji, black carrot juice spiked with roasted jeera, not to mention hot parathas and aloo mattar and a plethora of winter pickles.
I spent much of my adult life in Bombay and to me it is still home. When I smell burning Amul butter on a tawa of bhaji ready to be scooped up on to a plate next to some pavs dripping with butter, when I am asked if I want pani puri made with mineral water at Elco Arcade and when I can walk into a restaurant in the by-lanes of Kala Ghoda in south Bombay and devour the best and most succulent crab in the world… I know I'm in Bombay.
And where will I travel to eat now? Anywhere to comfort my soul, a taste or texture, which will excite me and definitely a recipe or two to take back home.

Karen Anand is a culinary consultant, food writer and entrepreneur. In recent times her name has been synonymous with farmers' markets. Follow her on www.facebook.com/karenanand