Eat Australia's best roo stew on Grand Pacific Drive
About 45 minutes from Sydney, this coastal adventure has some serious bite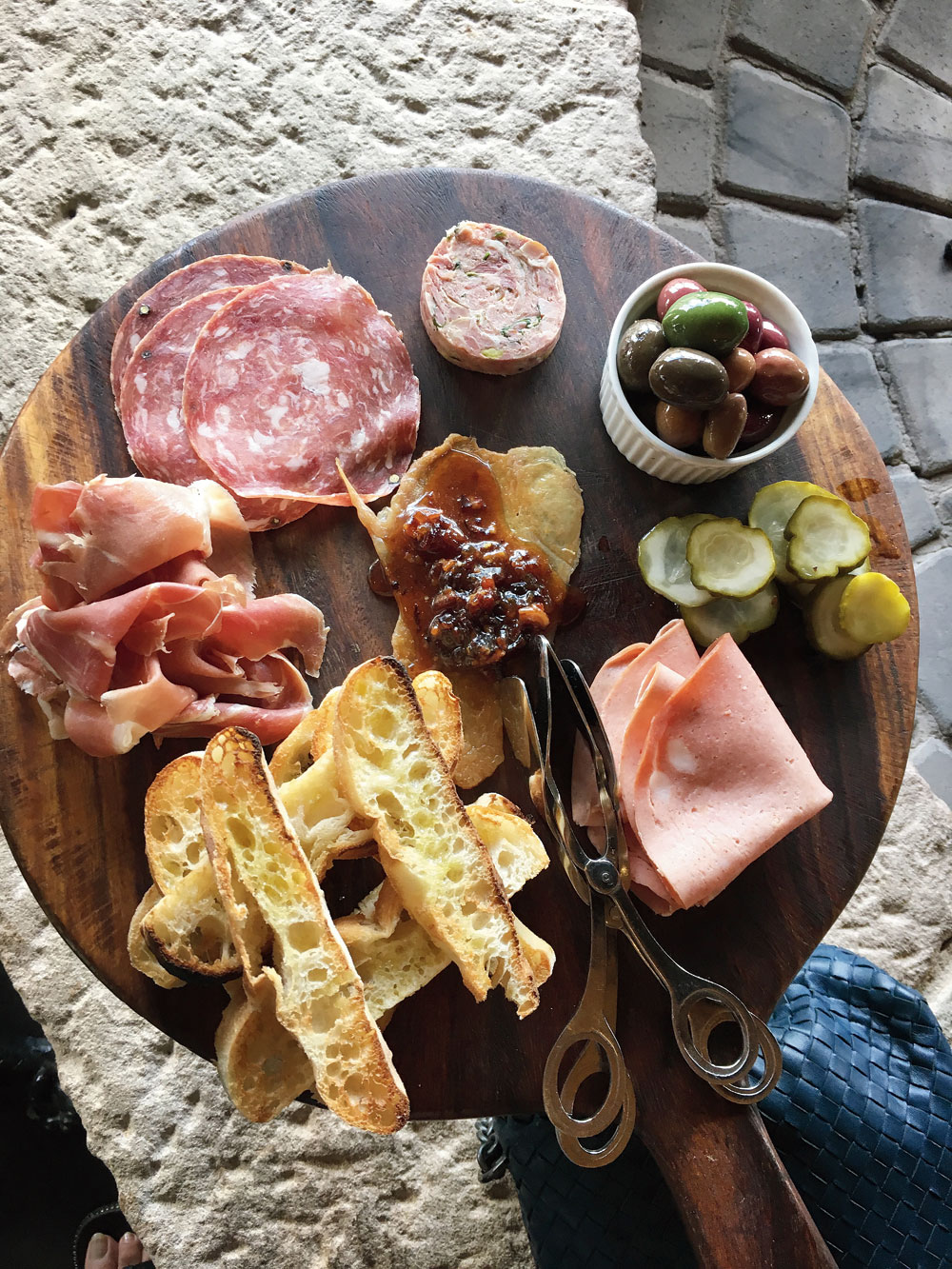 The Bendooley deli board
Image: Karen Anand
---
Published 12.01.19, 06:30 PM
|
---
Blanc de Blanc, jaffles and roo
After a Tartare of Tuna with Cracked Wheat and Harissa Aioli and the Bendooley deli board, we start on the road again towards Centennial Vineyards — a beautiful setting overlooking pristine vineyards and a restaurant. We are here to taste their award-winning sparkling wines. The Blanc de Blanc — a sort of a posh version of Aussie sparkling with a pink grapefruit flavour and a complex creaminess reflects the four-year ageing. They are also one of the only wineries in Australia to use a Rondinella Corvina varietal for their classic Ripasso Della Valpolicella wine style.
We finally arrive at our home for the night, the quaint Peppers Craigieburn resort — a stunning rural property nestled on the outskirts of Bowral in NSW's Southern Highlands. Set on a picturesque country estate, this fully refurbished grand country home features 72 rooms, its own private nine-hole golf course, a lake for fly fishing, gymnasium, billiards room, tennis courts and a beauty therapy room.
That evening we visit the much-lauded restaurant Biota, recipient of Two Chef's Hats (Good Food Guide 2017). Chef James Viles's sustainably-driven restaurant (with a solar-powered kitchen!) has also been named as one of the Top 10 Green Hats for his "earth-friendly enterprise".
Tendulkar pads up in a quaint town
The next morning, after a brisk walk around the Peppers Estate we go to the Bradman Museum in Bowral. I must be the only Indian who knows absolutely nothing about cricket and confess my ignorance to Rina Hore, the executive director of the museum. Having said that, it is a fabulous museum, beautifully curated and even has a section devoted to Sachin Tendulkar!
Bowral itself is a quaint town but the village that really stole my heart was Berrima, which is widely recognised as the best-preserved example of a Georgian village on the Australian mainland. From 1831 to the 1860s was a time of promise and growth for Berrima, which came to an abrupt end when the railway bypassed the village in 1867. For the next 100 years there was little or no development. Today's visitor to Berrima can experience the quiet charm and romance that comes from those features of the village which remained frozen in time. It is clearly an affluent area with delightful shops selling everything from basket ware to gourmet jams, desserts and designer ware and quaint cafes. Stones Patisserie is a must visit; don't leave without having one of their Raspberry Rose Macarons.
Although the leisurely drive with our many stops took over two hours, we decided to take the motorway back to Sydney, which was a very comfortable one-hour journey. If you are visiting friends or relatives Down Under, make some time to venture "off track". It's well worth it. Karen Anand is a culinary consultant, food writer and entrepreneur. In recent times her name has been synonymous with farmers' markets. Follow her on www.facebook.com/karenanand
After a couple of hours, we reach the Berkelouw Bookshop. It is an old-fashioned bookshop with a vintage/second-hand section where I stumble upon the book One Continuous Picnic by Michael Symons. As book dealers, the Berkelouw family has a long history of searching the world to find the rarest and the best in books. They approach hospitality with the same attention to detail and passion — celebrating the local and striving to offer a unique, delightful and memorable experience. Sydney is a marvellous Australian city, full of life, stunning restaurants and... water, water everywhere. But, at the end of the day, it is a city with a bustling CBD (central business district) and a thriving post-work culture. If you feel like getting away from it all, it makes a refreshing change to hire a car and drive south to explore some of the great Australian countryside.
We set off one morning from central Sydney and after 45 minutes we were on the Grand Pacific Drive, a 140-kilometre scenic coastal stretch that takes us through rainforests, over the iconic Sea Cliff Bridge and through the coastal cities and townships of Wollongong, Shellharbour, Kiama and the Shoalhaven. It's like a tropical Great Britain with quaint villages and residential areas set in sunshine.
We stop for a pie at Robertsons Pie Shop. This is an iconic stop for anyone heading south. Robertsons has won many awards and their apple pie is not to be missed.
Locally grown produce and a kitchen garden deliver ingredients and the wine menu is also completely local. Even the rose petals for desserts are supplied from the chef's mother's garden. Some of the dishes on their
10-course tasting menu blew me away — the tomatoes in their own water with smoked oil and spring florals and the amazing red claw yabby jaffles.
Jaffles are toasted sandwiches and something every Australian child comes back to after school. Theirs is a super-luxurious version with creamy crayfish oozing out of hot-buttered toasts. Chef James also does foraging tours if you want a real "forest to table" experience.
I had to have the Campfire Roo Stew — this is parooroo which is the best kangaroo to eat in Australia. It has a slightly gamey flavour and the texture of beef. Some Australians may appear strange to outsiders because they are happy eating kangaroo since they are considered pests! There's no "warm, cuddly" feeling there.
Do try the Merimbula wild oysters, considered the best oysters in Australia. They have a sweet creaminess with a slight salty quality, reflecting the tidal flavours in the lakes where they are reared. They also have a hint of seaweed at the end; they are less briny than the smaller Sydney rock oyster. If you wander from the Book Barn down the hallway, you'll discover their Cellar Door with a magnificent fireplace built by local artisan, Rick Stanton. It's an eye-catching centrepiece for the stone–hewn walls, each piece hand-picked from a local quarry. Above the bar is the story of Bendooley Estate in golden hues by a local painter John Olsen, one of Australia's most celebrated artists. The tables are made from naturally fallen trees from their property — a celebration of local craftsmanship in time-worn timber. So whether you're here for a wedding, to stay in the magnificent cottages, view their newest addition — The Stables, taste their wines or just to enjoy a delicious meal in the restaurant, you'll find this a magnificent first stop.