Durga Puja brings communities together over bhog
Stunning display of creativity and art in the form of innovative themed pandals and idols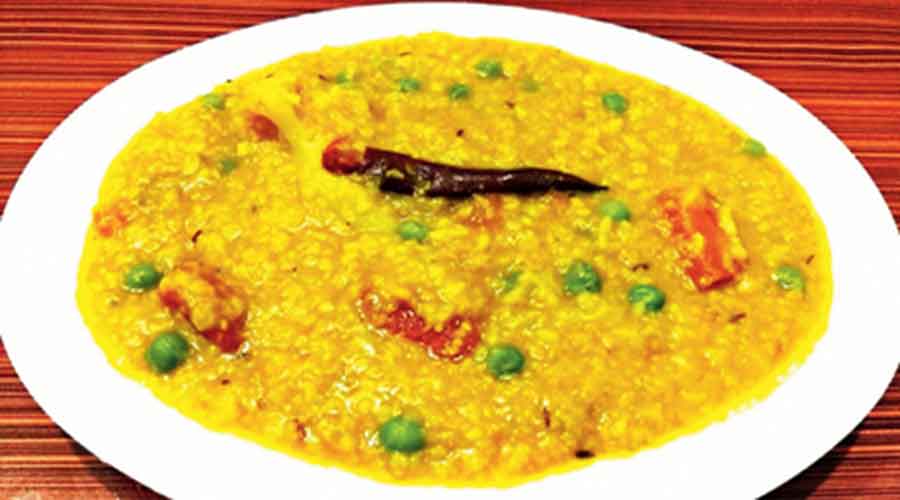 Bhoger Kichuri
Sourced by The Telegraph
---
Published 24.10.20, 07:07 AM
|
---
Christmas in New York, Rio Carnival in Brazil, and the La Tomatina Festival in Spain together cannot beat the magnitude of the Durga Puja celebrations in Calcutta. You will find a stunning display of creativity and art in the form of innovative themed pandals and idols. It is almost impossible to pen down the grandeur of the experience of Durga Puja. It is a celebration of divine feminine power and victory over the demon Mahishasura.
Most festivals in India share and support a single concept. They might be multilingual or multicultural but they all have one unique common quality, that is, binding communities. It's an opportunity for communal bonding, especially for the Punjabis, Gujaratis, Marwaris, Muslims residing in the city, and Durga Puja is one such festival, it is the time for communities to come together. There are several small aspects that give Durga Puja its present identity — from the actual Pujo, the adda sessions to the food, of course! You cannot miss the food that is made in the kitchens of Bengal, especially during the Pujas if you consider yourself a serious foodie.
It is a standard sight on Ashtami afternoons in Calcutta. Outside neighbourhood puja pandals, young dada-boudis and elderly kaku-kakimas wait in the stifling heat, with infectious enthusiasm and withering patience, while youngsters, their volunteer badges in place, lay out sal leaf plates on narrow tables with wobbly legs. Behind the mandap, in makeshift tents, sweaty, gamchha-clad cooks vigorously stir giant pots of runny khichri, and fish out piping hot begunis (aubergine fritters) or misshapen luchis from bubbling oil and toss them into mammoth straw baskets, with a seasoned flick of the hand.
Durga Puja bhog is almost synonymous with khichri — a savoury combination of dal and rice — and vegetarian accompaniments, such as beguni or labra. But the bhog served at community (barowari or sarbojanin) Pujas is standardised vegetarian fare for the benefit of the diverse public who attend.
The bhog offered at the Pujas held in old, traditional homes of Calcutta is quite a contrast from the labra and khichri in para pandals. You will find several unique dishes — like Sovabazar Rajbari's humongous white motichoor ladoos or Ghosh Bari's sandalwood-laced kheer. An unusual and minimalist feast is the bhog at the almost 250-year-old Baishnab Das Mullick's Puja where anna bhog (rice-based bhog) is made with salt and turmeric powder by cooks who have been with the family for generations. One of the oldest Pujas is the Sabarna Roy Choudhury Atchala Durga Puja where the spread includes ghee bhaat, khichri, basanti pulao with dry fruits, fried vegetables with different kinds of curries, fish dishes, bori (dried lentil balls), payesh and an array of Bengali sweets.
Bonding over bhog
Durga Puja bhog intrigues Bengalis and non-Bengalis alike with their interesting and fanciful tales associated with each, like the Durga puja bhog took a twist at Bhattacharjee House, Shibpur, Howrah, when hunger and deprivation hit Bengal in 1942. Following a dream commandment from the deity, the Bhattacharjees started to offer banana stem and green amaranth dishes as part of their bhog spread which was distributed to the people. A ritual started then, is now an integral part of this Puja. In 1901, Belur Math Durga Puja was started in the presence of Swami Vivekananda and to this day serves khichri bhog to devotees during the Pujo. The bhog includes rice, ghee rice, deep fried seasonal vegetables (bhaja), two or three types of pulses, many vegetable dishes, and several types of freshwater fish curries.
Puja bhog, actually a part of naivedya, is an essential phase of Hindu worship where devotees offer various foods to the deity. Bhog offered during the four main days of Durga Puja are sumptuous and, of course, vary from family to sarbojanin (community) Puja.
Usage of garlic and onions is strictly prohibited in Puja dishes, even for fish or mutton curries.
The mutton curry, niramish-mangsho, is cooked with cumin powder and ginger paste as predominant spices. Some families, in keeping with tradition, offer uncooked rice, lentils, and veggies to Ma Durga as the bhog.
Some families offer kochur shak (taro leaf stems) and panta bhaat (fermented rice) with other accompaniments on Dashami as a mark of sadness that the idol is leaving, hence nothing can be cooked in the kitchen.
Ashtami however, holds a special treat for Bengalis. Anticipation for the bhog begins with the morning fasting. After offering the Ashtami anjali, one gets slices of fruit as prasad. In the afternoon, people gather at the Puja pandals to get piping-hot khichri bhog.
A common khichri platter in a sarbojanin Puja pandal would comprise khichri, torkari/labra (a semi-dry mixed-veg dish), beguni or begun bhaja (fried brinjal), tomato chutney and payesh.
This rather satisfying bhog gets its authentic flavour from two important ingredients — Gobindobhog chaal (rice) and sona moong dal. Being an unparalleled, yet humble dish of every Puja, khichri still varies from family to family. I've learnt to cook this from my para kakima living next door. Her recipe was quite basic with just rice, lentils and potatoes and we loved to devour it after every Puja, another example of communal bonding. MOCHAR PATURI (BANANA BLOSSOM IN BANANA LEAF)
Ingredients
2½ cups banana flower (parboiled and chopped)
1 tbsp mustard seeds
1 tsp poppy seeds
½ cup coconut (grated)
¼ tsp cumin seeds
4–5 green chillies
½ tsp garam masala powder
3 tsp oil
1 tsp sugar
Salt to taste
Method
Boil the mocha with plain water. Discard the water once the mocha softens. Soak mustard seeds, poppy seeds, green chillies and cumin seeds in a little water. Then grind all these with grated coconut.
Mix together this paste with boiled mocha, one tsp mustard oil, one tsp sugar and salt to taste. Mix well and leave it to marinate for one hour.
Cut the banana leaves into approximately 20cm x 20cm squares. In order to make the banana leaf foldable, hold it over direct flame for a while or soak them in warm water for few minutes, so that you can easily fold it. Otherwise it will break.
Add three tbsp of marinated mocha on each banana leaf. Fold the banana leaf and tie with a cotton thread. In case you are using aluminium foil (for cooking in the oven), you do not need to tie — just seal the foil and bake in the oven.
Now take a pot with some water and put on the gas. Place your colander on it. The water should not touch the colander. The parcels will be cooked in steam. Place all the parcels on the colander and cover it.
After five minutes remove the cover you will notice that the colour of the banana leaf has started to change. Turn all the parcels upside down and cover again. Cook for another five minutes.
Switch off the gas. And let the paturies be in the colander for some time. Take a flat pan/tawa/griddle and place it on the gas. Heat two tsp of mustard oil till it smokes. Place the banana leaf parcels on the tawa, cover with a lid and slow cook on low fire for two-three minutes or till the green leaf starts showing brown patches. Turn the parcels and cook the other side.
Mochar Paturi is ready to be served. Enjoy this dish with steamed rice.
A Durga Puja like no other
The place where I used to stay, on one side was a family which had come from Eastern part of undivided Bengal (Bangladesh) and on the other side was a family from West Bengal.
Though both styles of cooking originate from almost the same geographical location, they differ entirely in the spices and marinades used. With a lavish use of oil and chillies, Bangals prefer the tanginess that comes from the addition of whole or pureed tomatoes and the richness that it adds to the dish. The trump card of Bangal cooking is probably the use of morich bata and phoron, a combination of whole spices, fried and added at the start or finish of cooking as a flavouring special to each dish.
Bhapa Ilish is one such preparation in which the hilsa fish is steamed in oil and spices, giving it a musky and smoky flavour. Whereas ridiculed by the Bangals for their bland and sweet gravies, the main ingredient in a Ghoti's kitchen is jaggery or sugar. Traditionally preferring the sweet taste, a true Ghoti is known to add a bit of sugar to most of their dishes. The preparation of a Ghoti meal involves a fair amount of boiling and roasting along with frying.
Another ingredient, which is widely used by the Ghotis is posto (poppy seeds). Their all-time fascination with this has led to most of the Ghoti delicacies being lined with poppy seeds like Alu Posto, Dim Posto, Jhinge Posto and much more.
Living in a close knit para (locality), the influence of Bengali cuisine has had a great impact in my acquired tastes, where every year we used to enjoy an array of delectable and long-forgotten recipes, like Chitol Macher Muitha, Mochar Paturi, Paatpatar Boda (jute leaves pakora), Ghoti-style Jhinge Posto (ridge gourd in poppy seeds paste) and Bangal-style Pyaaj Posto (onions in poppy seeds paste), Murighonto Macher Matha Diye, Phulkopir Murighonto, Galda Chingdi Chiney Kebab, Aam Posto Chingdi and Kankra Galpetechi and many such old and traditional items which have lost their place in today's kitchens owing to the fact that earlier in joint families everybody used to take an initiative to contribute or were forced by their elders to give an helping hand in preparing the meal for the Devi. Underneath the rituals, there was an intimate note to the bhog offered to the goddess.
However, the pandemic has allowed time for some and forced others to hone their cooking skills in their respective kitchens. Thus, we might see many contributors to the bhog this time in our households, or special long-lost recipes might be quipped up in these kitchens owing to the factor of uncertainty among many to venture out for pandal hopping like other years.
Bengali cuisine is somewhat scientific in nature, and starts with eating bitter food which is somewhat of a culinary tradition of Bengal and it is attributed to the availability of the ingredients. It is said that eating bitter food increases our appetite. This is the reason we have the tradition of eating teto before we start our main course. However, I would like to add here that shukto, though a bitter item, is not really bitter in its common use. It is said that a good cook is one whose shukto is not bitter. That is the reason many use shiuli leaves with bitter gourd to prepare shukto. Despite its health benefits and popularity in Bengal, bitter remains an acquired taste.
This year, due to Covid-19, there is a lot of uncertainty about how many people will come out for the festival and maintaining social distancing and sanitisation on such a large scale will be very difficult. So we assume many homegrown cooks, who have polished their culinary skills, will entertain their near and dear ones and the familial tradition of celebrating Durga Puja might be the normal for this year.

Satnam Singh Ahluwalia is the food curator of Options Unlimited, Calcutta. He can be reached at satnam.kolkata@gmail.com

ILISH BHAPA
Ingredients
4 hilsa pieces
4 tbsp black mustard seeds
4 tbsp white mustard seeds
4 tbsp poppy seed
½ cup coconut, freshly grated
2 tbsp yoghurt
3-5 green chillies
1 tsp turmeric powder
1 tsp salt
½ tsp sugar (optional)
3 tsp mustard oil
Water

Method
Clean the fish carefully but don't wash under running water; it will wash away the flavours from the fresh fish. If your hilsa is not fresh or if you are not habituated with the smell of raw fish, marinate the pieces with salt and turmeric powder and keep aside for 10 minutes.
Take a small bowl and soak poppy seeds with mustard seeds in half cup warm water for 10-15 minutes. Add few green chillies with it. Once seeds are softened strain seeds (discard the water) and grind into a coarse paste without any additional water.
Add coconut, turmeric, salt, sugar rest of green chillies and make a smooth paste. Mustard tends to get bitter while grinding too much, so it's better to pulse only two-three times.
To make any kind of bhapa you will require a stainless steel tiffin box with tightly fitted lid which will be kept on steam or bhap for 15-20 minutes. That is why the box should be sturdy, otherwise it will burst open in boiling water.
Take three tbsp of this mixture in the tiffin box and mix with previously-whisked yoghurt. Whisk both together until a smooth paste is formed.
Add hilsa pieces to the tiffin box and coat well with mixture. Cover all the sides and cavity neatly. Cover the box and allow to rest for 15 minutes. The hilsa will absorb all the flavours.
If you need slightly runny gravy to go with your rice, open the box after 15 minutes and add ½ cup water. Mix thoroughly without disturbing the fish steaks.
Slit four green chillies halfway through and place each of them on each hilsa steak. Drizzle two tbsp of mustard oil and cover the lid tightly. Take a large wok or any wide open pan; place a stand in the middle. Set the hilsa-filled tiffin box on the stand carefully so that the tiffin box doesn't touch the bottom of the wok/pan. Now pour hot water (not boiling) into the wok so that only bottom half of the tiffin box is covered with water. Cover the wok with a tightly fitted lid and allow to cook on medium flame for 15-20 minutes.
If your hilsa steaks are thicker than one inch, cook for 20 minutes, otherwise 15 minutes will be enough to cook the fish. Once done, switch off the flame and keep on the stand for another five-seven minutes or until it is bearable to touch the wok or tiffin box. Remove tiffin box from wok carefully; take precaution, as it will be hot enough to burn your skin. Remove lid of the box gently and drizzle some mustard oil on top of hilsa pieces.
Serve with hot steamed rice.