Winner winner chicken dinner
It is the #1 bestselling dish on almost any menu, anywhere in the world and for the main reason, most probably its versatility, that too, due to its natural flavour profile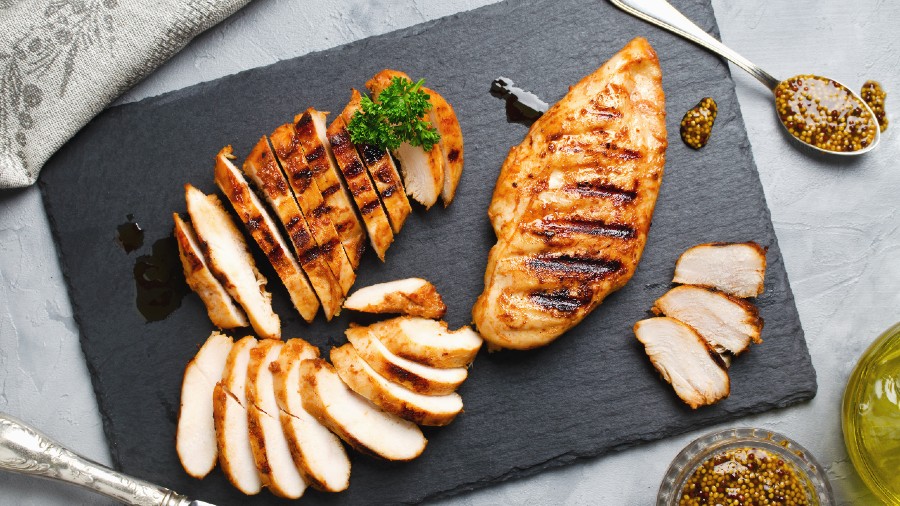 ---
Published 08.06.21, 10:21 PM
|
---
Everyone must love chicken because most of the DM's I get beyond the ones for bread, baking and desserts are either asking for more vegetarian recipes or — "please chef can you share more continental ideas for chicken!"
What self-respecting non-vegetarian, anywhere on the planet doesn't love a bit of chicken? Chicken is the #1 bestselling dish on almost any menu, anywhere in the world and for the main reason, most probably its versatility, that too, due to its natural flavour profile. You can marinate and flavour it with any and it is great grilled, roasted, fried, sauteed, steamed, stuffed or braised. Great in a broth, of course in a curry, as keema, stuffed in paratha… the list of variations and recipes is endless.
Here are my favourites from recent times and I hope I have given you some choice and variety.
Smokey Honey Mustard Chicken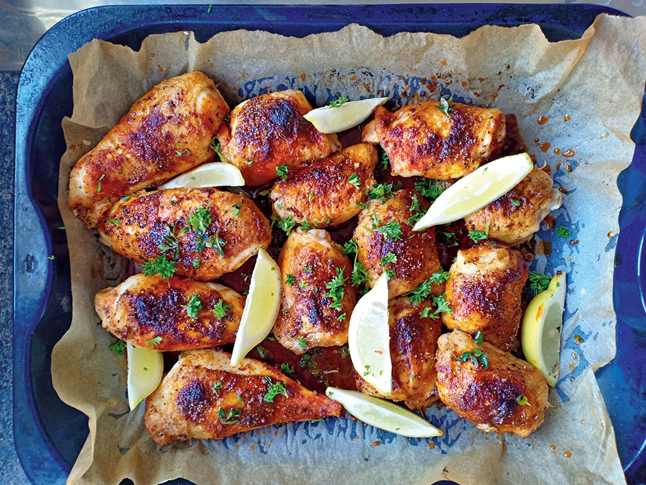 Here is an easy one to get us started. This Honey Mustard Chicken is one of those forever finger-lickin' good crowd-pleasers and a mainstay of menus the world over. Dead easy to make and can just as easily be served with a side or spuds, rice, pasta, veggies, couscous, or roti. Obviously, I have kept this really simple but feel free to add some chilli flakes and cracked coriander seeds to add a variation and if you ask me personally, this works even better if you grill your coated chicken pieces on a barbecue. I have even had these on menus in the past, cooked in the tandoor! Spectacular!
Ingredients:
• Chicken (with skin), 1,200g
• Honey, 4tbsp
• Smooth mustard, 2tbsp
• Juice and zest of 3 lemons
• Paprika, 2tsp
• Parsley
Method:
• To start with, preheat the oven to 200°C and if you don't like extra washing up as much as me, line a roasting tray with parchment paper as shown in the photo.
• Drizzle over the honey, smooth mustard, juice and zest of lemons — gondhoraj or a mix of the two would also be great, paprika or smoked paprika if you can get it (I get mine from Amazon) with plenty of salt and freshly ground black pepper.
• Give all the chicken pieces a good toss together in the mixture and arrange in the tray skin side up before baking for 30 minutes or until the skin is crisp and golden and you are good to serve with lemon wedges and a good sprinkling of freshly chopped parsley.
Buttermilk Crispy Fried Chicken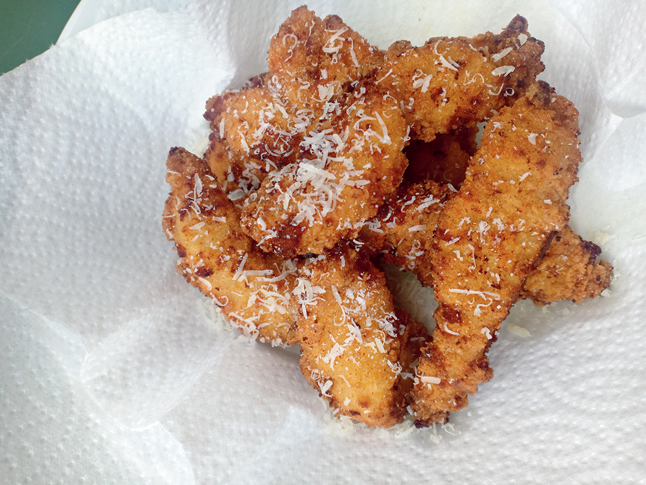 I made some spicy buttermilk chicken strips a few days ago for dinner with chicken tenders — the piece just under the breast but use whatever part of the chicken you fancy. Shredded thighs are also good as they are nice and fatty, juicy.
Ingredients:
• Yoghurt, 100ml
• Water or buttermilk, 30ml
• Egg, 1
• Cornflour, 2tbsp
• Cumin powder, ½ tsp
• Garam masala, ½ tsp
• Chilli powder, 1 tsp
• Ginger, freshly grated
• Garlic, clove, finely chopped, 1
• Green chillies, finely chopped, 2
• Salt
• Chicken tenders, 500g
• Flour, 150g
• Garlic granules, ½ tsp
• Black pepper
• Oil
Method:
• Into a bowl, whisk together yoghurt and water or use buttermilk, if you can get it.
• To this add egg, cornflour, cumin powder, garam masala, ½ tsp chilli powder, fresh ginger, garlic, green chillies and plenty of salt and freshly ground black pepper.
• Once well whisked together, throw in the chicken tenders, cut into strips. Make sure each piece is well-coated.
• Cover with cling film and into the refrigerator overnight.
• When you are ready to cook them, make a coating with flour, cornflour, salt, chilli powder, garlic granules and ½ tsp black pepper. Make sure the coating is mixed well together.
• Place onto a flat tray or plate. Start to coat the chicken one strip at a time, using one hand to remove the chicken pieces and the other hand to roll the chicken in the spiced flour, pressing slightly until the chicken has a good coating all over.
• Place each tender onto a plate, one at a time to avoid clumping and so they will fry easily and evenly.
• Next, heat cooking oil to around 170°C and start to fry in two batches for around six to eight minutes until crunchy and golden.
• Remove and drain off the oil on kitchen paper. It's as easy as that!
• You can either eat them as they are with a dip of your choice or like we did here, as a wrap with whatever you want. Either way they are delicious.
The Tenderest Cantonese Poached Chicken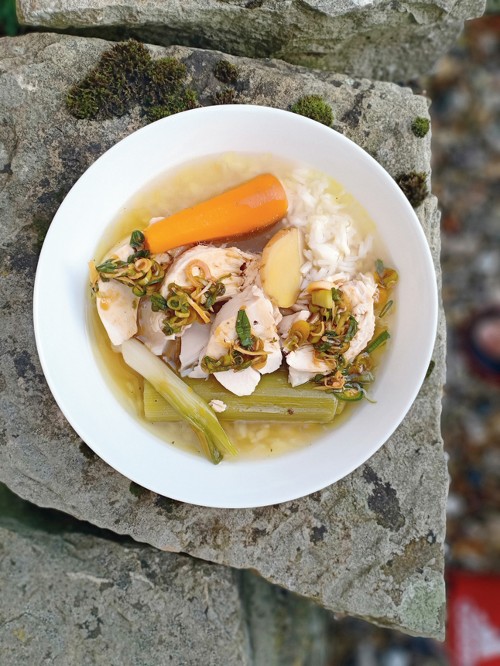 This dish is a favourite at the Kenworthy residence. So much so that my wife will wake up some mornings, almost demanding it for dinner and of course, I am always happy to oblige. It's light, simple, fresh and healthy and also raises the question, could a whole chicken poached Cantonese style, be the king of one pot meals?
Ingredients:
• Whole chicken (with skin on), 1.5kg
• Ginger, peeled and cut into pieces, 4-5
• Carrots, peeled, 4
• Leek, 1
• Celery 4
• Small bunch of spring onions
• Salt
• Ground black pepper
• Sugar or jaggery, 1tbsp
For the dip/dressing:
• Light soy sauce, 3tbsp
• Vinegar, 1tbsp
• Shredded ginger
• Shredded green chillies
• Shredded spring onion
Method:
• Take a large pot — one big enough to fit a whole chicken with enough room left for the vegetables and just big enough so that a lid will fit snugly. Throw in four to five good-sized pieces of peeled ginger, around two inches long and one centimetre thick.
• Add the whole carrots, leek, sticks of celery, a small bunch of spring onions, plenty of salt and ground white pepper, sugar or jaggery.
• Cover with water and then bring to a boil and simmer for half an hour with lid on.
• Remove from the heat and set aside for another half hour. This allows it to slowly continue to cook with the residual heat in the pan and it really works like magic.
• To serve, remove the chicken and cut into good sized pieces. Serve these over freshly steamed rice with carrot or some spring onion and a dip or dressing by mixing all the ingredients mentioned.
Shredded Chilli Chicken Stir-fry with Korean Egg Fried Rice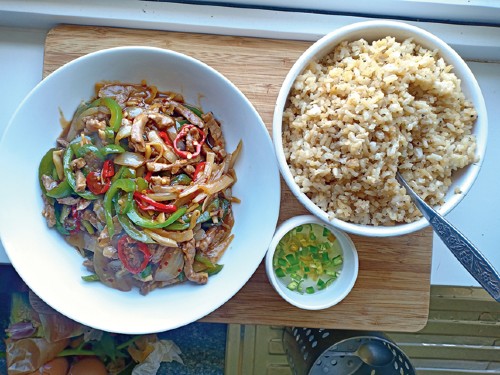 If you have been missing hopping around all of your favourite restaurants during this lockdown, here is a dish that you can easily make at home and I can confidently say will be better than any home delivery you will ever have.
Ingredients:
For the chicken:
• Oil, 2tbsp
• Garlic, 4 cloves
• Shredded chicken, 250g
• Shredded ginger, an inch
• Shredded red chilli, 2
• Onion, sliced, 1
• Shredded green capsicum, 1
• Green chilli, chopped, 4
• Sugar, 1tsp
• Light soy sauce, 2tbsp
• Coriander, chopped
• Salt, to taste
• Ground black pepper, to taste
• Cornflour
For the fried rice:
• Eggs, 4
• Rice, 400g
• Ginger-garlic, chopped
• Oil, 1tbsp
Method:
For the chicken:
• Heat a fry pan or wok if you have one, till scorchingly hot with cooking oil and fry garlic until brown.
• Next, add the shredded chicken. Please feel free to use pork, chicken, tenderloin. Even prawn will be great. Stir-fry for two minutes.
• Then add, roughly an inch of shredded ginger, shredded red chillies (a red capsicum will also be fine), onion, green capsicum, green chillies and again, stir-fry for another two minutes.
• Next, add a teaspoon of sugar, light soy sauce, some freshly chopped coriander (for that Calcutta-Indian Chinese taste), salt and freshly ground black pepper to taste and thicken with a little cornflour and water slurry. It will be relatively dry but this will make for a coating (as in the photo), rather than watery. Serve immediately.
For the fried rice:
• To go along with it, I also made some Korean or Chinese takeaway-style egg fried rice as I like to call it. Made by cracking the eggs into well chilled pre-cooked rice and mixing together with chopped garlic and ginger, thoroughly before frying in a fry pan or wok — again heated until scorchingly hot with a good tablespoon of cooking oil and stir-frying until light, fluffy and slightly scorched.
• Season well as you go with half a teaspoon of sugar, a good sprinkling of light soy sauce, vinegar and of course, salt and pepper before serving.