A sip of tradition at a Japanese tea ceremony
Japanese consul general in Calcutta, Masayuki Taga, hosted a tea ceremony at his residence for which two experts from the Urasenke chado (tea ceremony) school had flown over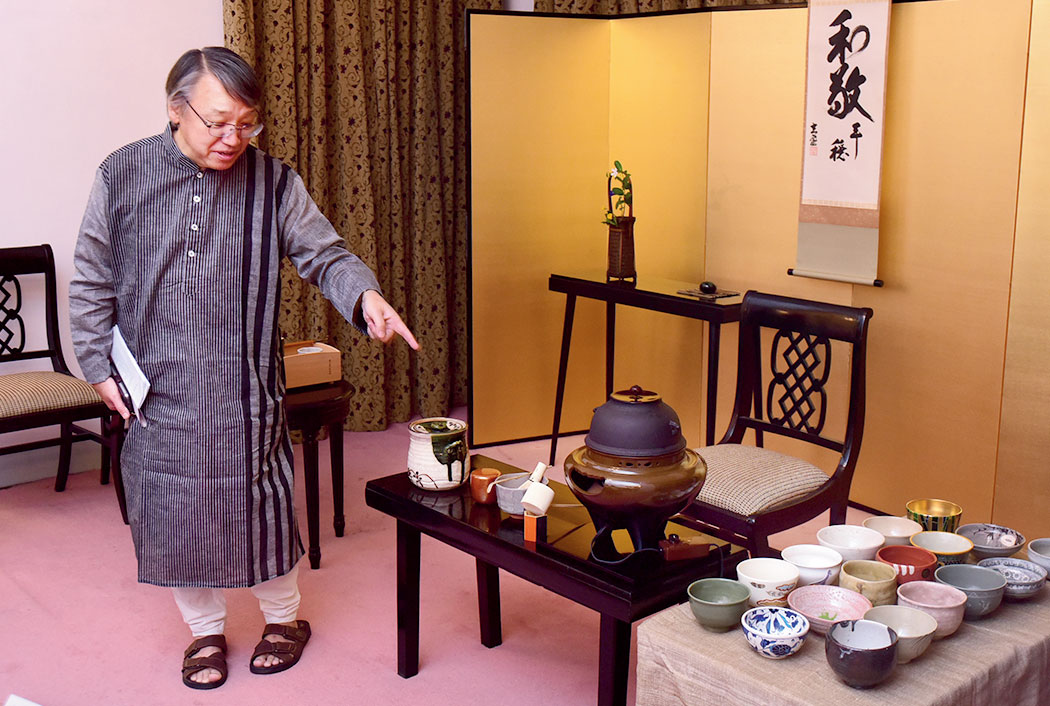 ---
Calcutta
|
Published 22.08.18, 12:00 AM
|
---
Japanese consul general Masayuki Taga hosted a tea ceremony at his residence in Ballygunge for which two experts from the Urasenke chado (tea ceremony) school had flown over.
"Chado actually means the way of tea," said the consul general, showing guests a fan on which was calligraphed the words "hibi senshin", meaning "wash your heart every day". The fan calligraphy was done especially for the event in Calcutta by the 16th generation grandmaster of the Urasenke school, Zabousai.
Another piece of decor essential to the tea room was a hanging scroll. "It carries the message Wa-Kei-Hei-On, which means harmony, respect, tranquility. These are key principles of the way of tea," Taga added.
Next to it was a single floral stem, picked from the garden outside. "Tea room flowers are supposed to be simple. Even grass flowers would do," he said.
Yuri Shirai, a teacher from the school, introduced the guests to the ancient tradition in which the seating has been modernised, allowing tables and chairs to be used. "This more relaxed style, called ryurei, was introduced by our 11th grandmaster for the convenience of foreigners," she said.
Another teacher, Kuniko Inukai, measured out Matcha powder for each bowl, adding hot water from a pot on the boil on a furo (brazier). What evoked awe among guests was the handmade delicate tea whisk, made of bamboo. Matcha is a powder tea used for the tea ceremony, as also to make cakes and puddings. "In daily life, we take leaf tea," Taga said.
The tea, green and frothy, was to be had with Funoyaki, a crispy wheat flour pancake, and Kohaku, a sugar-coated candy jelly, which accounted for a sweet aftertaste.
Guests were taught to admire the bowls by turning it twice on their palm. The bowl t2 got had three typical elements — Mt. Fuji, feather of a hawk and an eggplant. "If you dream of these elements, it will be very lucky for you," said Shirai.
The ritual ended with an equally elaborate and stylised washing of the utensils.
Sudeshna Banerjee
Pictures: Arnab Mondal