Theatre fires Palestine's cultural resistance
We're not healers, we're freedom fighters, said Juliano Mer Khamis, founder of The Freedom Theatre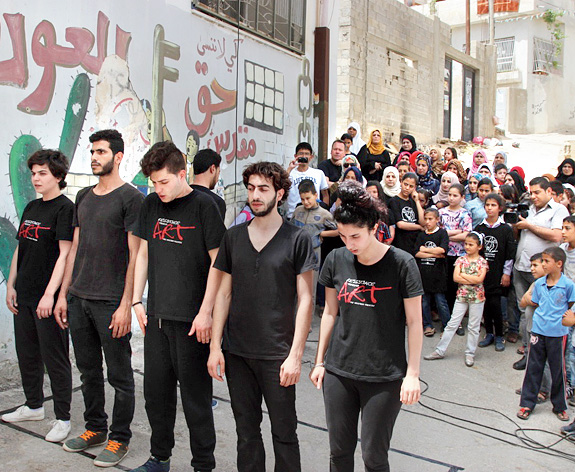 ---
Published 08.11.18, 05:47 PM
|
---
The first section introduces Juliano Mer Khamis and his mother, Arna, who, in spite of their Israeli past, were the primary players in inspiring a movement of challenge/resistance in the Israeli-occupied areas of Palestine, particularly Jenin. That Arna Mer Khamis's project to encourage educational and creative activities among children of the Jenin refugee camp was itself a form of resistance is suggested by her choice of the label "Learning and Freedom".

Her legacy was continued by her son, Juliano, who co-founded The Freedom Theatre in the Jenin refugee camp (in February 2006) and remained its artistic leader till his murder in 2011. Although some of the entries — like Hala Khamis Nassar's "Palestinian Theatre: Trials and Tribulations" or the interview with Samer Al-Saber, "Reflecting on Palestinian Theatre: A Resilient Theatre of Resistance" — delve into the background of Palestinian theatre, the major concern of the volume is with the role of TFT in promoting cultural resistance in present-day Palestine.
This notion of cultural resistance, spearheaded by Juliano Mer Khamis and his TFT, had to confront multiple levels of occupation. The overt levels at which the occupation operated included the propagandist Zionist movement, the theocratic rigidity of Israel, the naked measures of repression carried out in occupied areas and the proxy administration of the Palestine Authority. There were also more covert levels of operation, particularly in the organized colonization of the mind and/or erasure of the identity of the Palestinian, who was increasingly led to accept the abnormal as normal. The mushrooming NGOs, providing the façade of a 'new' civil society, have often tended to depoliticize the resistance movement with global funds made available to the 'new globalized Palestinian elite' owners of such NGOs and encourage a politically 'neutral' service provision.
Juliano's theatre, reacting against all such attempts, made efforts to arouse a civic imagination that would define "both what a society is willing to do and what it is aware it can do to make something possible"; only then could the capacity to imagine alternatives be prodded into action. What is significant is that although Juliano chose a mode of cultural articulation for his agenda of resistance, neither was his theatre an alternative to the Palestine freedom struggle, nor was it using a universal liberated discourse as a substitute: "Nobody joined this project to heal. We're not healers. We're not good Christians. We are freedom fighters." But Juliano also states clearly what he thinks should constitute resistance, more specifically 'cultural resistance': "we believe that the strongest struggle today should be cultural, moral... We are not teaching the boys and girls how to use arms or how to create explosives, but we expose them to a discourse of liberation, of liberty. We expose them to art, culture, music — which I believe can create better people for the future...". For him, freedom from occupation could only come if freedom of expression was acquired; this is what informs the democratic counter-occupation discourse of TFT. Significantly, Juliano could conceptualize a form of cultural resistance that moved beyond the constricting limits of country, nation, race. In an interview, he once remarked: "Are you fighting for freedom or nationalism? Human beings. Oppressed and oppressors.
Oppressed, who by freeing themselves also free their oppressors. Free the individual, with critical thinking, choice and decision. Those individuals will create something better than a country."
This notion of cultural resistance moves beyond the Palestine situation when certain "International Perspectives" are brought into play to extend its horizon further. Of particular interest to us, perhaps, is the essay "Solidarity is Not a One-way Street" by Sudhanva Deshpande of Jana Natya Manch (Janam) of New Delhi. Recalling the brutal murders of both founders, Juliano of TFT and Safdar Hashmi of Janam, Deshpande observes that not only in their deaths were they "connected through their art and their politics" but also that "it seemed natural that at some time in the future, Janam should work with The Freedom Theatre". With their resolve to continue with the mission of resistance that their founders dreamt of and which gives meaning to the existence of both theatres, TFT and Janam, in "an act of solidarity", collaborated together in a 2011 production that helped both theatre troupes to gain from each other's experience and expertise. Janam learnt how TFT maintained "professional and artistic standards without compromising its political stance"; TFT learnt the techniques of "political performance in public spaces", more specifically, of street theatre.
Finally, mention must be made of what adds a special dimension to this volume — Arna Mer Khamis's "Right Livelihood Award Acceptance Speech". Upon receiving this award in 1993, she had said: "An entire nation stands before us bereft of human rights, where children grow up surrounded by the imagery of soldiers, stones and guns. They are scared, they are threatened, they are vulnerable. And their cries of suffering are drowned by loudspeakers screaming about Law, Order, Security and Progress... But with your helping hand, we shall give these children a chance for a better life." Her simple but forceful assertions make one realize why she was such an inspirational figure not only for her son, Juliano, not only for The Freedom Theatre, but for the entire movement of cultural resistance in Palestine.
The Freedom Theatre: Performing Cultural Resistance in Palestine Edited by Ola Johansson and Johanna Wallin, LeftWord, Rs 650

The Freedom Theatre, edited by Ola Johansson and Johanna Wallin, brings together essays by several contributors in an effort to understand the nature of "cultural resistance" in Palestine, articulated through theatre, and more specifically The Freedom Theatre founded by Juliano Mer Khamis. This attempt to historicize the Palestinian theatre movement and to locate the notion of cultural resistance in the context of contemporary Palestine has necessitated analyses of complex social/political upheavals as well as the strenuous challenges faced by the theatre there.
The essays, contextualizing the socio-political moorings of the contemporary Palestinian theatre, are grouped in thematically arranged sections. Setting the stage in "The Beginning...", the volume moves on towards a definition of "Cultural Resistance", investigates the conditions of the "Performing Arts" in Palestine, brings into focus certain "International Perspectives" and ends with suggestions for "The Future".