Reading, a 'minority past time', says Ruskin Bond
There is never a sad moment when the author is around, The Telegraph realised during a recent session with him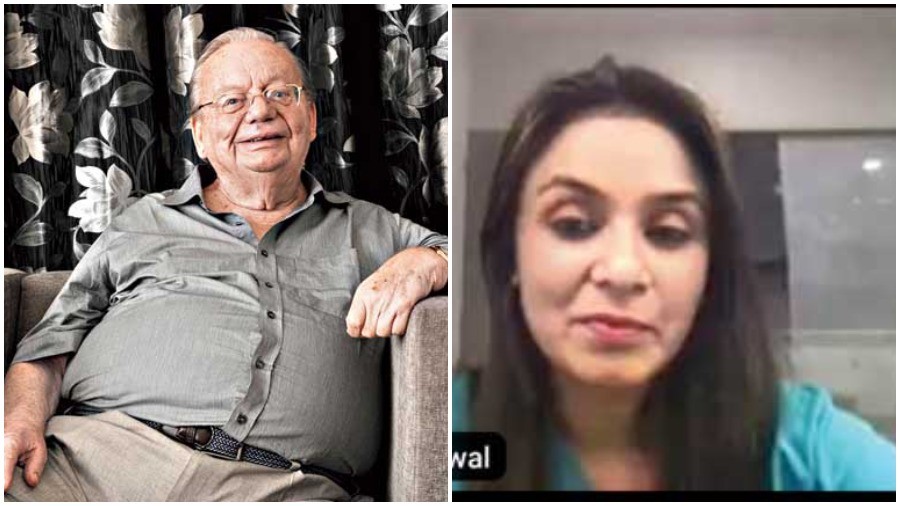 Ruskin Bond and Swati Agarwal
The Telegraph
---
Published 10.08.21, 01:51 AM
|
---
Muskaan, an initiative by Prabha Khaitan Foundation, brought the evergreen author Ruskin Bond to interact with members during a session hosted online on July 30. Never one to disappoint, Bond was in conversation with Swati Agarwal, an Ehsaas woman, another initiative by PFK.
The session was particularly aimed at children in fourth and fifth standards. "I hope the rain has washed away some of the rubbish from the cities and refreshed you a little," he laughingly began, lamenting about the unbearable pollution and climate changes that plague us, while he sits slightly immune to the wrath of it at his home in the hill station of Mussorie. He admitted to watching the rain from his writing chair for the three prior days to the session, hoping to get inspired for a story or a poem! "The hills and mountains don't change. It's what we do to the hills and mountains that changes," he pertinently added to the conversation around looking after nature to get nature to also look after us.
The next advice that Bond had for the children tuning in was to enjoy the process of reading instead of getting distracted by technology. Technology can be a great addition to one's life, the author believes as long as we don't misuse it. "Science has perhaps disappointed us here. Instead of finding an answer to cancer, we have found newer forms of nuclear bombs," he said. However, he is aware that the act of reading always having been a 'minority past time', with one in two-three boys in his class of 30 during his childhood years being fond of reading. "We didn't have television or mobile phones and yet the number of boys reading was so low. There is no point blaming technology," he felt. Books not only give you a knowledge of the world but also knowledge of yourself he believed. Not everybody becomes a reader but once you do become one, you are a reader for life was the sage advice coming from the jolliest author in India.
Bond continued the session with some tips for little ones who want to become writers. Expressing joy at the thought of little ones being interested in the art of writing, he had a few wise words of wisdom. "Be confident of your language and don't take it for granted. It's important to have a command over the language that you are writing in," he began. Being observant and having an imagination were the two following things on his to-do list for budding writers. Next on the list was discipline and the need to write every day, especially if it's a vocation one wants to follow throughout their life. Finally, he urged the little ones to read. "Because all the great writers have always been ardent readers," he finished!
The author was sympathetic of little kids stuck at home, deprived of the opportunity to mingle with their peers because of the pandemic. He urged them to bring balance in their lives by getting out for fresh air as much as it's possible. Bond's simple approach to life has always reflected in his writing where he has never let any hardship bring him or his protagonist down. Dealing with life with grace and positivity, one is often left wondering about the source of the joy and love he has to offer the world.
This educative session by Muskaan reminded us in the middle of our dreary days that there are little joys to life and that true happiness lies in appreciating them. Even more so now, in the pandemic-stricken world. The video of this session is up for viewing on PFK's YouTube channel and makes for a fun watch for your little ones at home.