Nobel laureate Abhijit Banerjee on what ails India's healthcare sector
Ayushman Bharat does very little for primary healthcare. In many states, more than three-quarters of visits to primary care centres are to private providers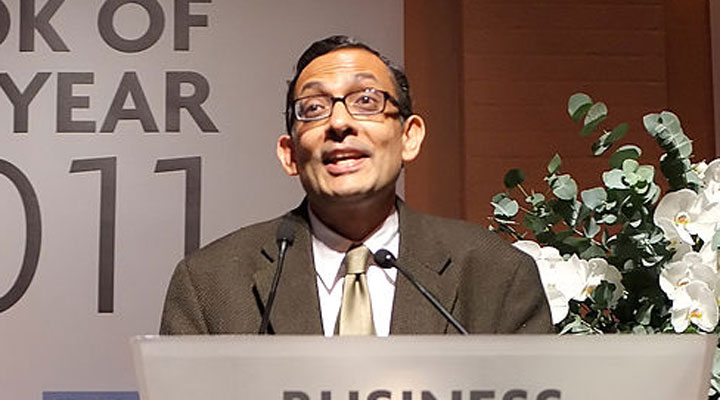 Abhijit Vinayak Banerjee
Telegraph file photo
---
Published 14.10.19, 01:03 PM
|
---
In addition, it is not clear that the government should rely entirely on the private sector to deliver tertiary care within PMJAY. Conflicts over the appropriate payment for treatment and accusations of fraud in private sector providers is common in the United States. There are already complaints from the healthcare sector about the prices the Indian government is proposing, which might result in many hospitals opting out and others selectively refusing to deliver certain treatments (even if that is against the rules). Given all this, having a public sector alternative available gives the government bargaining power that it can use when needed. As it turns out, the upper tiers of the public healthcare system, the district hospitals and community health centres (CHCs) are much more used than the PHCs and sub-centres; indeed, patients are often spilling out of their wards into the corridors and public areas. One reason for this difference with primary care is no doubt the fact that while primary healthcare in the private sector is cheap (and the patients may not know just how low the quality can be), secondary and tertiary care are expensive. But the other is that there is care available – these hospitals, being in the district headquarters and larger towns, find it much easier to make sure that doctors and nurses actually show up to work, than do the sub-centres and the PHCs which are in villages.
PMJAY will probably relieve some of this pressure on these public hospitals. However, for the reasons we suggest in the previous paragraph it still makes sense for the government to try to simultaneously improve the delivery of secondary and tertiary care in the public sector. Given that public hospitals will be able to bill their patients to PMJAY, which gives the public hospitals stronger reasons to compete with the private sector, it is a natural moment to expand this part of the government system. Therefore, we recommend, for secondary and tertiary care:
• Build a second district hospital in every district headquarters outside the state capital. Once it is built and is operational, refurbish and modernize the existing district hospital and bring it to acceptable standards.
Finally, it is very difficult to improve healthcare substantially unless we get the customers to demand better care (to fear antibiotics, seek out tests, and so on). This has to be a priority for any government. This is our final recommendation:
• Carry out public health campaigns to raise the awareness of NCDs, immunization and the dangers of overmedication. Recent evidence suggests that entertainment education may be a very powerful device in this regard.
Extracted from What the Economy Needs Now edited by Abhijit Banerjee, Gita Gopinath, Raghuram Rajan and Mihir S. Sharma with permission from Juggernaut Books

Here is where we have a huge problem. Ayushman Bharat does very little for primary healthcare. It has been announced that 1.5 lakh health and wellness centres will be set up, partly to deal with primary healthcare issues including NCDs – but, given the budgetary allocation of less than Rs 1 lakh per centre, this looks more like a very minor upgrading of the existing sub-centres and/or primary healthcare centres (PHCs). Similar and sometimes more ambitious upgrading, including the provision of some free medicines, has been attempted by a number of states in the past; but, for the most part, there has been no reversal of the trend towards wholesale exit from public healthcare, especially in North India.
There is now a substantial body of work that documents that, in many states, more than three-quarters of visits to primary care centres are to private providers – even though most of these providers have no medical qualification whatsoever. This is in part because the sub-centres are open intermittently and unpredictably, and doctors and nurses are often missing from the PHCs. In part, it may also reflect the lackadaisical attitude of doctors in the public system; Das, et al. (2016) report that doctors in the public sector, while well qualified, spend very little time with the patient and do not make much use of their superior training – except when they are acting as private physicians, when they perform much better. It seems unlikely that small investments in these sub-centres and PHCs will change all that; the patients will probably continue to stay away, and therefore using these as the basis of outreach for NCDs and other public health interventions probably has limited potential.
The obvious alternative is to make use of the informal providers who do have access to the patient population. It should certainly be recognized that they have the potential to be a public health hazard, especially because they abuse antibiotics and steroids – which contributes to rising resistance.
However, the policy response to this phenomenon has been mostly to declare these informal providers illegal and then to ignore their existence. This essentially deprives us of the primary tool for dealing with the very serious health problems that we are facing. We need to think of ways to integrate them better into the overall healthcare project and give them better incentives, which would be easier if they had something to lose. Based on this we suggest the following steps.
1. Recognize and train informal healthcare providers. A randomized control trial that was carried out in West Bengal (published in Science, 2016) shows that training private sector informal healthcare providers improves their performance (measured by sending them 'fake' patients) by a very significant amount. Based on that, West Bengal has already begun training many thousands of informal health providers.
2. Develop a set of cell-phone-based checklists for treatment protocols for these practitioners to use, to react to the common symptoms they face. This is similar to what Atul Gawande has proposed for the United States (but much more basic).
3. Develop a simple test that allows the government to certify these practitioners as health extension workers. Passing this test will allow them to deliver various public health interventions and perhaps be paid for participating in them. Moreover, evidence suggests that the patients are aware of the value of such certification and trust those certified more.
4. Recognize those who are certified as the front line of defence against NCDs and malnutrition. Think of ways to reward those whose referral leads to the detection of a serious ailment.
5. Enforce existing laws that make it impossible for these practitioners to dispense high-potency antibiotics and steroids. This includes shutting down stores which violate the existing laws about who can prescribe what. At the same time, make it legal for informal providers to prescribe a range of less critical medicines, much like the nurses.
6. Expand the number of MBBS doctors and trained nurses coming out of the system and consider introducing some other intermediate degrees for practising a limited range of healthcare. This is the model we had before Independence and the one that many other countries have adopted.