Jeffery Archer on cricket, Calcutta and the latest adventures of William Warwick
At home in Cambridge, the master storyteller is either watching television or writing; says he's worried about the Covid surge in India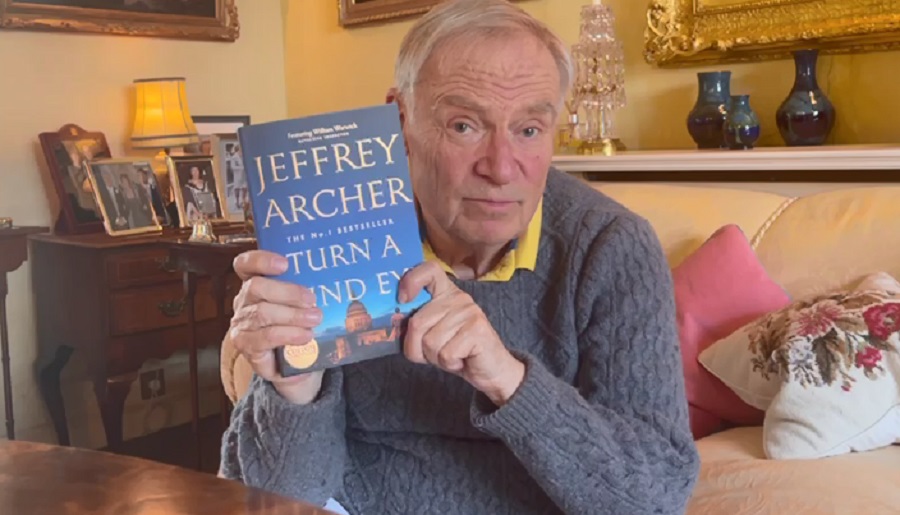 ---
---
"Mary and I are very distressed about the numbers in India suffering from Covid-19. It's being very heavily reported in Britain," Lord Jeffrey Archer said even before he settled down for the zoom conversation from his home in Cambridge, where he has been sitting out the pandemic for the past 11 months with his wife, Dame Mary Archer.
Sitting out is not quite right, for the master storyteller has been hard at work. In the past year, he has published the second and third titles in the William Warwick series. The latest one, Turn a Blind Eye, was published by Pan Macmillan India in April and has already become a bestseller. 
Lord Jeffrey said he finished the two books in quick succession, and even the final draft of the next one, because he had nothing else to do! "I either watch afternoon television or I continue writing," he smiled, adding that when the story flows, as it did with Warwick's tale, he keeps writing. It is evident he is having fun with the detective series, which has the most unique origin story.
William Warwick, as many of his ardent readers will remember, is the hero of the novels written by the fictional protagonist Harry Clifton from Archer's previous series, Clifton Chronicles.
"Well, the Clifton Chronicles sold so well, going to No. 1 in 17 countries. Many people wrote to me saying that they would like to know more about Harry Clifton's hero, William Warwick. That's where I got the idea. I was very excited about it. I must say I've been surprised again by how many people are enjoying William Warwick," he beamed.
So, he sends William Warwick off into all kinds of adventures. "He starts life as a constable on the beat at the Metropolitan Police in London. That's the first book, Nothing Ventured, where he becomes a Detective Constable in the art and fraud squad. In the second book, Hidden In Plain Sight, he's a Detective Sergeant investigating drugs. In the third book, Turn A Blind Eye, he becomes a Detective Inspector looking into police corruption. So, every book is an individual book in its own right, but in every book he rises in rank and he changes his job," Archer explained. 
He has big plans for William, going forward. "If I live long enough, he will rise to the rank of Commissioner of the Metropolitan police. That will take me eight books."
In the next one, titled Over My Dead Body and scheduled to come out in October, Warwick becomes Chief Inspector and is moved into the murder squad. "He is given the unenviable task of solving four cold murders. And there are one or two twists along the way," Lord Jeffrey said with a twinkle in his eye. 
Other than writing, he has been watching some television, including the India-England series earlier this year. Though, given England's form, it couldn't have been much fun for him to watch.
"Of course, it wasn't fun for me! You won! It was a good series, you were the better team by a long way. You can't lose the toss every time and win the series unless you're a better team. There were some pleasant surprises on the Indian side. We discovered a couple of new stars. There's a new fast bowler who I like very much — Mohammed Siraj — and a new opening batsman — Shubman Gill — who I like very much. And of course, a couple of the other stars, (Virat) Kohli and (Cheteshwar) Pujara, produced the goods again and again. But India will go on producing stars forever, for many reasons. Not least, it's the way to fame, it's the way to wealth, and a young child has that at his fingertips, it makes for very tough competition."
Archer has been to Kolkata a number of times. Given his love for cricket, we asked if he had managed to watch a match at the famed Eden Gardens. "No. I watched a match in Delhi, and I watched a match in Mumbai. But I haven't seen one in Calcutta. I have very close friends in Calcutta, the Kumars [Naresh and Sunita Kumar]. Sunita was the right hand for Mother Teresa, so I had the privilege of meeting Mother Teresa. I stayed with the Kumars, dear old friends. So no, my Calcutta memories are not of Eden Gardens but of Mother Teresa."
For now, he is hopeful that all Indians will get the Covid-19 vaccine soon. "The vaccine has helped in Great Britain. We're at sensible numbers now. We're now worried about India…. Stay well. That's an order!" he boomed, before signing off.