Gandhi - The Calcutta Connection
Yesterday marked 72 years since a man fired by bigotry and hate assassinated the Mahatma. We bring you excerpts from a little known but painstaking work on his trysts with the city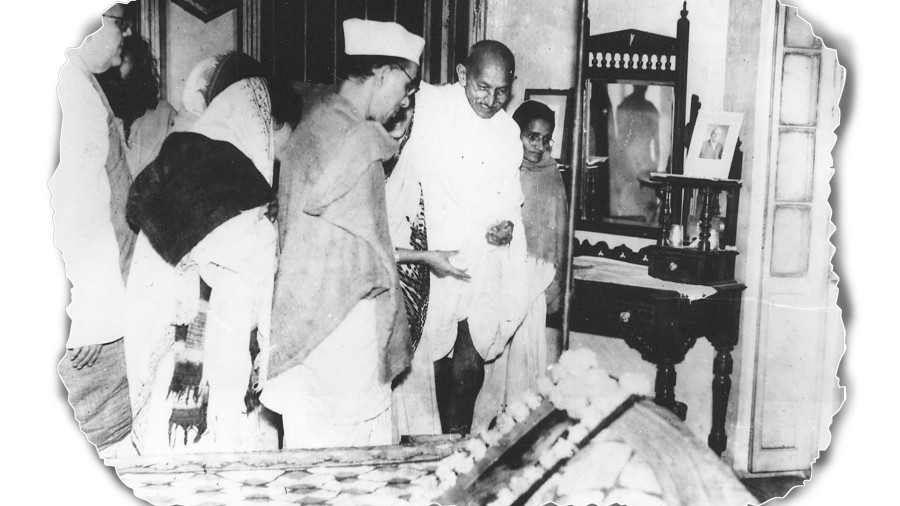 The Mahatma visits Subhas Chandra Bose's bedroom at Netaji Bhavan in 1945
File Picture
---
Published 31.01.21, 12:33 AM
|
---
South Africa calling
Mohandas Karamchand Gandhi reached Calcutta by the S.S. Pangola on July 4, 1896, after leaving Durban on May 6. He did not stay in Calcutta… After visiting Rajkot, Bombay and Madras, he returned to Calcutta via Nagpur on October 31. He stayed at the Great Eastern Hotel from October 31 to November 14... Gandhi had no friends in Calcutta. He wanted to meet Sir Surendranath Banerjee to get him interested in South African affairs. He met Banerjee at the Indian Association Hall, and he told Gandhi, "I am afraid people will not take interest in your work. As you know, our difficulties here are by no means few. But you must try..." The editors of Amrita Bazar Patrika and Bangabasi — leading Bengali newspapers — whom Gandhi met did not take interest in the South African problems. But the Calcutta-based English dailies, The Statesman and The Englishman, showed interest and published his interviews.
A Growing Acquaintance (1901-1921)
Gandhi did not want to miss the 17th session of the Indian National Congress held in Calcutta in December 1901. He reached Calcutta on December 24 and stayed at the India Club (6 Bankshall Street) at Dalhousie Square. The session, under the presidency of Dinshaw Edulji Wacha of Bombay, was held at Beadon Square.
Gandhi visited Calcutta in August 1920 to attend the Congress session presided over by Lala Lajpat Rai. His wife Kasturba and son Devadas accompanied him. All of them stayed with Gandhi's eldest son, Harilal, at 4 Pollock Street.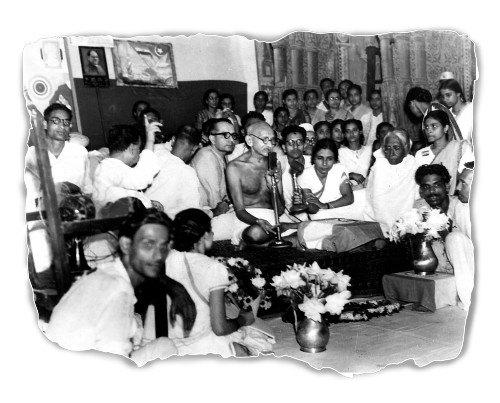 He was in Calcutta four times in 1921... Foreign cloth was burnt at five venues: Harish Park, Mirzapur Park, Halliday Park (or Mohammed Ali Park), Beadon Square and Kidderpore. Gandhi was in Calcutta on September 9 and 10, when he held discussions with the Marwari Association and the Chambers of Commerce about the burning of foreign cloth and picketing of shops selling them.
Subhas Bose
On April 28, 1939, Gandhi had prolonged discussions with Subhas Chandra Bose and Jawaharlal Nehru. Sarat Chandra Bose called on Gandhi after his prayer time. Gandhi visited Maulana Abul Kalam Azad's house at 19A Ballygunge Circular Road, accompanied by Kasturba and Nehru for discussions with Congress leaders. On April 29, he held discussions with Bose who was the Congress president. On April 30, Bose resigned making room for Dr Rajendra Prasad.
Gandhi visited Subhas Chandra Bose's house at Elgin Road (on December 17, 1945) and saw the bedroom from where he escaped. Haridas Mitra took Gandhi to different rooms of the house. Sarat Chandra Bose and other members of the family were present.
1947
Gandhi stopped at Calcutta while returning from Noakhali on March 4, 1947, on his way to Patna. He returned to Calcutta on May 9 and went to Sodepur... Central Calcutta Congress leaders led by Kalipada Mukherjee and Debendra Chandra Dey discussed the effects of Partition of Bengal with him. Sitaram Seksaria, member, AICC, called on Gandhi. On May 11, S.H. Suhrawardy, premier of Bengal, accompanied by Mohammed Ali Bogra (minister of undivided Bengal) and Abul Hashim (general secretary, Bengal Provincial Muslim League), called on Gandhi and discussed the idea of United Sovereign Bengal... After listening to Suhrawardy and his companions, Gandhi said a new Bengal could not be born in utter disregard of the past. When the past was so full of wrongs, how could people believe in the sincerity of the new proposal unless past wrongs were set right? Suhrawardy broke into an eloquent defence of his government... Gandhi was of the opinion that this was not different from the argument of British imperialists.
May 14. A massive report was presented to Gandhi by a number of journalists containing a detailed description of the riots that were continuing in Calcutta and of the failure of the police and the administration in this connection. Gandhi expressed a desire to visit the affected parts of Calcutta. Necessary arrangements were immediately made and he was driven to all the affected quarters along with the acting chief minister, Mohammed Ali, and also important persons such as Debendranath Mukherjee, who was the secretary of the Bengal Provincial Hindu Mahasabha. The journey was over 50 miles and when Gandhi returned home he expressed the opinion that there was exaggeration in the description of damage in the report. August 9. Gandhi returned to Calcutta from Patna... Riots had once more broken out in Calcutta. This time, apparently, the initiative had come from the Hindus. The latter felt that the power of the League Ministry was now broken and the police could therefore no longer encourage the Muslim goondas. Under the new regime of the Congress, the time had therefore come for the Hindus to strike back. This was perhaps the reason why, on the present occasion, the targets of attack were certain slums in Miabagan or Paikpara that had been known to harbour gangs of Muslim goondas in the previous phase of the riots... Gandhi called on Governor Burrows at 3.30pm at Government House. Burrows requested Gandhi to stay over in Calcutta and help quell the riot-like situation.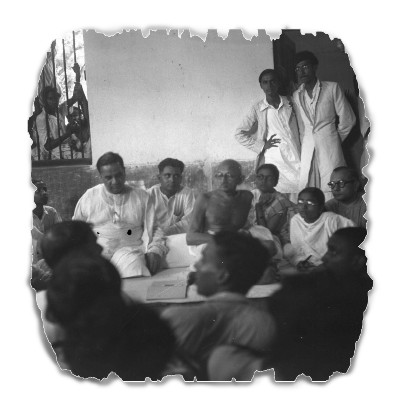 Syed Mohammad Usman, a former mayor of Calcutta, called on Gandhi at Sodepur and requested him to postpone his trip to Noakhali and save Calcutta... It is interesting to note that at a later stage, at one of Gandhi's prayer meetings, in reply to a question Suhrawardy practically confessed that he was responsible for the great Calcutta Killings of 1946... Gandhi refused requests by the Information Department of the Governor of India and BBC to broadcast a message on August 15... On August 11, Gandhi conducted a tour of the riot-affected areas of Calcutta from 2.30 to 4.15pm accompanied by Dr P.C. Ghosh, chief minister designate, and Mohammad Usman. Suhrawardy, the outgoing Prime Minister of Bengal, met Gandhi at 9pm and stayed till 11pm.
The next day Suhrawardy agreed to Gandhi's condition that they should stay together and quell the riots in Calcutta. Mahatma Gandhi left Sodepur in the afternoon of August 13 and took up residence in a house owned by a Muslim family in the disturbed area of Beliaghata in northeast Calcutta. Gandhi fasted all day on August 14. On August 15, all day long unending streams of people proceeded to Beliaghata to see Gandhi. Gandhi broke his fast after his afternoon prayers in observance of Independence Day. His face beamed with joy when the West Bengal premier, Dr Prafulla Chandra Ghosh, told him about the unique demonstrations of Hindu-Muslim unity seen in connection with Independence Day celebrations.
Gandhi made a tour of Calcutta at night and witnessed how the city was observing Independence Day and how the communities were fraternising... At a press conference at his Beliaghata residence on August 20, Gandhi met the representatives of Calcutta Press. In his advice to them he said: "Let the past be buried. Do not rake it up. Think of the future. Analyse. Do not exaggerate. The country has often suffered from exaggeration."
AUTHOR'S INFO:
Parameswaran Thankappan Nair is known as Calcutta's barefoot historian. He has written A Tercentenary History of Calcutta: A History of Calcutta's Streets and among his other books are Calcutta in the 19th Century: Company's Days and Calcutta: Origin of the Name. This piece has been excerpted from his 63rd book, Gandhiji in Calcutta, published by Punthi Pustak in 2019