Celebrity cookbooks that go beyond recipes
Here's a list of four interesting reads that you can dig into this weekend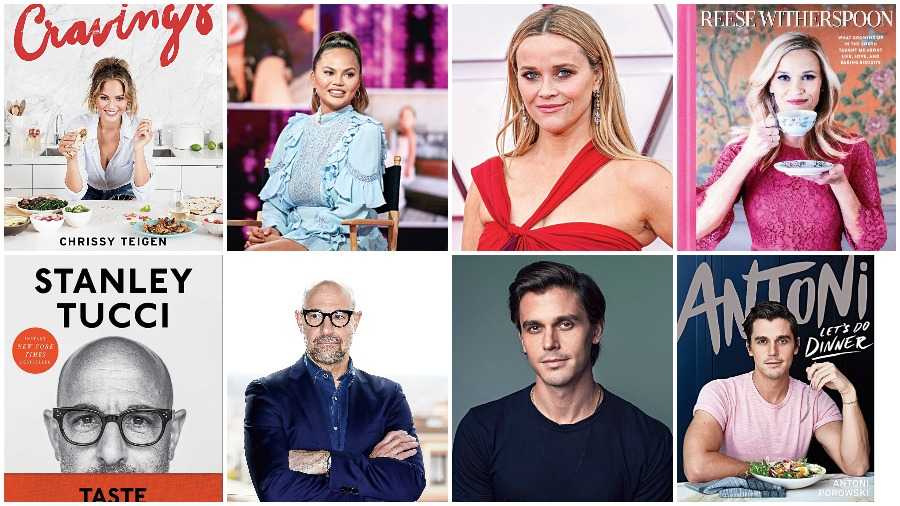 ---
Published 17.11.21, 02:53 AM
|
---
Chrissy Teigen
It's been a tough year, to say the least, for the American model and television personality, not because anything has changed in her personal life but her past behaviour on social media has caught up to deliver the worst of bites. The online royalty was accused of bullying media personality Courtney Stodden years ago in a series of toxic tweets, something she has apologised for but cancel culture has taken over and a few brands have distanced themselves from the person whom even US President Joe Biden once followed on Twitter (the unfollowing has nothing to do with past tweets). Anyway, the wife of crooner John Legend is very talented when it comes to cooking and she has delivered her third effort — Cravings: All Together: Recipes to Love: A Cookbook — which contains recipes that are "simple to put together", like Baked Pasta and Spicy Crab Dip with Chilli Butter Toasts.
Stanley Tucci
"Edging toward the mid-to-late autumn" of his years, the Big Night and Julie & Julia actor found himself receiving radiation therapy a few years ago to tackle a tumour at the base of his tongue, destroying his appetite and ensuring that everything he ate tasted like wet cardboard "slathered with someone's excrement". The last few months, Tucci has been very active on social media doing what he does best, talking about food, which goes hand in hand with a promotion campaign involving his new memoir, Taste. The part about cancer appears towards the end of the book but mostly it is about him and his journey through nibbles, bites and sips. The book will ensure that you have newfound respect for the food on your table as well as the people whom you share it with.
Reese Witherspoon
Spiced with decorating and cooking advice, her cookbook Whiskey In A Teacup is packed with decorating and cooking advice, besides recipes that thrive in Southern America, including fried chicken. Apparently, the title is inspired by what her grandmother Dorothea had said about Southern women being "whiskey in a teacup" — delicate on the outside but strong and fiery. The book also captures how she entertains guests, decorates her home and makes holidays special for her children, besides talking about how she does her hair, which includes a hot-roller technique.
Antoni Porowski
The 37-year-old food and wine expert on the Netflix series Queer Eye doesn't play down the sex appeal tag — he is People's Sexiest Reality Star — but keeps recipes short and simple. His new cookbook is Antoni: Let's Do Dinner, which is packed with recipes that call for "clean protein and loads of vegetables, with splurges of carbs and decadence" and the recipe list includes Pulled Chicken Nachos, Pasta Carbonara with Scallions and Peas, Pan-seared Steak with Harissa Butter, a Vegan Grain Bowl, and Crispy Potatoes. Before you head over to Amazon to order, visit his Instagram page to see what the Montreal-born celebrity chef is up to.