Unending nights, death's second self
VISUAL ARTS: Sometimes, an image of utter simplicity can represent a timeless narrative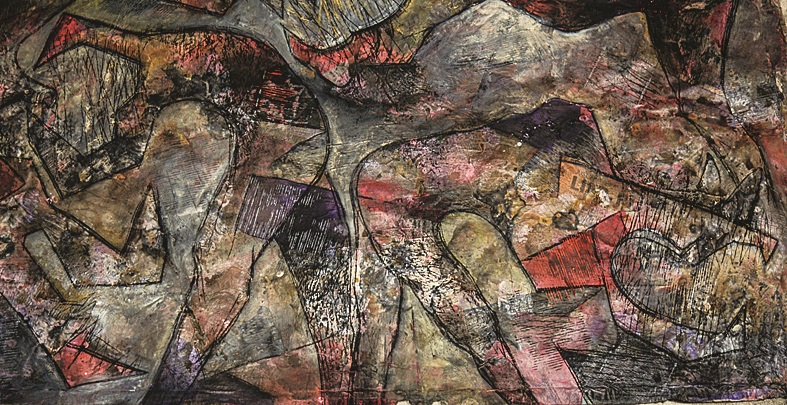 ---
---
Sometimes, an image of utter simplicity can represent a timeless narrative. Chhatrapati Dutta, who participated in the annual show of Painters '80 at the Academy of Fine Arts in March as a guest artist, comes up with both a defiance and a dirge in the context of interlocked unending nights: of discrimination and displacement. But it extends into a broader context as the Great Reaper's harvest includes the tolls from the killing fields of wars, riots and now the pandemic. Memorial candles sketched in ink with a calligraphic fluency recedes into the far distance, evoking a necropolis densely dotted with tombstones. The other guest, Arindam Chatterjee, stares, as always, at a condemned, "virus-inflicted" world of brutality and despair.
No wonder the title of the show was Ei Timire, or this endless night. Which, as Pradosh Paul's horizontal 138" X 72" acrylic in blacks and greys shows, can become a philosophic parable on impermanence, on the malevolent humour of History, on Time's unsparing ravages in a cinematic image of chaste classicism: the wreckage of a jetty, collapsed into the river below, while beyond stretches a vast, flat, featureless hinterland. The jetty is a loaded metaphor. For communications and the flourishing trade of times past, and for a busy, prosperous riverbank now a wasteland, echoing with an eerie silence. It brings to mind the ruins of Hitler's ambitious Atlantikwall.
Debasish Chakraborty, by contrast, is too verbose in composing a cacophony of disparate visual excerpts and stray words in his horizontal 276" x 48" canvas to reflect the chaos of the times, while an overcharged logorrhoea of images pours forth from Amit Chakrabarti. The stop motion technique is a fluid tool for a catchy montage of sketches in Apu Das Gupta's video which, he explains, is about "land transformation". But his message gets confused because it tilts towards excess. As messages go, Debasis Barui's is rather trite. However, he can work up a mean canvas surface, bruised with the tensions of urban underbellies. Rajib Bhattacharjee's tangle of bodies dismembered into shapes (picture), Dipankar Dutta's dry tube well and Tarun Dey's installation open up engaging, if unintended, suggestions.