A creative touch
Premiered in the basement of Niranjan Sadan in Jadavpur on March 6, The Plague: A Fight Against runs like a retrospective commentary on our tryst with Covid-19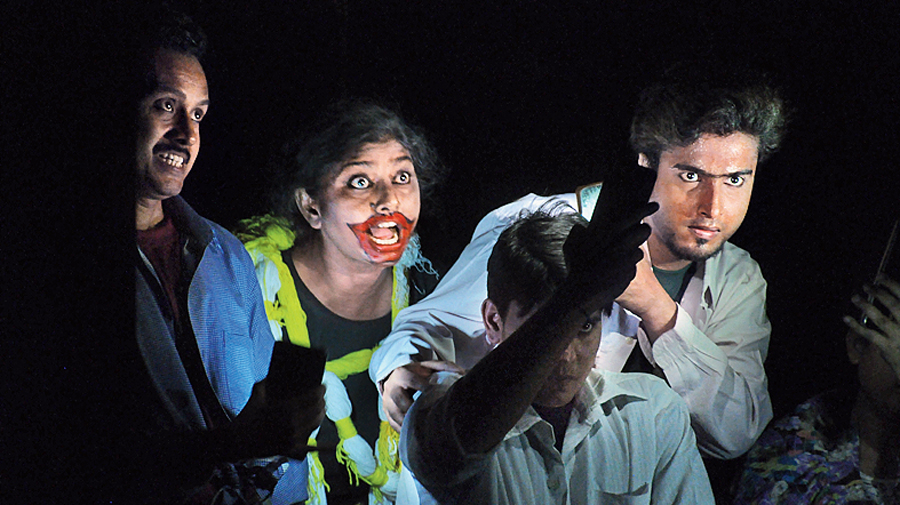 A moment from The Plague — A Fight Against.
Anshuman Bhowmick
---
Published 15.05.21, 12:09 AM
|
---
Albert Camus's The Plague (1947), the cult French novel that resonates uncannily with the current Covid-19 pandemic scenario, has seen a remarkable stage adaptation in Bengali. Uhinee Kolkata, which, true to its name, has trained and nurtured an army of fine actors under the stewardship of Adrija Dasgupta, has now taken a step further. Sejuti Bagchi, a senior member who has recently returned after graduating from the National School of Drama, has directed The Plague: A Fight Against for Uhinee.
Premiered in the basement of Niranjan Sadan in Jadavpur on March 6, The Plague: A Fight Against runs like a retrospective commentary on our tryst with Covid-19. Bagchi, along with Saheli Saha, edits the original text judiciously as they prepare the performance script. Not only do they stick to the tale unfolding in the French-Algerian city of Oran, but they also extend Camus's idea of destiny and bring it home. Thus the play opens at the gates of Niranjan Sadan. When the news of an epidemic breaks, a Kali-like figure — played by Dasgupta — appears from the open terrace atop the entrance and drops strings attached to her fingertips. As the hapless actors hold on to the strings, they begin to behave like puppets in the hands of the destructive feminine.
Bagchi's penchant for designing a performance space according to the theme comes full circle as the action of the play moves inside the claustrophobic interiors of the basement hall. The slightly raised proscenium is extended up to the middle of the audience which sits in a semi-circle. Innovations such as this and Krishnendu Karmakar's syncretic soundscape that plays on the nerves help develop an immersive space where the horror reveals itself. The finale comes with an eerie bogey of dead rats drawn down the slanted platform.
Bagchi offers moments of respite though. An Arabian fantasy was played out on the sly, but never at the expense of the central narrative which traces the complete failure of state machinery. Costumes disappointed. Some of the actors seemed to have taken the task rather too seriously. These are but minor blemishes that endear such welcome acts of innovation.