Layered plot
Intelligently dramatized by Antara Chatterjee, 'The Kite Runner' is jointly directed by Prasenjit Bardhan and Sumit Kumar Roy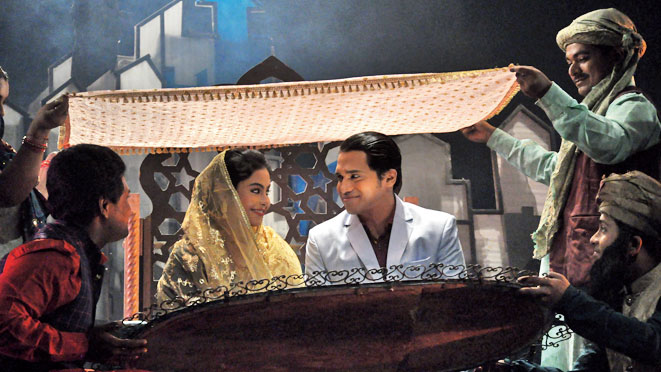 A scene from The Kite Runner.
Kabyakala Manan and Debantara Arts
---
Published 11.12.21, 12:06 AM
|
---
The Kite Runner, Khaled Hosseini's international bestseller and arguably the most convincing portrayal of life in contemporary Afghanistan, has seen a stage adaptation in Bengali. Months before the Covid-19 pandemic struck, Kabyakala Manan joined forces with Debantara Arts to mount this ambitious work. Ever since the 2021 Taliban offensive grabbed our eyeballs, this narrative seems to have renewed itself. The Pashtun-Hazara conflict running deep into the novel has also seen parallels in a world experiencing intensified racial discrimination. Thus the staging of The Kite Runner at Madhusudan Mancha on October 3 was a much-awaited affair.
A novel of such magnitude demands extra effort. And one must congratulate the producers for this. Not only did they put up a grand show, but also put together an ensemble of actors competent enough to carry it forward. Intelligently dramatized by Antara Chatterjee, The Kite Runner is jointly directed by Prasenjit Bardhan and Sumit Kumar Roy.
As one appreciated the production design, the overwhelming influence of Debasish Ray on the younger breed of directors operating from the northern suburbs was evident. Ray, in his recent works, worked out a sustainable model for mounting a drama rich in physical dynamism and visual tapestry.
A two-tier structure on deep centre stage, flanked by a moveable (as well as reversible) set that added credibility to a setting unusual to the audience, appeared heavy before the action started rolling. The use of "Tere bina aag yeh chandni" from Awaara (1951) as a prelude sounded perplexing. But the moment the drama opened and scenes from a war-torn nation began to evolve, the audience was treated to a richly-layered drama rooted in betrayal and guilt; 155 minutes went by in no time.
With the multi-talented Roy playing Amir, the hero, the creative ploy of mixing narration with enactment clicked. Sumit Dutta and Abhijit Ghosh provided solid support. Bhaskar Mukherjee impressed in a cameo. The scenography part, not to mention the brief kite-flying competition scenes, was executed to precision. This reviewer, however, has serious reservations about the sodomy scene. Despite its centrality to the plot, one expects a less brutal and more suggestive treatment of violence on stage.