Shredded lives
'Silence', directed by Soma Giri (produced by Baguiati Nritya Mandir), is a remarkable piece of all-women dance-theatre to have emerged out of the lockdown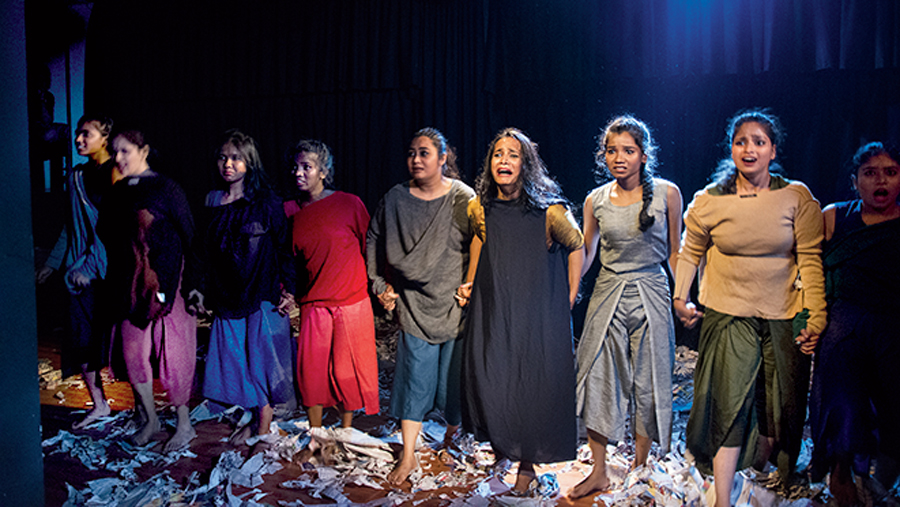 A moment from Silence.
Baguiati Nritya Mandir
---
Published 29.05.21, 12:22 AM
|
---
Towards the end of Silence, the entire cast of 10 or so female performers fills the performing arena with a massive pile of old, torn newspapers. To the strains of a strangely disquieting musical piece, they begin to perform with the litter. Their performing bodies gradually get covered with shreds of newspaper to arrive at the climax of being virtually buried under the pile, of being subsumed by and made one with the useless garbage that the pathetic mound of tattered newspapers is. As climaxes go, this
is arguably the most gripping one witnessed in theatre in recent times by this reviewer.
The performers' bodies contort and gyrate to become reduced and helpless against the heap of papers, bringing a tremendously evocative culmination to the narrative of women's lives rendered pointless by being crushed under the deadweight of domesticity on the one hand, and through the denial of the opportunity of self-expression as a consequence of the constrictive lockdown on the other.
Silence, conceived and directed by Soma Giri (produced by Baguiati Nritya Mandir), is a remarkable piece of all-women dance-theatre to have emerged out of the lockdown. Constructed chiefly in the form of performance crafted by Ranjabati Chaki Sircar, Silence is able to robustly challenge the gender politics inherent in much of the representation of women in performing arts. No concession is given to the male gaze or the pressure to beautify, for example, in wringing dance-like movements out of quotidian domestic chores such as washing clothes and mopping floors, while handling an ugly plastic bucket filled with water.
The splitting up of the performance area into zones and having simultaneous but rhythmically and thematically divergent performances in these zones undermine established standards of aesthetic symmetry and highlight the fragmented, inconsonant existence of women in a man's world. Soma Giri takes upon herself a substantial performative load and is yet able to distribute enough tasks and businesses to the rest of the performers to have Silence become a genuinely ensemble production. Dishari Chakraborty's music perfectly complements the on-stage performance.