Full of energy: Reviving 'Titumir'
THEATRE: Utpal Dutt minced no words when he described his theatre as 'a weapon of political propaganda'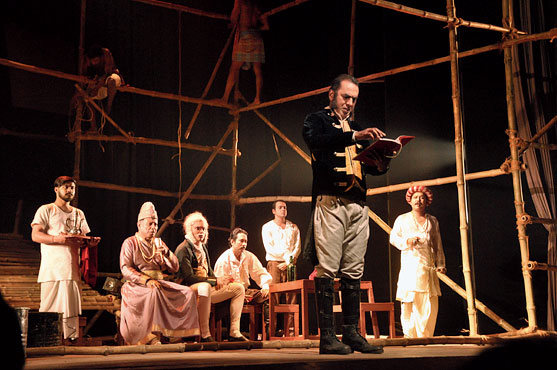 A moment from 'Titumir', by Theatre Formation Paribartak.
Anshuman Bhowmick
---
Published 12.06.20, 05:03 PM
|
---
Utpal Dutt minced no words when he described his theatre as 'a weapon of political propaganda'. He also iterated that 'the people who can't read or write' are 'the people who matter' and the objective of his brand of theatre is to 'build a bridge between us and them'. Since the early 1970s, Dutt applied many performance principles of jatra into regular proscenium theatre practice. In his 1978 play, Titumir, that People's Little Theatre produced with considerable success, Dutt not only revisited one of the epicentres of peasant uprising in colonial Bengal, but also attempted a critique of colonial history that offers a rather crude representation of the armed resistance led by Titumir in Barasat. Howrah-based Theatre Formation Paribartak revives Titumir when supremacist terrorism has bared its fangs and Islamophobia has led to bizarre eventualities. The known aversion of the director, Joyraj Bhattacharjee, for dominant rhetoric finds a perfect foil in Dutt's agitprop drama.
With Hiran Mitra designing the performance arena at the Academy of Fine Arts, Bhattacharjee and his ensemble team erect a bamboo scaffolding on the proscenium, do away with the front row, make the most of the light boxes on either side of the proscenium and turn the balcony into a judge's court, thereby energizing every nook and cranny of the auditorium. To his credit, Bhattacharjee keeps the ensemble cast on its toes and the audience at the edge of their seats for a good 165 minutes by virtue of a passionate display of theatre played out on grand terms, not to mention the melodrama it embraced. Titumir's fluid scenography fuels an engaging discourse on the exploitation machinery run by the East India Company and a spontaneous resistance by those at the receiving end.
Bringing in Dutt protégés like Asit Basu and Chandan Sen to essay pivotal characters and Anirban Bhattacharya to unleash his phenomenal talents in the lead role, Bhattacharjee put a great deal of pressure on his huge young team. They never disappoint, not for a moment. Even the community rituals, complemented by live accompaniment, were crafted meticulously. Having cut his teeth in anti-establishment art activism for the last decade and a half, Bhattacharjee has really arrived as a director.