Right recipe
'Galileo' is a play with its political heart in the right place staged during the assembly elections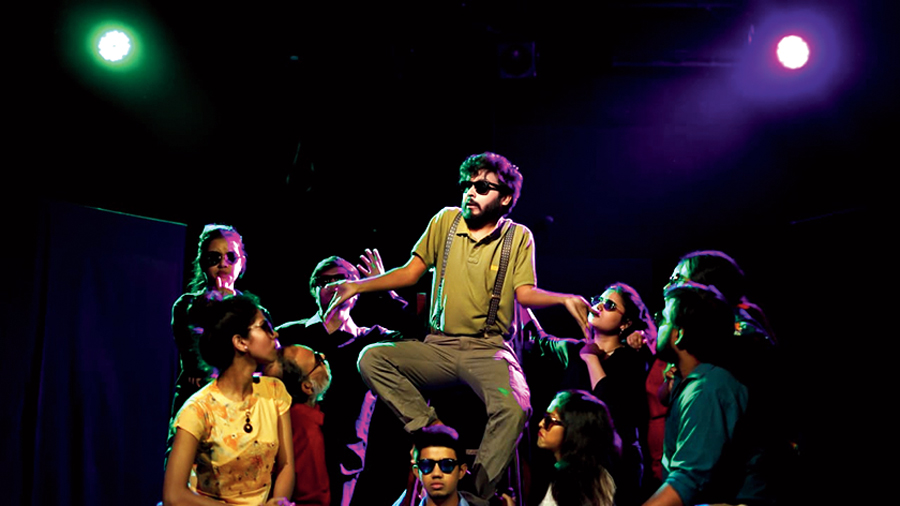 A moment from Galileo.
10th Planet
---
Published 12.06.21, 12:27 AM
|
---
Art works in mysterious ways. Sometimes, even an assemblage of all the right ingredients will not produce the desired results. A case in point is 10th Planet's production, Galileo, staged at Tapan Theatre, Calcutta, mid-April. The mix of a team bubbling with youthful energy, a play with its political heart in the right place staged during the assembly elections, and a classic text generated a production that fell short of its promise.
Promise the play did hold, at least when it kicked off with a prolonged litany of names of mostly Indian individuals, dead and living, to have fallen out with various regimes in the recent past, mainly for having spoken their minds out. But when the play proper began to roll, the promise disappointingly fizzled out for a number of reasons. On a very elemental level, there was an issue with audibility of some of the dialogues, and the notoriously poor acoustics of Tapan Theatre did not help. Next, many of the young actors could be seen straining very hard to 'act', which went on to give to the play the look and feel of a student production, the focus of which is generally on a studious application of grammar and syntax of acting. This classroom approach was also plainly evident in the directorial decision to pepper the play with frequent stepping off the stage in order to produce Brechtian verfremdungseffekt (distancing or alienation effect).
The director, Sharanya Dey (who is also the lead actor) has to genuinely consider whether these breaks do indeed serve any real textual purpose or exist as tokens of Brechtian theatrical conventions. The songs, on the other hand (and especially the brilliantly performed rap), work quite well as these are woven into the textual matrix. As far as the script is concerned, Dey can think of incorporating local and contemporary references — the groundwork for which is already laid through the taking-of-names sequence — that would open up the possibility of a vital and potent contemporary connect.