Firm focus
THEATRE: The psychological dimensions of being under enemy occupation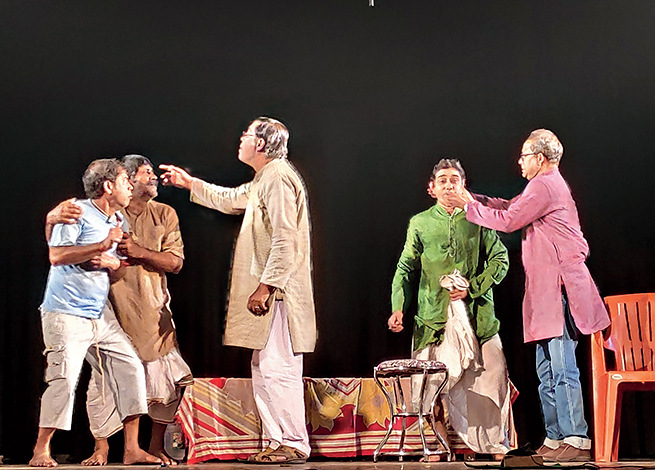 ---
---
The sixth phase of Aneek's 22nd Ganga Jamuna Utsav was held at the newly-refurbished Sivanath Sastri Sadan, or the Town Hall in Jaynagar (January 4-8). This time the focus was firmly on rural and suburban groups who address recent issues and make no bones about it. Such an effort needs to be lauded as the unsung heroes of off-Calcutta proscenium theatre rarely get a platform like this.
It was thrilling to catch contemporary registers in dramas crafted by youthful groups coming from places like Dakshin Barasat and Kakdwip. This reviewer was pleasantly surprised to record nuances of very early responses to the NRC, that too in a typically tongue-in-cheek fashion, in Samayer Apekkhay by Jajabar Natya Sanstha, based in Gabberia (near Baruipur). Written and directed by Tamalkanti Haldar, the quasi-absurd sentiments conveyed in this family drama were marked by smart design elements.
However, the success of the festival rested primarily on some fine specimens of drama over the decades in various parts of the state. Dumurdaha-based Anami Natyam presented an updated version of their 1989 production, Je Deshe Ganga Boy, an early attempt to empathize with the eunuch community. Local associates Eshana revived Michhil, a hilarious mid-1960s comedy by Subhash Basu that explored life around the mess-bari system in the central districts of Calcutta. Senior actors reunited under the stewardship of Kishalay Basu to pull off the finale in style. However quaint it may sound, Michhil proved to be a masterly exercise in situational comedy sprinkled with slapstick.
Jadavpur Ramyani's Shantir Path looked a bit masochistic, but the Debabrata Dasgupta play directed by Mukesh Chakraborty was a laugh riot. Involving an elderly gentleman newly remarried to a young woman, the production made smart use of shadows. Calcutta-based Srimancha presented Juddha. Directed by Hemanta Mitra, this war play finds soldiers confined to an enemy camp as they wait in turn to face the firing squad unless they slip in some secrets. It was gripping from the word go; the psychological dimensions of being under enemy occupation were adequately dealt with. The music underlined the raw nerves; the actors led by Prashanta Dutta put up a commendable show.