Dystopic visions on a loop
Rounak Patra's show, held some time ago at Art Multi-disciplines, was curiously titled 'Cohen's Chutzpah'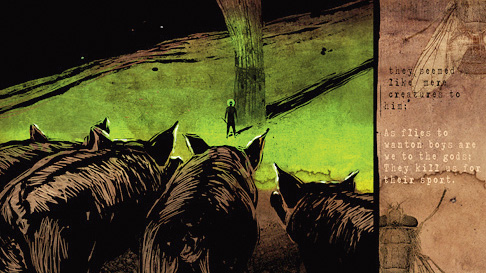 ---
Published 25.09.21, 01:12 AM
|
---
The first thing that stumps you about Rounak Patra's show, held some time ago at Art Multi-disciplines, is the title: Cohen's Chutzpah. Cohen? Not Cohn? As in Cohn-Bendit? For that's how seniors who were students in 1968 might misread it, especially if they've nursed a hangover from that exhilarating year of rebellions, from Kent State University to Sorbonne to Prague...
Well, no, although a rebellion is indeed in the artist's reckoning. Cohen, explains the gallery note, is just a name for Everyone. Rather, for Anyone who goes beyond 'me-ness' and materialism, defies divides and promotes collective weal. Rebels against the hypocritical conventions of society, in brief. Even cynics must agree that no young person should be immune to such naïve romanticism. The problem lies in translating this diagnosis into art. 
And Patra's art, somewhat predictably, dwells on dystopia. His bleak, sunless nowhere land is inhabited by boar (echoes of Animal Farm, perhaps?), deformed people, who could be victims or perpetrators (both are "[a]s flies to wanton boys...", after all), and exhibits an atmosphere of implicit violence. The imagery could be powerful if it didn't seem rehearsed, routine, downloaded from the work of contemporaries and rehashed into overcharged drama. To take the ho-hum out of his art — along with the excess — Patra needs to discard the visual and thematic shadows of his seniors and come up with his own Gulag.
His craft, however, is engaging. Especially the way he harnesses media: ink, charcoal and graphite, and then coffee stains, varnish, smoke and also inkjet prints. An interesting departure also comes in the presentation of the curatorial note by Ayan Mukherjee, done in out-of-date, out-of-alignment typing with damaged letters that only derelict typewriters could produce.
Lastly, if inherited societal terms are being trashed, why must rebels still be trapped in tropes reeking of cultural prejudices? What, you may ask, has the poor pig done — or the serpent, for that matter — to deserve defamation by humankind?