Perfect fusion of text and tunes
The interweaving of the readings, largely letters written by Rabindranath Tagore to several enlightened women, and the songs were seamlessly presented at 'Iti Rabi' event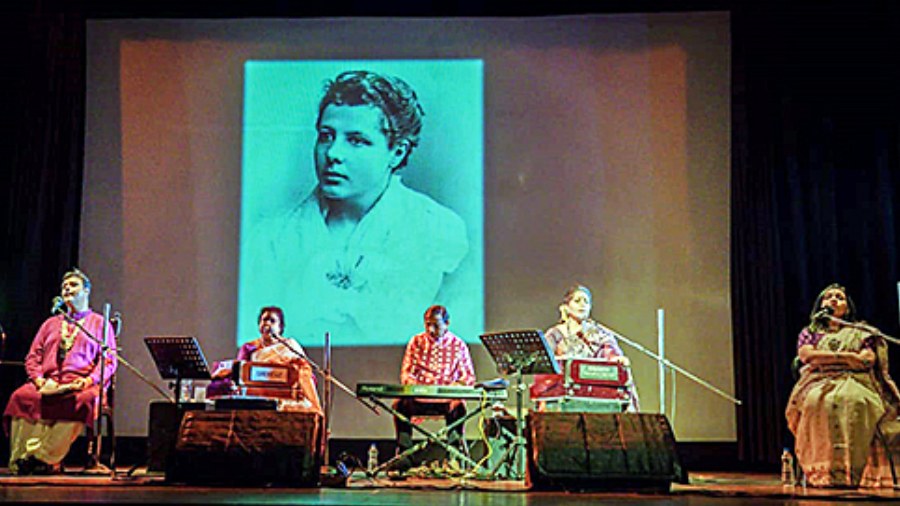 ---
Published 07.05.22, 03:06 AM
|
---
Emotionally-charged and well-dramatized reading, heady visual displays and poised singing by seasoned performers marked the event, Iti Rabi, presented by SPCKraft and a host of other organizations at the ICCR auditorium recently. The interweaving of the readings, largely letters written by Rabindranath Tagore to several enlightened women, and the songs was seamless.
The presence of two stalwart singers, Srabani Sen and Jayati Chakraborty, could have tilted the evening in favour of vocals, but to the credit of the two reciters — Sujoy Prosad Chatterjee and Suparna Dutta — they held their ground and turned the event into an intelligent collaboration. Most of their readings ranged from warm to healing and set the stage for the music that was to follow.
Both Sen and Chakraborty revealed their full potential gradually. Sen, as always, gave the higher octaves a wispy lilt and kept the other levels as powerful as ever. This was evident in songs like "Amaar je shob dite hobe" and "Ei korecho bhalo". Her deep and smoky voice punctuated the poignant "Keno cheye acho go ma" with soft edges. She patiently explored the mood and texture of the song with remarkable restraint.
Chakraborty did sound slightly tired, especially in the higher notes of "Aami hethaye thaki sudhu", but she sparkled as usual in "Tomar amaro ei" and "Aaji joto tara tabo akashe". To each number she added a fundamentally contemporary touch while delivering a powerful message by interpreting the spirit of the lyrics in her singing.
As the only accompanying musician of the evening, Surajit Das on the keyboard largely followed the singers but created some interesting sounds during the readings.