DAG puts together an innovative showcase - Birds of India
The exhibition, looks at a collection of paintings commissioned by the Company to Indian artists who expertly fused their skills honed under Mughal patronages with European sensibilities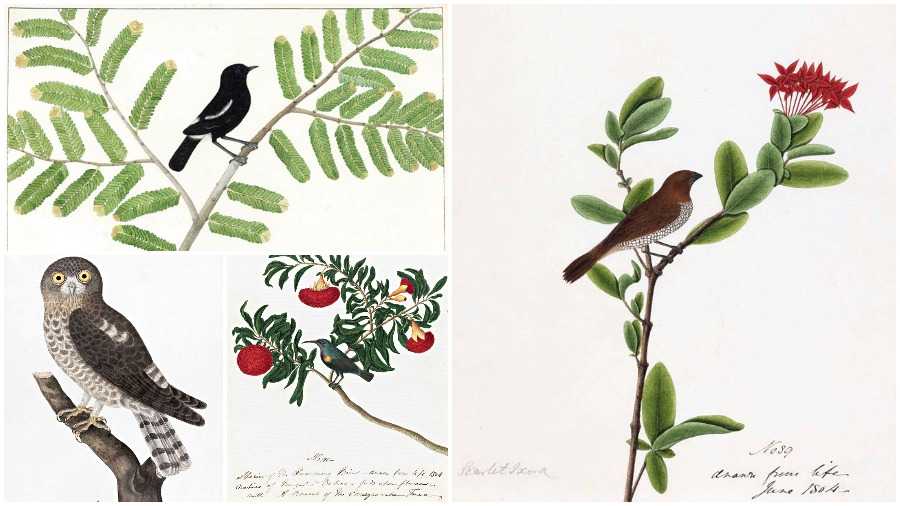 ---
Published 19.09.21, 10:46 PM
|
---
Like the many cultural artefacts often lost to the crevices of time and displacement during the colonial rule of India, are the many unknown and unsung masters of Indian art who would often be commissioned by the East India Company. To shine light on them, DAG has put together an innovative showcase called Birds of India: Company Paintings C. 1800-1835. Curated by Dr. Giles Tillotson, senior VP exhibitions and publications at DAG, the exhibition, for the first time, looks at a collection of paintings of birds that were commissioned by the Company to Indian artists who expertly fused their skills honed under Mughal patronages with European sensibilities to suit the appetite of the then-rulers.
The exhibition that opened earlier this month, features 125 works in total, comprising a set of 99 from the albums of Cunninghame Graham (1800-1804), an 1810 album of birds from the northeast that stand out for their vivid colours and exaggerated detailing, a Faber album from 1830 that contributed to ornithological studies that have been elaborated on within this exhibition, and four folios by the only identified painter called Chuni Lal of Patna, from the album of Edward Inge in 1835.
The birds in this exhibition also showcase their diversity in the subcontinent with "raptors, game birds, coastal waders and many woodland and forest birds, some very familiar and several that are now scarce".
Birds have often found a place in artistic representations of the times, including in architecture and art. "Naturalistic portraits of recognisable species reached perfection in Mughal art under Emperor Jahangir. Connected developments emerged out of that Mughal practice in the late 18th Century in Lucknow and Calcutta, where artists worked to commissions from European patrons. The pioneering efforts of General Claude Martin, Lady Impey and Dr. William Roxburgh and their artists inspired others, giving rise to a larger body of Company Paintings dedicated to natural history," read an excerpt from the dossier on the exhibition, which is also accompanied by a book.
"DAG has been an ardent champion of Indian art over the last 25 years. Our partnership with the Wallace Collection in 2019 for Forgotten Masters: Indian Painting for the East India Company highlights our commitment to the oft-neglected genre of Company Paintings, a commitment we are taking forward by showcasing Birds of India, the first of its kind, entirely from the DAG collection," said Ashish Anand, CEO and MD, DAG.