Contrasting threads
Engaging the younger lot of learners at Brindar, Aaj amader chhuti was a vivacious piece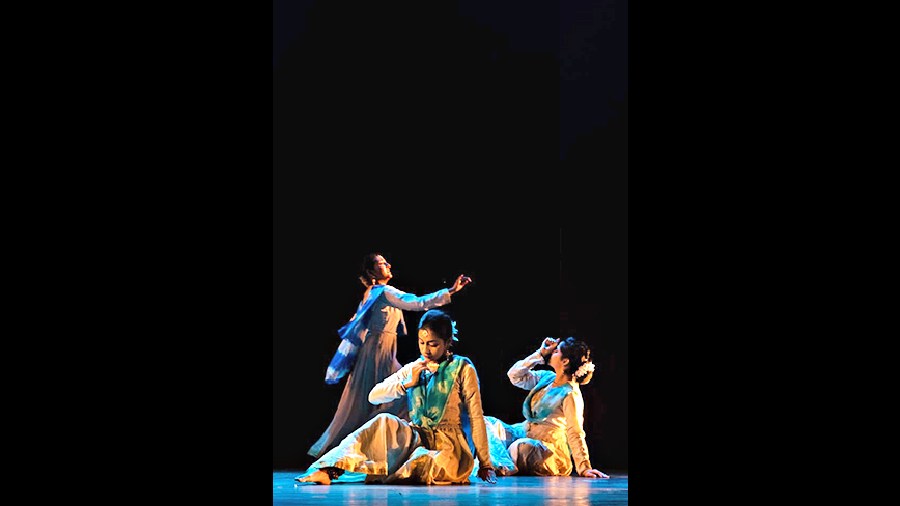 ---
Published 11.03.23, 04:08 AM
|
---
Darshana, Brindar's recent annual show at Gyan Manch, had a number of choreographic threads, played with and stitched together in a patterned whole. It displayed some deliberate contrasts — stillness and fluidity, repertoire and new work, pieces inherited from Debashree Bhattacharya's guru and what constituted the choreographer's personal journey into the unknown with her tradition entrenched in her— not all of which, unfortunately, was of uniform quality.
In Sthira, the exploration of space through the pure dance of Jaipur gharana Kathak was deeply inward-looking, pinned as it was to the meditative strains of sarangi and rooted in the musical tradition, rhythms and technique of the form. Even with the vigour of todas and chakkardars, the piece remained reposeful. In contrast, coloured by Bhattacharya's sensibility, a traditional trivat with brisk footwork, the inherent linearity of Kathak movements, the dynamism of pirouettes and natural geometries of the style had a lively charm of its own.
Engaging the younger lot of learners at Brindar, Aaj amader chhuti was a vivacious piece that had all the spontaneity and joy that a safe space can provide to children. The little ones had fun executing its playful choreographic design. Following as it did the kavitangi (a traditional composition based on a poem), Vrindavan Raas, which celebrated the beauty of Radha decked up to meet Krishna, one wishes that the evening was better structured in terms of the sequence of the pieces.  
Panchabhutani, the final presentation of the evening, was themed on the five elements of nature. If the choreographic representation of air was luminously light and cheerful, that of the final item on space was also deeply evocative. The latter mandated a return to silence, quite reminiscent of the evening's opening piece. The dance of the other elements, however, did not have the eloquence of these two. As a result, the evening oscillated between felicitous dance expressions to relatively unimpressive ones. Also, it would have helped if the programme had been a tad shorter.