In search of lost homes
VISUAL ART: Departure at Ganges Gallery seems to deal with notions of debasement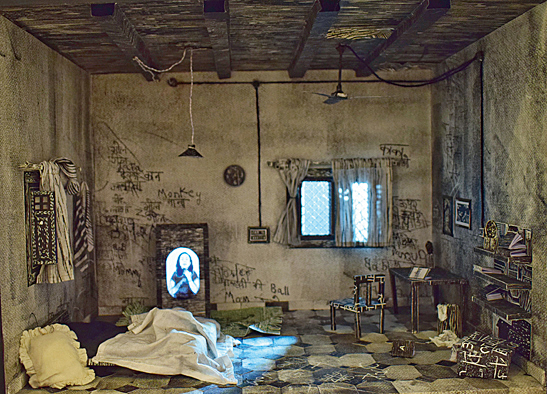 ---
Published 10.04.20, 09:34 PM
|
---
Are these seven young artists in search of homes longed-for or lost? That seems to be their point of Departure in Ganges Gallery's recent show of the same name.

Consider Arpita Akhand, for example. She has reinvented the school craft of weaving mats with strips of paper to break down the puzzle of identities into pixilated tiles of information. In her unusual probe of her own roots, her full-length photograph is cut up and reassembled as a mosaic of clues with words, images and maps that plot her family timeline with its shifts through three states — Uttar Pradesh, Odisha, Bengal — and their three languages: a clinical autobiographical background.
For Ruma Chowdhury, on the other hand, sensuously expressive in kneading organic pulp, natural fibre and found objects like broken twigs into rugged terrain in flux, the ravaged earth is a home mourned. The browns of parched land and dung cakes, the black of charred flora, the beige of eroded soil work up an emotive environmental testament. Dung cakes could well have inspired, in shape and texture, Intaz Ansari's organic fibre panels, each studded with little visual scraps that evoke a rich villagey flavour. The rural katha continues in Ujjal Dey's series where the earthen oven, the Chulha, stands as a versatile, all-weather icon of daily life about to be retired by kerosene stoves and gas ovens in even remote corners.
Iconic, too, is Birbhum's Khowai with its austere beauty. But it has shrunk alarmingly in Ghanashyam Latua's pen and needle-pricked escarpments. The metaphor for loss and longing Kalpana Vishwas takes up is another nostalgic symbol of rural Bengal: the banana leaf, now dry, disfigured, worm-eaten.
But it is physically-challenged Janhavi Khemka's recreation of a rundown, back-lit room (picture) with woodcut and sounds that is enveloped in a most poignant ambience with its aching, echoing refrain of maa, paa, bhaa…