Ancient form
When the performance begins inside Spanda, it is as if one travels through time to magically access a distant past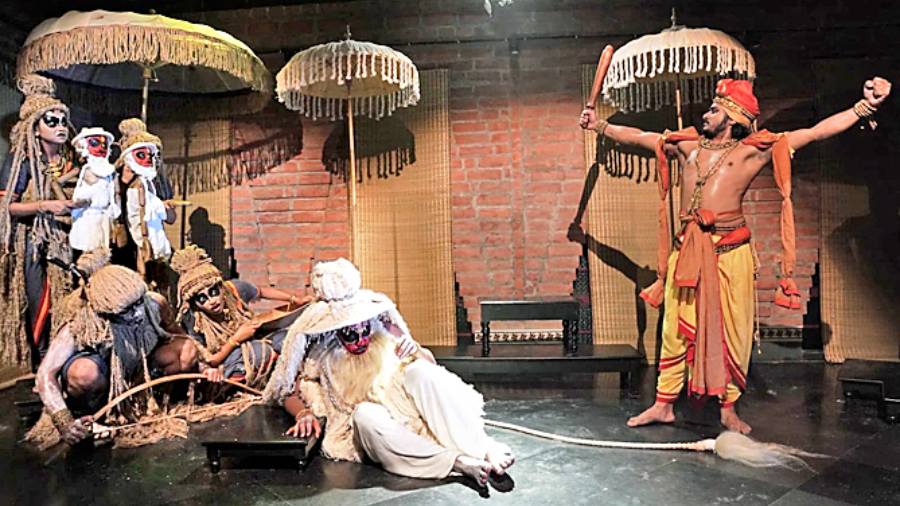 ---
Published 05.11.22, 03:01 AM
|
---
Once a village and now hurtling towards urbanisation, Boral — it is located beyond the southern fringes of Calcutta — is currently the site of a unique brand of theatre practice. Deep in the bowels of Boral is Spanda, Chidakash Kalalay's centre for the practice of ancient Indian theatre. Even from the outside, owing to its distinctive architecture, Spanda stands in stark contrast to the dreary structural sameness that marks the sprawl of surrounding real estate. And when the performance begins inside Spanda, it is as if one travels through time to magically access a distant past. Such a past was brought to life through a performance of RasaBala-Buddhi, Chidakash Kalalay's latest production. Directed and helmed by Sayak Mitra, this production marks a significant moment in the transfer of legacy in Chidakash Kalalay's guru-shishya tradition with Mitra's mentor, Piyal Bhattacharya, hovering in the background, allowing his protégé to unfurl his wings. 
Adapted from a brief segment of the 14th century Sanskrit play, Saugandhika Haranam (Viswanathan), Mitra's text attempts to underscore the importance of the amalgamation of bala (brute force) and buddhi (keen intellect) in human life. Of course, the generation of rasa (aesthetic delight), as prescribed by Bharata in Natyashastra, remains the fundamental performative objective. However, producing rasa is a formidable challenge, given that ancient Indian theatre is alien to a vast majority of today's audience, Sanskrit is virtually unintelligible and narratives — sourced from ancient texts — are only dimly recognisable.
To Mitra and his performers' credit, the play fruitfully communicates with the audience in spite of the obvious impediments. The channels through which the communication flows can be enumerated, in no particular order — the brilliant use of puppets, the mesmerising soundscape, the evocative lighting scheme, the polished performances of the actors, the thorough utilisation  of the sumptuous costume and make-up, the multiplicity of languages used, the  majestic amplification of minute events or sentiments and the incessant construction of exquisite, expressive visuals.