A fine touch of folk music
Folks of Bengal, featuring some leading folk singers, has the potential to become a passionate band capable of filling stadiums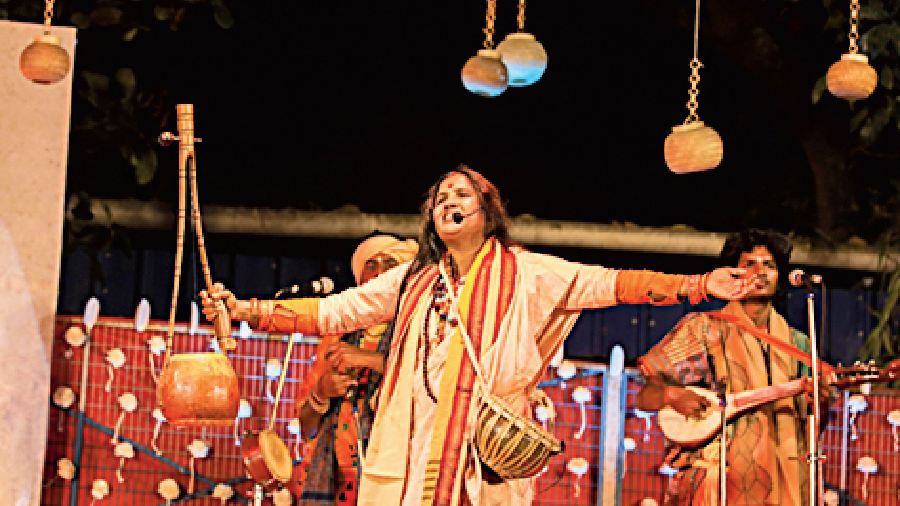 ---
Published 04.03.23, 06:08 AM
|
---
Sur Jahan is a music festival that folk artists, both global and local, aspire to be part of. Its latest edition, organised by Banglanatak.com at Golf Green Central Park, was no different. The first day featured three groups, each building its presence deliciously slowly to reach a high-impact crescendo. Rina Das Baul (picture) connected key phrases with traditional folk chant, producing a disquieting, mechanical wobble. Her first two songs, "Nabo anuragi" and "Bolo bolo ke banalo", shimmered, but her male team member, Bama Prasad, sparkled with his joyous, full-throated vocals for "Rakhite na dili premo jal". He repeated the same four-word phrase until it reverberated. Khokan Das, the dhol player, sliced the key percussion moments to add further shine to the song and, together, they created something worth swinging to.
Rina's "Dhiki dhiki chole" was a gem that was amplified by the sparseness of its structure. She used the signature lines to striking effect. Her son, Purna Das Baul, is a prodigy and his vocals and percussion abilities are diverse and fascinating.
The four-member Irish band, Madagán, chose subtractive minimalism and exploited technology's glitches and flaws to create the kind of emotion that feels all-consuming. Its initial dance pieces, with quite a few Scottish references, were fidgety with brief bursts of pounding beats, mostly provided by the lead guitarist and singer, Joe Campbell. But the two songs, "Imagine" and "Shula Shula", by Diane, the female vocalist, had a feverish drone, creating a progressive and radical aura. The same goes for her other song about the green mountains. Jason o'Rourke, on the concertina, turned his music into hectoring romantic effusions.
The concluding section, Folks of Bengal, featuring some leading folk singers, has the potential to become a passionate band capable of filling stadiums and influencing a younger generation of angsty singer-musicians. Joy Shankar gave a tremendous fillip to "Bandhur deshe baiyya jao majhire", delivered with skill and emotional heft.