Zomato unveils biz recast plan
Move comes after the company disclosed better than expected results for the quarter ended June 30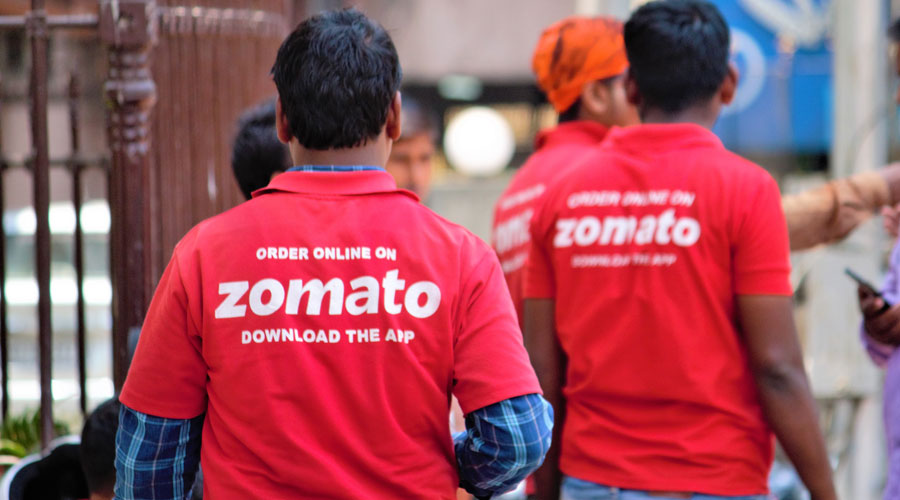 Representational Image
File Photo
---
Mumbai
|
Published 03.08.22, 02:06 AM
|
---
Zomato, the online food delivery platform, is renaming itself Eternal Ltd and reorganising its management with individual businesses having their own CEO. This was disclosed in an internal memo by CEO Deepinder Goyal. It comes after the company disclosed better than expected results for the quarter ended June 30.
The Zomato stock was locked in at the 20 per cent upper circuit as it closed at Rs 55.60 — a gain of Rs 9.25 on the BSE. "Now that the Zomato/ Blinkit deal is approved, we have three companies — Zomato, Blinkit and Hyperpure — in the order of size of business/impact. In addition to these three, we also have Feeding India," Goyal said.
"We are at a stage of life where we are maturing from running (more or less) a single business, to now running multiple large companies.
"We are transitioning from a company where I was the CEO to a place where we will have multiple CEOs running each of our businesses, all acting as peers to each other, and working as a super-team with each other towards building a single large and seamless organisation,'' he said. Shareholders of the company had recently cleared the acquisition of the quick commerce firm Blinkit.
Hyperpure is a B2B initiative from Zomato which provides fresh ingredients and supplies to restaurants. On the other hand, Feeding India is a not for profit organisation to achieve zero hunger in the country. "Starting today we are going to call this larger organization Eternal,'' Goyal said while adding it will be an internal name for now.
Goyal also disclosed that while the company's name will be changed to Eternal, a similar revision will also happen in its stock ticker. On Monday, Zomato reported lower consolidated losses for the quarter ended June 30 at Rs 185.7 crore against Rs 356.2 crore in the same period of the previous fiscal.
Brokerages such as Jefferies have a buy rating on the stock with a target price of Rs 100. Goldman Sachs and UBS also have similar recommendations with a target price of Rs 100 and Rs 95, respectively. "We like Zomato for its long runway for growth, steady market share gains, and fast pivot to profitability, despite challenges – slower growth than in the last two years and heavy investments in Quick Commerce, where profitability is not in sight in the near term," Morgan Stanley said.
The brokerage also resumed coverage of the stock with an "overweight" rating and price target of Rs 80. Uber stake Uber Technologies is likely to sell a 7.8 per cent stake in Zomato through a $373 million block deal on Wednesday, according to Reuters. The offer size of $373 million was based on the lower end of a 48-54 rupee price range set for the block deal. BofA Securities is the sole book runner for the deal.