World Trade Organization chief warns of 'bumpy' road to deals
Ngozi Okonjo-Iweala hopes the meeting involving over 120 ministers from its member countries yields progress toward reducing inequality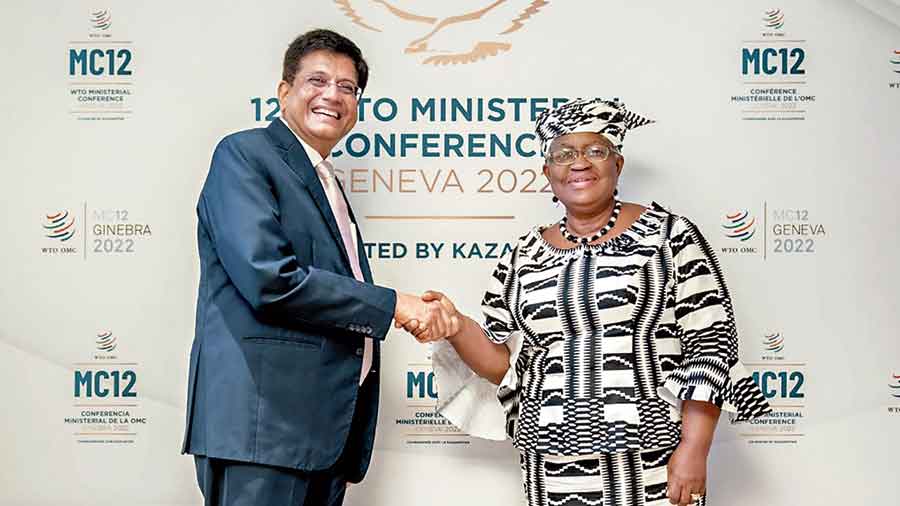 Union minister Piyush Goyal in Geneva on Sunday.
PTI
---
Geneva
|
Published 13.06.22, 01:01 AM
|
---
The head of the World Trade Organization predicted a "bumpy and rocky" road as the trade body opened its highest-level meeting in 4-1/2 years on Sunday, with issues like pandemic preparedness, food insecurity against the backdrop of Russia's war in Ukraine and overfishing of the world's seas on the agenda. 
At a time when some experts question WTO's future and relevance, director-general Ngozi Okonjo-Iweala hopes the meeting involving more than 120 ministers from the organization's 164 member countries yields progress toward reducing inequality and ensuring fair and free trade.
Okonjo-Iweala acknowledged the Geneva-based trade body needs reform. "The road will be bumpy and rocky. There may be a few landmines on the way," Okonjo-Iweala told reporters on Sunday.  "We'll have to navigate those landmines and see how we can successfully land one or two deliverables."  
The WTO chief insisted that trade has lifted 1 billion people out of poverty, but poorer countries — and poor people in richer ones — are often left behind.
She pointed to the food emergency caused by Russia's invasion of Ukraine, where blockaded ports have impeded exports of 22 million and 25 million tonness of grain from a key European breadbasket.
Ministers at the meeting will consider whether to commit to lifting or easing export restrictions on food to help alleviate pressures on countries facing a shortage of wheat, fertiliser and other products because of the war.
They also will decide whether to support the UN's World Food Program get supplies to feed needy countries around the world.