West Bengal Industrial Development Corporation to upgrade Silpa Sathi portal
The rejig aims to make it easy for prospective investors across different sectors to start a business in the state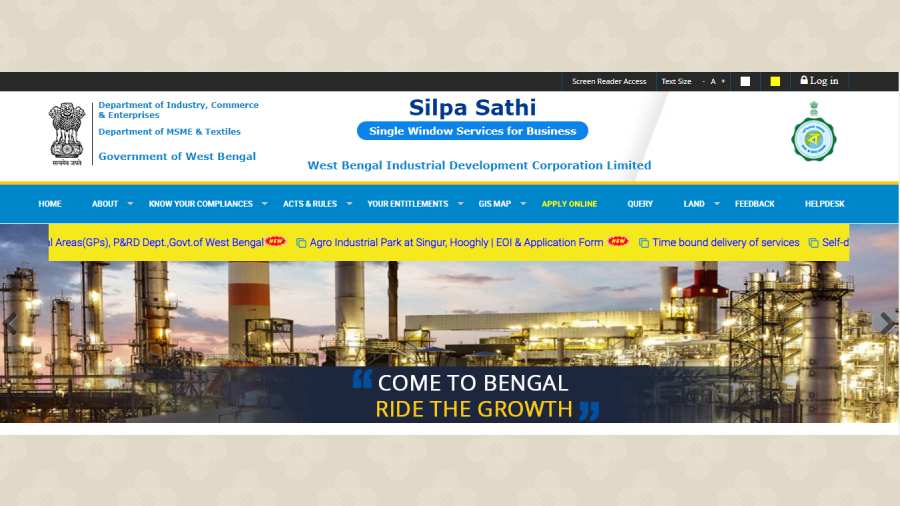 Screen grab of Silpa Sathi website.
The Telegraph
---
Calcutta
|
Published 12.01.22, 01:47 AM
|
---
The West Bengal Industrial Development Corporation will upgrade its online single window portal for industry — Silpa Sathi — from a single point help desk to a single window application gateway to make it easy for prospective investors across different sectors to start a business in the state.
WBIDC chairman Rajiva Sinha on Tuesday said a software upgradation work is on whereby after investors put in the required details, the application form will automatically guide them on the requisite permissions and the agencies with whom to apply.
"We are developing a common application form. This was supposed to have been done by December 31, 2021 but because of Covid, it was postponed. We are aiming to achieve this in three months," Sinha said at an MCCI organised event.
IPR registration
Sinha said registration of IPR is something where the state MSME units are lagging behind despite incentives being offered for patent registration. The state's incentive scheme offers eligible MSME units a reimbursement of 50 per cent of expenditure incurred on patent registration, subject to a maximum of Rs 5 lakh.
"The moment you get a patent, suddenly the horizon of export expands. Will request MCCI to consider setting up an IPR facilitation centre in their office," said Sinha.
Power tariff
For industrialists looking to put up units in Raghunathpur and Panagarh, power tariff becomes a conundrum with DVC offering relatively cheaper power than the state utility.
Sinha said an agreement has been reached with WBSEDCL to match the rates for industries set up in the state's own industrial parks in those regions. No decision has been taken on offering similar benefits to private industrial parks.
Tajpur port
Sinha said the state's proposal to develop a greenfield port at Tajpur is on track. The state has invited request for proposal from bidders by January 31.
"If everything goes fine in a couple of months, a work order can be given and in another 3 years Tajpur Port can be functional," he said.