Vijay Shekhar Sharma reappointed MD & CEO of Paytm
In a regulatory filing on Saturday, One97 Communications says up to Rs 950 crore will be invested in PGIL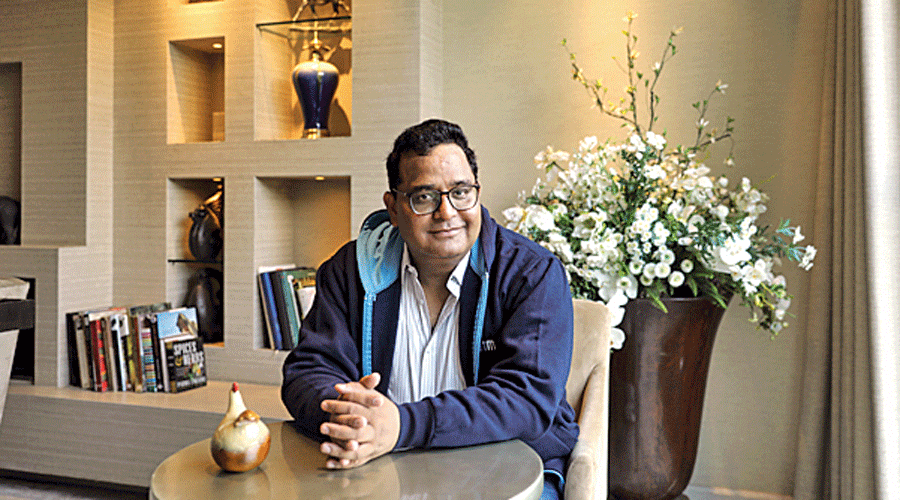 Vijay Shekhar Sharma.
File photo
---
Mumbai
|
Published 22.05.22, 02:50 AM
|
---
Paytm founder Vijay Shekhar Sharma has been re-appointed as the managing director and CEO of the company for a period of five years.
In a regulatory filing on Saturday, One97 Communications, which operates under the Paytm brand, said up to Rs 950 crore will be invested in Paytm General Insurance Ltd (PGIL). This investment will be done in tranches over a period of 10 years. One97 Communications will hold up to 74 per cent in the insurer.
These decisions were taken by its board of directors on Saturday. One97 Communications said that based on the recommendation of the Nomination and Remuneration Committee (NRC) and subject to the approval of shareholders, its board has considered and approved the re-appointment of Sharma as MD and CEO for a period of five years, effective December 19, 2022 to December 18, 2027.
The board also approved the appointment of Madhur Deora, chief financial officer of the company, as an additional director with effect from May 20. The company added that the board also approved the appointment of Deora as whole-time director (designated as whole-time director and CFO) for a tenure of 5 years effective May 20.
In a separate announcement, the company said it will invest up to Rs 950 crore in PGIL over a period of 10 years. While PGIL was incorporated in 2018, it is yet to commence its general insurance business, which is subject to receipt of certificate of registration from the IRDAI.
At present, PGIL is an associate of One97 Communications wherein 49 per cent of the equity share capital is held by the latter and the remaining 51 per cent by VSS Holdings Pvt Ltd (VHPL), a company owned and controlled by Sharma. After the proposed transaction, PGIL would become a subsidiary of One97 Communications wherein it will hold 74 per cent and the remaining 26 per cent holding will be with VHPL.
Both One97 Communications and VHPL will make a primary infusion of capital in PGIL at the same price. The investments will be used to set up the general insurance business of PGIL and scale up its operations. The money will also help maintain the minimum solvency margin as prescribed under the current insurance laws.
On Friday, One97 Communications reported widening of its losses for the period ended March 31, 2022.
Consolidated losses for the period stood at Rs 761.4 crore against Rs 441.8 crore in the same period of the previous year.
It was, however, lower than Rs 778.4 crore recorded in the preceding quarter.
Though the company saw its revenues from operations rising to Rs 1,540.9 crore from Rs 815.3 crore in the year-ago period, a jump in payment processing charges at Rs 774.2 crore (Rs 508.7 crore), marketing and promotional expenses at Rs 248.9 crore (Rs 100.1 crore) and employee benefit expense at Rs 863.4 crore (Rs 347.8 crore) led to a rise in total expenses.
For the year ended March 31, 2022, the company's loss increased to Rs 2,392.9 crore against Rs 1696.1 crore in 2020-21. Paytm said one of the highlights was the rapid growth of lending products which provides it with an attractive profit pool.
In April 2022, it reached an annualised run rate of Rs 20,000 crore of disbursement through its platform.
On the other hand, the average monthly transacting user (MTU) base rose to over 7 crore rising 41 per cent over the previous year. its merchant base also inched up to 2.67 crore.
On Friday, shares of One976 Communications closed at Rs 575.35. At this price, the share is off nearly 73 per cent from its IPO price of Rs 2150 per share.