US recession fears drive down stocks
The Sensex on Thursday had staged a 601-point rally intra-day, with the market discounting the 75-basis-point rate hike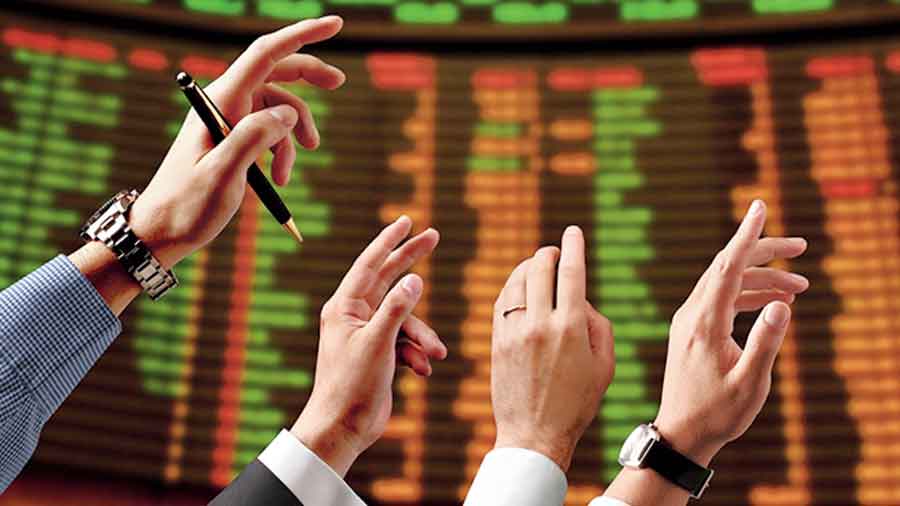 Along with the rate hike, the Fed gave a dovish outlook on the interest rate trajectory.
Representational picture
---
Mumbai
|
Published 17.06.22, 02:09 AM
|
---
A dovish commentary from the US Federal Reserve could not prevent another blowout on the stock markets with benchmark indices hitting fresh 52-week lows on concerns over a recession in the US.
The Sensex on Thursday had staged a 601-point rally intra-day, with the market discounting  the 75-basis-point rate hike in the US.
But a groundswell of resistance emerged over the health of the US economy that led to the Sensex spiralling downwards to end with more than a 1000-point loss in the day.
Along with the rate hike, the Fed gave a dovish outlook on the interest rate trajectory. Fed chair Jerome Powell said in a press conference that he does not "expect moves (75 basis points) of this size to be common'' — which relieved investors.
Analysts are predicting another 75-basis- point increase next month, with the amount  to be moderated thereafter. The US central bank has forecast interest rates would rise further to 3.4 per cent by December and 3.8 per cent by the end of 2023.
Although Powell expressed optimism the central bank can achieve a soft landing of the economy without causing a recession, analysts were not convinced.
Wells Fargo & Co said the US economy could be staring at a "mild recession" commencing in mid-2023 as inflation becomes more entrenched, affects consumer spending power and as the Fed takes more aggressive steps to tame prices. Moody's Analytics also reportedly said there were lower chances of a soft landing of the economy.
The Sensex had began the day higher at 53018.91 and hit 53142.50 but crashed 1700 points to a low of 51425.48 and ended at 51495.79, a fall of 1045.60 points or 1.99 per cent.
"The early gains led by an in-line Fed policy got dampened as recessionary fears haunted global sentiments. A cut in growth projection  instilled chances of a recession in the US economy," said Vinod Nair, head of research at Geojit Financial Services.
V.K. Vijayakumar, chief investment strategist at Geojit Financial Services, said any relief rally is unlikely to last long. "In India, the sustained FPI selling is an additional headwind. Investors may follow a cautious investment strategy without taking aggressive bets.''
Yields on the benchmark 10-year paper rose to nearly 7.62 per cent against the previous close of 7.59 per cent.  The rupee remained unchanged from its previous close of 78.07.
Reliance upgraded
Brokerage JP Morgan has upgraded Reliance Industries Ltd to overweight from neutral citing positive earnings revision cycle ahead, given the strong refining and gas environment.
The foreign brokerage has now set a 12-month price target of Rs 3,170 from the Rs 2,575 earlier, implying an upside of more than 23 per cent.
Shares of RIL on Thursday rose to a day's high of 2658.60 on the upgrade — a gain of almost 2.40 per cent.
"We expect RIL's outperformance to continue  given the upside risk to consensus earnings estimates. Our earnings estimates imply a sharp pullback in diesel and gasoline cracks from current record level, but RIL remains among the best-positioned refiners globally,'' the brokerage said.