Banks stop offering credit for oil imports to Nayara Energy
Indian Oil Corp has excluded several high-sulphur crude grades, including Russian Urals, from its latest tender, trade sources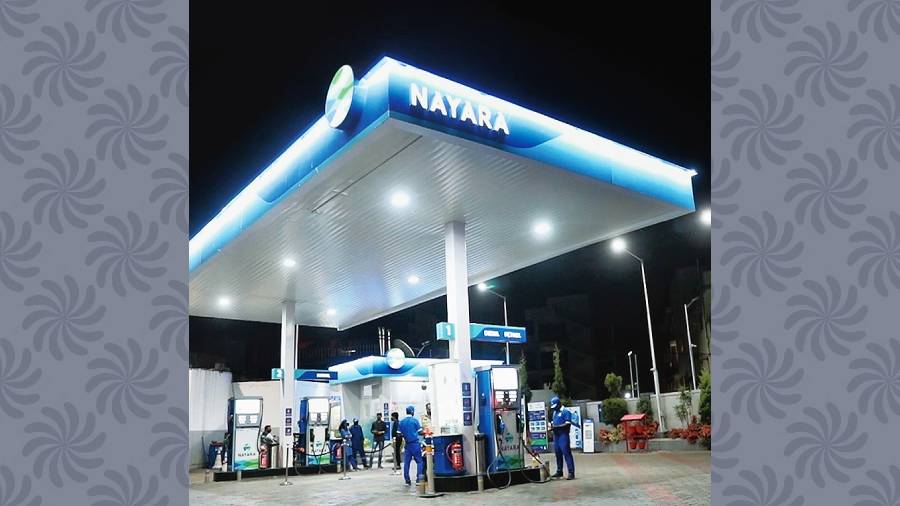 A Nayara petrol pump
Sourced by the correspondent
---
Mumbai, Bangalore, New Delhi
|
Published 13.04.22, 01:21 AM
|
---
HDFC Bank and some foreign banks have stopped offering trade credit for oil imports to Nayara Energy, a Russian-backed refiner, and some suppliers are seeking payment upfront to avoid potential problems resulting from western sanctions against Moscow, four banking and industry sources said.
Nayara has not been sanctioned as part of the international response to Russia's invasion of Ukraine, but Russian energy giant Rosneft, which owns 49 per cent of the Indian refiner, has been.
To avoid the need for credit to fund overseas trade, the Mumbai-based company is selling more of its refined fuels in India, two of the sources said.
All of the sources declined to be named because they are not authorised to speak to the media. Nayara did not respond to a request for comment. Rosneft did not immediately respond to a request for comment.
Nayara imports crude oil worth about $1 billion every month on an average for its 400,000 barrels per day Vadinar refinery in India's Gujarat state, the two sources told Reuters.
India's HDFC Bank and international banks such as Citibank, JP Morgan, Deutsche Bank and Japan's Mitsubishi UFJ Financial Group have stopped opening and confirming Letters of Credit (LCs), which are a standard form of payment guarantee in the oil trade, for Nayara, four sources said.
Citigroup, JP Morgan, Deutsche Bank and Mitsubishi UFJ declined to comment on Monday, while HDFC did not respond to requests for comment.
Kesani Enterprises Co Ltd, a consortium led by Trafigura Group and Russia's UCP Investment Group, is the other major stakeholder in Nayara, also with a 49.13 per cent stake.
Kesani has pledged all of its shares in Nayara to Russian bank VTB, from which it took a loan to fund its acquisition of the Indian refiner in 2017, a fundraising document Nayara issued in August last year showed. VTB has also been sanctioned.
The two sources said Nayara has this month boosted local sales of its refined fuels, taking a hit on its revenue as pump prices in India are below overseas rates.
Previously Nayara had raised its fuel exports to earn more from robust overseas margins. State-refiners that dominate Indian fuel retailing have not yet passed on the spike in oil prices to customers to help the government tackle inflation.
IOC shuns Russia
Indian Oil Corp has excluded several high-sulphur crude grades, including Russian Urals, from its latest tender, trade sources said on Tuesday.
India's top refiner informed market participants that Das, Eugene Island, Thunder Horse and Urals crude were no longer on the list of grades under its latest tender, which closes on Tuesday, the sources said.
IOC imports crude for itself and on behalf of its Chennai Petroleum subsidiary.
Chennai is now seeking sweet crude instead of sour oil as it has received some high-sulphur crude from IOC, one of the sources familiar with the matter said. The sources spoke on condition of anonymity.
IOC did not respond immediately to a request for comment. The refiner is running two tenders this week, seeking sweet and sour crude separately for May-June loading.