Top executives quit Jet
Chief executive Vinay Dube, his deputy Amit Agarwal and company secretary Kuldeep Sharma have quit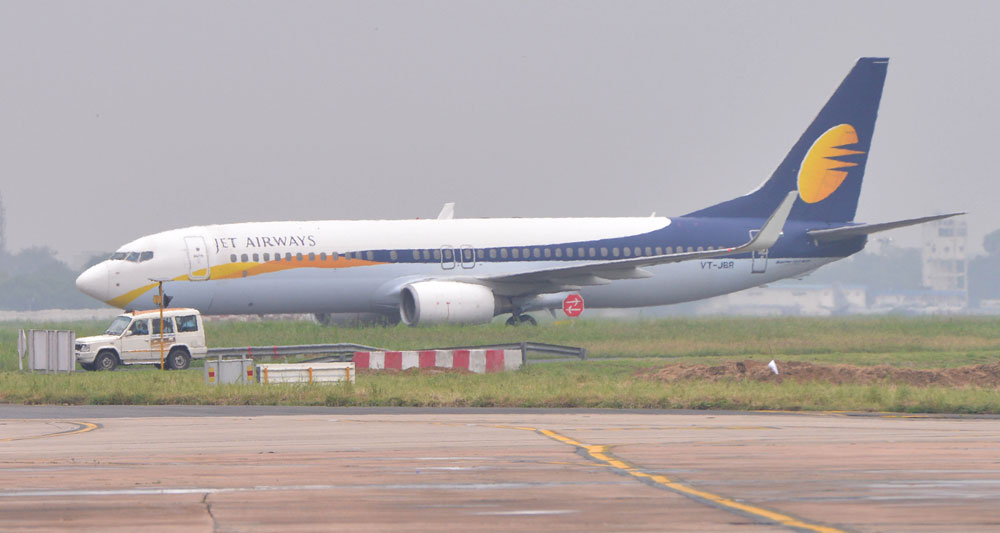 A Jet Airways aircraft
Picture: Prem Singh
---
Mumbai
|
Published 14.05.19, 07:13 PM
|
---
Top executives of troubled airline Jet Airways, including head honcho Vinay Dube and his deputy, chief financial officer Amit Agarwal, resigned on Tuesday citing "personal reasons", leaving everyone guessing whether a new team was ready in the wings to take their place.
If that were not the case, the senior-level exits would deepen concerns that the airline, which halted services on April 17, might never take to the skies again.
Besides Dube and Agarwal, company secretary Kuldeep Sharma put in his papers — and the squiggle of a signature at the bottom of the communication to the stock exchanges put out by an "authorised signatory" left no one any wiser about who really was handling day-to-day affairs at the grounded airline. All the communications to the exchanges till date have been made by Sharma.
Sources said chief people officer Rahul Taneja has also put in his papers. Agarwal had quit on Monday but the announcement was made on Tuesday morning.
The flurry of resignations left everyone wondering whether the lenders had finally decided to take control of the airline until they found a strategic partner to run it. It is not usual to see top executives of a storied company abdicate responsibility on a flimsy ground unless they were sure that they were demitting office to responsible leadership.
Sources said Jet's lenders needed to take a quick call on the future of the airline. On Monday, they had opened their bids for the ailing carrier but refused to say whether they had someone who could come up with a credible resolution plan.
Dube's departure marked the end of a 21-month long tumultuous tenure during which the full service carrier shuttered its operations because of a cash crunch after operating for more than 25 years.
"We wish to inform that Vinay Dube, chief executive officer (CEO), has resigned from the of the company with immediate effect due to personal reasons," Jet Airways said in a filing.
Before joining Jet as CEO in August 2017, Dube had served in various roles at companies such as Delta Airlines, Sabre Inc and American Airlines.
SpiceJet gets most slots
SpiceJet has emerged as the biggest winner of the slots vacated by Jet. It has won 130 of Jet's 479 slots, of which 68 slots are in Mumbai, where Jet has vacated 214 slots.
IndiGo bagged 127 slots, the maximum in Delhi where it won 38 out of Jet's 118 slots. Vistara won 110 slots, with 44 of them in Mumbai. GoAir secured 44 and AirAsia India 42 slots; national carrier Air India secured 24 slots, and its regional arm Alliance Air, two slots. Slots are precious assets for an airline as the number of slots determines how many flights they can operate out of an airport.