Tik Tok clones grab users
Chingari eyes a 10 million monthly active user base by July to fill up the created by the Chinese app ban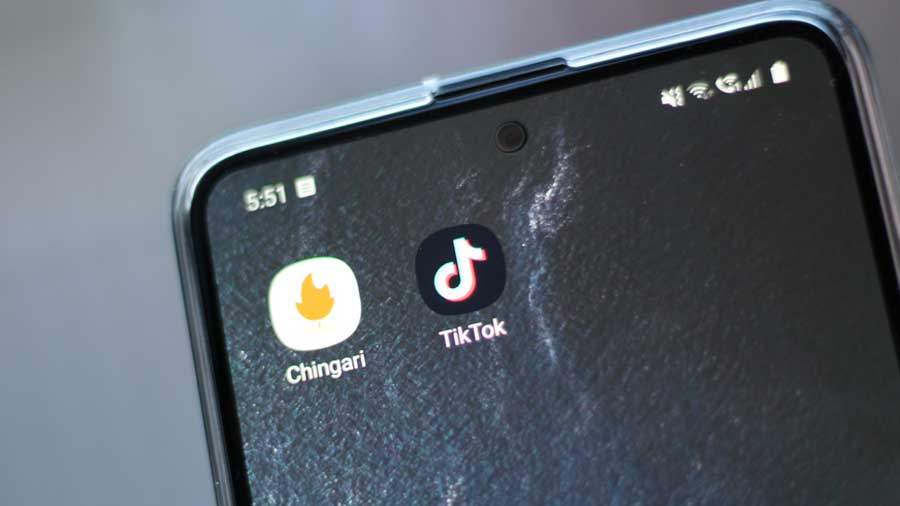 ---
Calcutta
|
Published 01.07.20, 01:18 AM
|
---
Chingari — the homegrown alternative to Tik Tok — is eyeing a 10 million monthly active user base by July to fill up the void created by the ban of the Chinese app by the government on Monday.
By Tuesday afternoon, Chingari was seeing a traffic of 10,000 users per minute with 3 million videos swiped or watched per hour, according to data shared by company co-founder Sumit Ghosh on Twitter. He said the back-end infrastructure was holding up to the surge in app use.
"Since last night we are seeing a tremendous growth in the user base. The users are thinking that they will lose their Tik Tok accounts and so they are opening accounts in Chingari and migrating. We were already taking off even before yesterday on account of the nationalist sentiment. But now that Tik Tok has been banned, there is a huge gap.
"They have a substantial user base in India and there are no other apps besides ours that offer a feature to feature match," Ghosh, who hails from Bhilai, told The Telegraph on Tuesday.
According to Ghosh, the 'boycott China' sentiment that had taken off from May onwards has helped the domestic app shore up its user base. Sensing an opportunity, the app was marketed on popular social platforms such as Facebook and Instagram as an Indian alternative.
"From 5 to 25 lakh downloads, it took less than a week," Ghosh said adding that in the next 30 days the app expects to cross 10 million active users.
The rapid growth will need capital to sustain and sticking with the theme of nationalism, the app developers will not seek any capital with a Chinese link.
"We are talking to investors and we will soon announce a funding round. There are investors from the US, Singapore and even India," Ghosh said.
Incidentally industrialist Anand Mahindra had shown support for the app on Twitter. "I hadn't ever downloaded Tik Tok, but I have just downloaded Chingari... More power to you," Mahindra had said in a tweet on Sunday.