Tata Steel's profit in the second quarter surged to a nine-year high at
Rs 3,116 crore as it reaped the benefits of high margins and a strong demand in the local market, offsetting the tepid performance of the European business.
The company, whose deliveries stood at 4.32 million tonnes in India, after accounting for newly acquired Bhushan Steel, had earned a consolidated net profit of Rs 1,017.7 crore in the year-ago period.
Tata Steel, whose gross debt stands at Rs 118,000 crore, plans to use the robust cash flow to reduce debt burden by $1billion (Rs 7,250 crore) in the next 12 months.
The consolidated income of the company in the July-September period increased to Rs 43,898.53 crore from Rs 32,675.5 crore a year ago.
"Tata Steel Group has delivered extremely strong results this quarter, driven by robust operational performance and favourable business conditions in India," CEO and managing director T.V. Narendran said on Tuesday.
Even though July-September is usually considered a weaker period as monsoon negatively impacts construction activities, total deliveries grew 7 per cent quarter-on-quarter to 3.18 million tonnes, which was stronger than the domestic steel market demand growth of 2.1 per cent in the June quarter.
Standalone EBITDA also increased significantly to Rs 6,113 crore, up 19 per cent over the June quarter and 79 per cent year-on-year. Standalone EBITDA margin for the quarter stood at 34 per cent; EBITDA/tonne stood at Rs 19,244/tonne.
In Europe, deliveries were down by 7 per cent over the preceding quarter and 13 per cent year-on-year to 2.27 million tonnes, primarily because of lower production and seasonality.
EBITDA for the quarter decreased to Rs 1,111 crore compared with Rs 1,667 crore in the first quarter of the current fiscal. However, it was better than Rs 732 crore a year ago.
Koushik Chatterjee, executive director and CFO, said: "The Bhushan Steel integration and synergies have been on track and that is reflected in the Bhushan Steel EBITDA margin of Rs 10,291/tonne."
The company was confident of strong steel demand in India and healthy margin. Tata Steel also said that it was in discussion with the European Commission on the merger of its European business with ThyssenKrupp, which will take 90 days.
Shares of the company closed at Rs 589.15 a piece on the BSE, up 1.07 per cent from the previous close.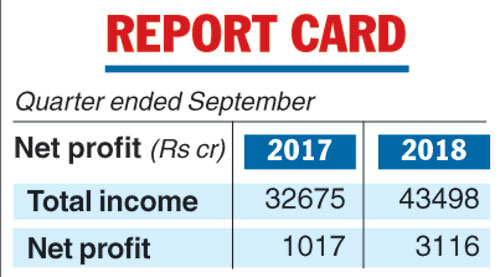 The Telegraph