Surveillance actions follow non-discretionary, transparent rules for all stocks: NSE
Surveillance actions on stocks are as per non-discretionary, pre-announced, automatically applicable and transparent regulations applicable to all eligible stocks, says National Stock Exchange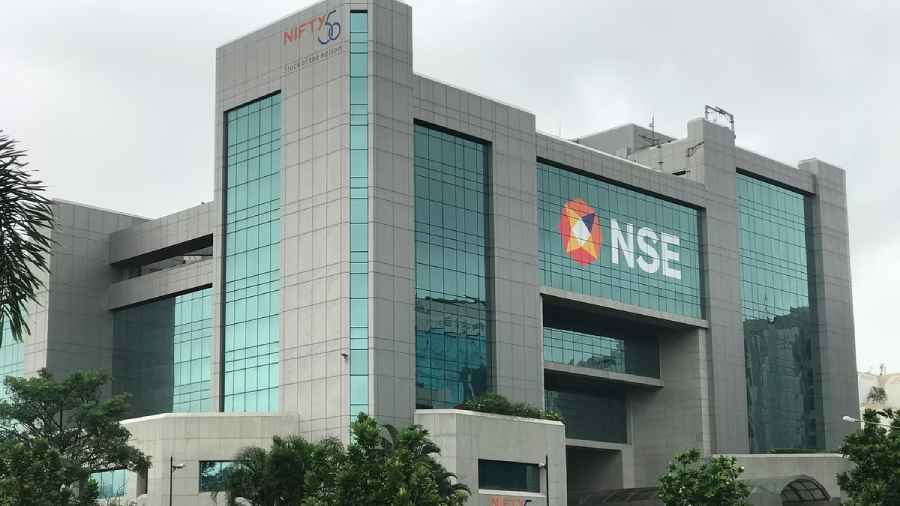 Representational image
File picture
---
New Delhi
|
Published 19.03.23, 07:41 PM
|
---
Amid criticism by the Opposition of its decision to exclude three Adani group stocks from short-term surveillance, NSE on Sunday defended its action, saying such moves are based on non-discretionary, pre-announced and automatically applicable rules and involve no human interventions.
After the National Stock Exchange (NSE) and BSE last week announced that three Adani group companies -- Adani Enterprises, Adani Power and Adani Wilmar -- will move out of the short-term additional surveillance measure (ASM), the Congress had asked why the stock exchange regulator, the Securities and Exchange Board of India (Sebi), is standing by and allowing investors to take on added exposure to such stocks.
Congress general secretary, communications, Jairam Ramesh also said that even as global index providers, such as MSCI, S&P, Dow Jones and FTSE Russell, reviewed the position of the Adani stocks in their equity indices, the NSE went the other way and included five Adani Group companies in no less than 14 indices, beginning March 20.
NSE and BSE have also decided to move two Adani group stocks -- Adani Green Energy and NDTV -- to the first stage of the long-term additional surveillance measures (ASM) framework from Monday.
In a detailed statement, the NSE said on Sunday that its surveillance actions on stocks are as per non-discretionary, pre-announced, automatically applicable and transparent regulations applicable to all eligible stocks.
Besides, the index inclusion and exclusion of stocks on a periodic basis have also been as per non-discretionary, pre-announced, automatic and transparent policies, the exchange added.
"Inclusion or exclusion of stocks under Additional Surveillance Measures (ASM) and other trading activity based specific rules like price bands, trade for trade (T2T), etc, are based on parameters, which consider price volatility, volumes, market capitalisation, client concentration, liquidity parameters etc. The exact parameters along with the duration of applicability have been in the public domain and have been applied consistently," the NSE said.
Common across exchanges, these rules are implemented automatically, and no human discretion is allowed, the NSE said, adding that these rules and review periods are also pre-announced to the market.
The actions which result from these pre-announced rules are available in the public domain and are applied without discretion to all the stocks, which attract the specific clauses of such rules.
On Friday, shares of seven Adani Group companies out of the ten listed entities settled higher.
After taking a beating on the bourses, following the report by US-based short seller Hindenburg Research, many of the group stocks have recovered some last ground.
The report had made a litany of allegations, including fraudulent transactions and share-price manipulation, against the group but Adanis have dismissed the charges as lies, saying they comply with all laws and disclosure requirements.
NSE said that its entire framework has been time-tested, and any changes to the rules are also pre-announced before any future action on the basis of new rules becomes applicable.
"Process Audits and periodic inspections are undertaken to ensure compliance with the parameters defined. The actions are applied in an automated way and no exceptions are allowed," it added.
The exchange further said the inclusion and exclusion of stocks in various Nifty indices on a periodic basis has been as per transparent policies.
The index criteria for including any stock into an index or excluding any existing stock from an index is well defined, documented and made available on NSE and NSE Indices website, it added.
"All changes in policies relating to constituents of any indices are approved by index governance committees. The rules are applied automatically without human discretion. Further, the results of such automatic rules-based reviews are also announced long before implementing the changes, if any, in the indices," it said.
"Once the index criteria has been crystallised, NSE Indices or its committees exercise no human discretion in deciding on inclusion or exclusion of stocks in any of its indices. Based on the well-defined index criteria available on NSE and NSE Indices website, market participants are able to predict the changes in index constituents in various indices in the upcoming index review.
"Thus, given the current pre-announced, transparent, rules-based, automatic, non-discretionary regulatory framework for surveillance measures and for index inclusion/ exclusion at NSE, no human discretion is possible for anyone and this entire process and practice has been running for decades," it said.
The exchange said its overall risk management framework put in place for trading in the secondary market has been designed to provide robustness to the capital market ecosystem, especially in volatile times.
Except for the headline, this story has not been edited by The Telegraph Online staff and has been published from a syndicated feed.