Sun Pharma bid to limit damage amid insider trading reports
The company's shares have come under pressure after a foreign brokerage raised concerns over its corporate governance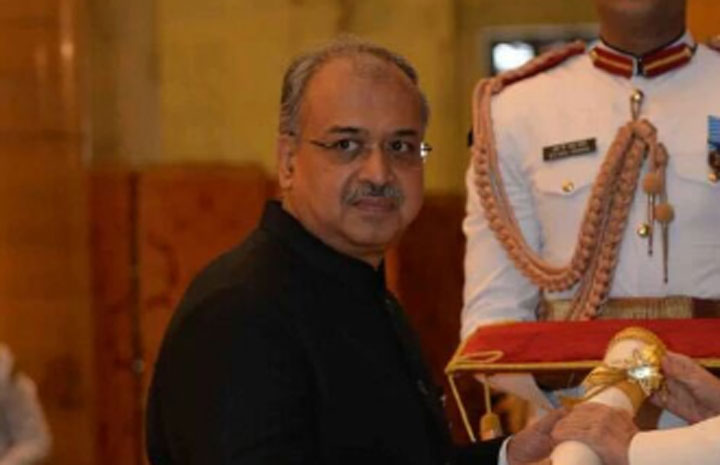 Founder Dilip Shanghvi: ready for fresh look at some earlier deals, but no questions from Sebi yet
Picture: Official Twitter handle of Sun Pharmaceutical Industries
---
Mumbai
|
Published 03.12.18, 09:14 PM
|
---
Dilip Shanghvi, the founder and managing director of Sun Pharmaceutical Industries, on Monday indicated the company was open to taking a relook at some of the earlier transactions or decisions in the interest of shareholders after its shares plunged on reports that Sebi might reopen an insider trading case against the company.
At an investor update call held to provide more clarity, Shanghvi, however, said the country's largest drug firm had so far not got any query from the market regulator about a whistleblower complaint or any information on reopening an insider trading matter.
In 2017, Sun Pharma, Shanghvi and others settled a probe by Sebi into alleged violation of insider trading norms (relating to the acquisition of Ranbaxy Laboratories) by paying Rs 18 lakh without admission of guilt.
Shanghvi, however, said the matter related to a "minor technical issue" with regard to the procedural lapse of trading window closure due to an intervening holiday.
Shares of Sun Pharma have come under pressure recently after a foreign brokerage raised concerns over corporate governance practices at the company.
This was followed by reports of a whistleblower making a 150-page complaint to Sebi, alleging various irregularities by the company, its promoter and others.
While one of the concerns is the rise in loans given by the company to non-related parties, Shanghvi said if these loans were not being seen in the best interest of shareholders, the company could review them and was also open to reversing the transaction, if necessary.
He, however, told an analyst that the "company cannot share some materially important information which is specific for the business''.
On a query over Sun Pharma appointing Jermyn Capital (which allegedly had links to Ketan Parekh and Dharmesh Doshi) to manage an FCCB issue during 2004-07, he said JP Morgan was the lead manager and sole book runner of the issue and that Jermyn was only the co-manager.
Earlier, on the Bombay Stock Exchange, the Sun Pharma share cracked 7.52 per cent, or Rs 37, to close at Rs 455.30.