Stress for micro finance lenders worsen during Covid second wave
The dues were less than 2 per cent before the pandemic, while they stood at 14.5 per cent at the end of December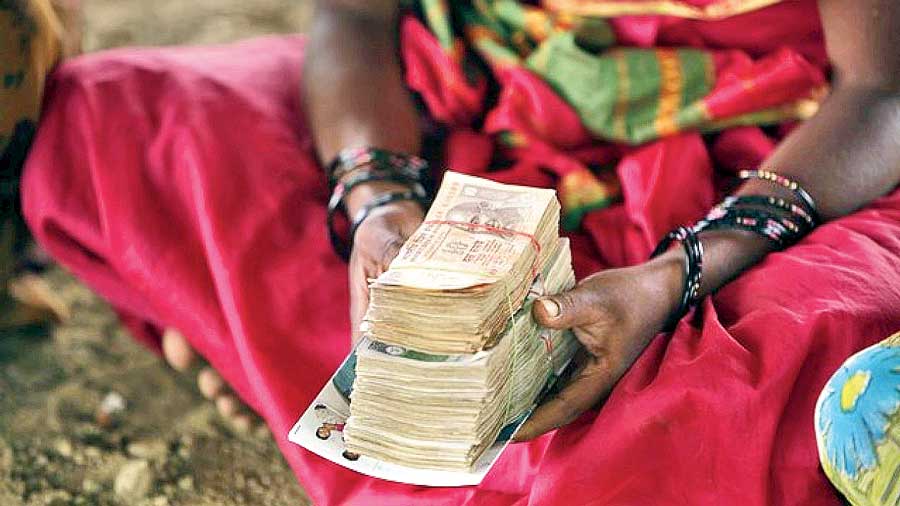 ---
Calcutta
|
Published 21.10.21, 01:41 AM
|
---
Portfolio at risk, a measure of stress for micro finance lenders, has worsened during the second wave of the Covid pandemic. 
Dues in excess of 30 days were at 15.4 per cent as of June 30, 2021 against 9.7 per cent as of March 31, 2021, according to data compiled by CRIF High Mark. 
The dues were less than 2 per cent before the pandemic, while they stood at 14.5 per cent at the end of December.
Assam (32.1 per cent), Bengal (19.7 per cent), Karnataka (18.4 per cent), Madhya Pradesh (17.1 per cent) were among the states where the dues were higher at the end of June. 
The portfolio quality was affected across ticket sizes and lenders including banks, non bank finance institutions and small finance banks.
The gross loan portfolio outstanding for the microfinance industry as of June 2021 was Rs 2,36,109 crore, which was 7 per cent lower than March, 2021 and higher by 1 per cent from June 2021. 
All the top 10 states recorded a quarterly decline in gross loan portfolio — the highest in Assam of 14.4 per cent, while Bengal saw a decline of nearly 10 per cent.
"Braving Covid 19 pandemic impact, the microfinance sector was quick to recover to pre pandemic level by Q4 FY21. 
"However, with Covid 19 second wave and reimplementation of lockdown in several parts of the country, the sector took a major blow again in Q1 FY22, with a steep decline in disbursements and high delinquencies," CRIF High Mark said in its quarterly report.
Micro-finance lenders said the stress level was expected to ease in the second half of the fiscal with the removal of restrictions and opening up of the economy if the infection rate does not go up again.
In line with a decline in gross loan portfolio, the number of active microfinance borrowers came down to 5.9 crore for the period ending June 30, 2021, posting 3.2 per cent quarter-on-quarter decline, while on a year-on-year basis, there was a growth of 7.5 per cent.
Average balance per unique microfinance borrower at Rs 40,300 witnessed a quarter on quarter decline of 3.8 per cent while on a year on year basis there was a growth of 7.4 per cent.
Banks continue to dominate the market with a portfolio share of 42.2 per cent followed by NBFC MFIs at 30.6 per cent.