Snag in Aramco deal weighs on Reliance stock
In August 2019, both the companies had signed a letter of intent that would have seen the Saudi oil giant picking up a 20 per cent stake in RIL's O2C business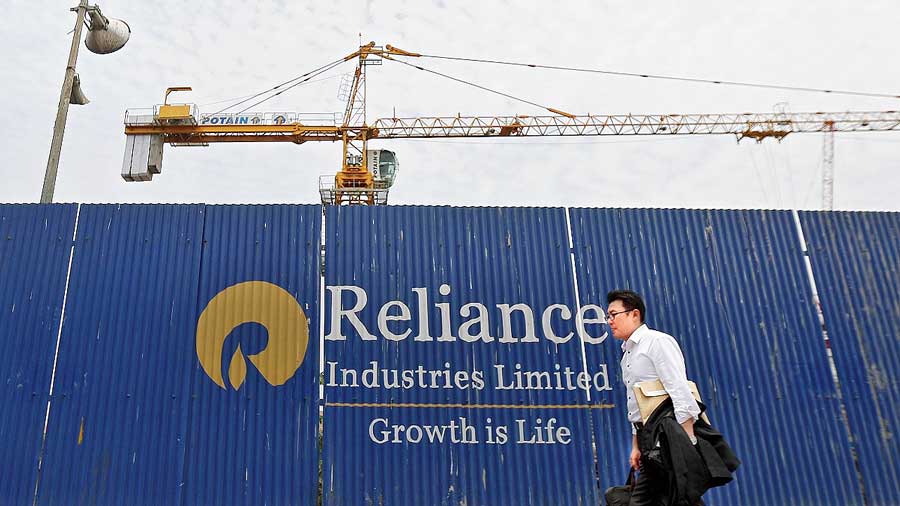 Representational image.
File photo
---
Mumbai
|
Published 22.11.21, 01:57 AM
|
---
The decision of Reliance Industries Ltd (RIL) and Saudi Aramco to re-evaluate their proposed $15billion deal may turn out to be a near-term negative for the RIL stock as it does away with a key trigger and also adds some element of uncertainty on value-unlocking at its energy business.
At the same time, the development could open up multiple opportunities for Reliance as it could bring different strategic partners in segments such as refining, specialty chemicals, petrochemicals or even in the new energy and materials business.
Late on Friday evening, RIL and Saudi Aramco announced they had decided to re-evaluate the proposed investment in the former's oil-to-chemical (O2C) business. In August 2019, both the companies had signed a letter of intent that would have seen the Saudi oil giant picking up a 20 per cent stake in RIL's O2C business for an enterprise value of $75 billion.
A RIL statement said the decision was taken because of the evolving nature of its business portfolio. The O2C business that was to be segregated covered refining, petrochemicals, fuel retail (the majority interest of RIL), aviation fuel and bulk wholesale marketing businesses.
Observers said the latest development should be seen in the context of RIL's ambitious plans in the new energy business (which was not outlined in 2019) and its better financial position that now reduces its dependence on financial and strategic investors to cut debt.
Reliance has now become a net debt-free company after it unlocked value in digital services, and in the organised retail and fuel retail business. The company also undertook a rights issue.
Speaking to The Telegraph, market analyst Ambareesh Baliga said the proposed transaction offered a good opportunity for RIL to encash part of its stake, particularly in refining that is being seen as a sunset industry in the decades ahead.
He said RIL may now find it difficult to get fresh investments into this vertical at a higher valuation, given the expected shift towards electric vehicles.
Baliga pointed out that though RIL has rightly decided to focus on green energy, the sector requires huge investment and returns will not accrue immediately.
"The way, the proposed deal (with Aramco) was getting delayed, it was becoming more and more clear that it may not happen. We saw crude oil prices falling to below $30 to a barrel and now boiling at over $80 per barrel. We also saw the petchem prices hardening. Yet the parties didn't find a meeting point for the transaction to materialise,'' he said.