Shaktikanta Das defends foreign-exchange build-up
RBI governor cites global shocks even if it comes at the risk of the country being added to a list of currency manipulators by the US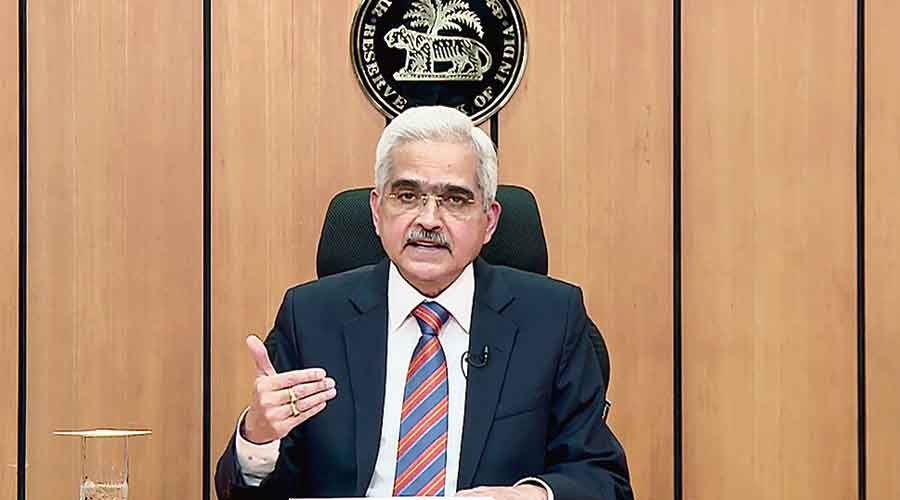 ---
|
Mumbai
|
Published 17.01.21, 12:09 AM
---
Reserve Bank of India (RBI) governor Shaktikanta Das on Saturday said emerging economies such as India have no other option but to build their foreign-exchange reserves as a cushion against global shocks even if it comes at the risk of the country being added to a list of currency manipulators by the US.
This is the first official comment from the RBI governor after the US department of treasury last month put India in its monitoring list of currency manipulating countries. Its report said that India met two of the three criteria of having a material current account surplus and engaging in persistent, one-sided intervention over the reporting period.
The US clubbed India with Vietnam, Switzerland and Singapore for ''intervening in the foreign exchange market in a sustained, asymmetric manner''.
The central bank has been building forex reserves amid strong inflows from foreign portfolio investors (FPIs) and through foreign direct investment to maintain the country's export competitiveness and protect it against any global shocks.
India's forex reserves stood at over $586 billion as on January 8.
The RBI has consistently maintained that it does not target a particular level of the rupee and that its intervention in the markets is to only curb undue volatility in the exchange rate.
Addressing the Nani Palkhivala Memorial Lecture, Das strongly defended the addition to forex reserves, saying that it has improved India's import cover to 18.4 months even as the reserves cover 236 per cent of short-term debt in terms of residual maturity.
Das pointed out that sound external sector indicators augur well to limit the impact of spillovers of possible global shocks and financial stability concerns as investors and markets are assured of the buffer against potential contagion.
He added that while abundant capital inflows have been largely driven by accommodative global liquidity conditions and India's optimistic medium-term growth outlook, domestic financial markets must remain prepared for sudden stops and reversals, if there is a global risk aversion.
''Under uncertain global economic environment, emerging market economies (EMEs) typically remain at the receiving end. In order to mitigate global spillovers, they have no recourse but to build their own forex reserve buffers, even though at the cost of being included in the list of currency manipulators or the monitoring list of the US Treasury. I feel that this aspect needs greater understanding on both sides so that EMEs can actively use policy tools to overcome the capital flow related challenges,'' he said.
Here, Das disclosed that the RBI is closely monitoring both global headwinds and tailwinds while assessing the domestic macroeconomic situation and its resilience.
The RBI governor further said that the central bank remains steadfast to take any further measures as may be required to support growth even as it would not compromise on financial stability.