RBI prohibits HDFC Bank from issuing new credit cards
The banking regulator was responding to expressions of customer outrage over service outages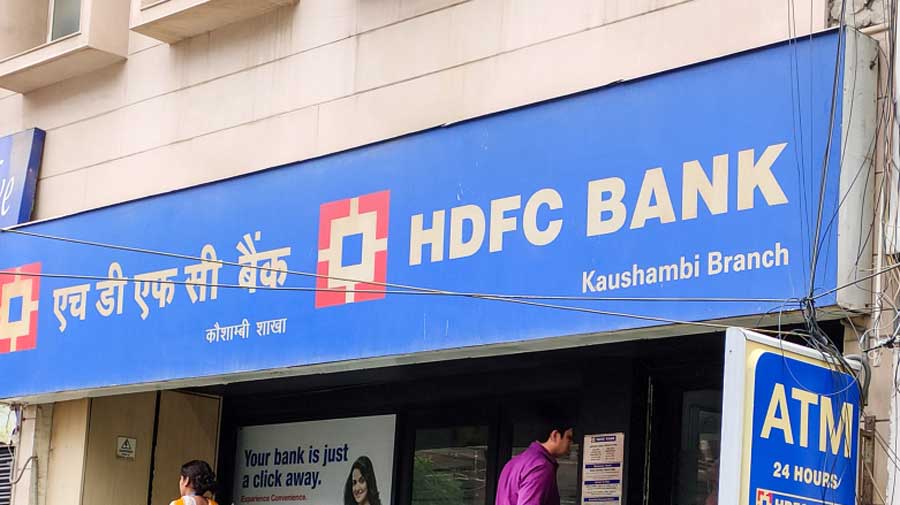 HDFC Bank is the country's largest credit card issuer with close to 1.5 crore credit card consumers — far ahead of SBI's 1.1 crore consumers and ICICI Bank's 92.7 lakh users.
Shutterstock
---
Mumbai
|
Published 04.12.20, 03:53 AM
|
---
The Reserve Bank of India on Thursday barred HDFC Bank from issuing new credit cards and launching fresh digital banking initiatives, delivering one of the harshest regulatory penalties to any banking entity for a breakdown of services during which customers were unable to transact on its platforms.
The banking regulator was responding to expressions of customer outrage over service outages — with the most recent episode occurring on November 21 when a power outage knocked out its primary data centre.
HDFC Bank is the country's largest credit card issuer with close to 1.5 crore credit card consumers — far ahead of SBI's 1.1 crore consumers and ICICI Bank's 92.7 lakh users.
The regulator also asked HDFC Bank to ensure that its board "examines the lapses and fixes accountability".
This is the first time that the RBI is cracking down on any bank for lapses in service and it does raise questions about whether the severity of the penalty is proportionate to the magnitude of the deficiency. One must wait to see whether this is a veiled warning to other banks that have also witnessed similar outages.
Until now, the RBI has always preferred to slap monetary penalties for lapses and irregularities and rarely resorted to regulatory action that has the potential to interfere with market outcomes.
The penalty is certain to strangle HDFC Bank's aspirations to grow its digital footprint at a time the pandemic has ignited a tsunami of digital transactions through cards and payment apps. There was no word on when the curbs would be lifted which would give its rivals the opportunity to overhaul the market leader in digital transactions. 
The bank tried to play down the wider implication of the penalty on market competition.
Sashidhar Jagdishan, HDFC Bank's new MD & CEO who recently took over from Aditya Puri, put out an apology to the customers.
"We take this opportunity to assure our existing customers that there is no reason to worry. You can continue to transact with the bank without any concern. We realise that as our valued customer, you expect us to maintain a very high standard of service quality and experience. And sometimes, we have not been able to live up to your expectations. For that, please accept our sincere apologies," he said.
"We will work with the experts and the regulator to fortify the identified areas for improvement. Internally, we are looking at this as an opportunity to further improve ourselves and emerge stronger," he said in a message that was put up on the bank's website.
Two outages
HDFC Bank has been penalised for two major outages: one in November 2018 and the other in December 2019.
"Unexpectedly, another incident happened on November 21 and the primary reason for the same is the power outage in our primary data centre. We are working on a war footing to strengthen this area also now," Sashidhar added. Card customers had complained that they were stuck at merchant establishments with payments not going through.
Customers of other banks have also been left out in the cold on a few occasions.
Rival State Bank of India had to face the ire of customers earlier this week because of transaction failures. The SBI had faced technical glitches in the previous month as well.
Customers of the SBI also faced difficulties with Yono app which was impacted by a system outage. Many customers had complained that the application showed an error M005. At that time, SBI had sent out a tweet to its customers requesting them to use onlineSBI or the Yonolite app for their banking needs.
The RBI has also directed HDFC Bank to temporarily stop all launches of its digital business generating activities under its programme 'Digital 2.0' and other proposed business-generating IT applications.
Under this initiative, HDFC Bank was looking to upgrade its net banking and mobile banking mediums to offer a better experience to users.
A senior banker, who did not wish to be identified, said that while the system has witnessed a rapid growth in transactions via digital channels, the lenders have only resorted to minor upgrades to their infrastructure, which clearly have been inadequate. 
However, Suresh Ganapathy of Macquarie said in a note that when a bank is growing at a rapid pace and a way faster than the system, challenges are bound to crop up.
"While the system loan growth has been at 5 per cent, HDFC Bank has grown its loan book at a level of 16-17 per cent, almost three times and this comes on the back of a 10 per cent market share. Added to that, it has a market share of 35-40 per cent in payments. While a market share in credit cards on an outstanding basis was 26 per cent, on an incremental basis, it was 31 per cent in the calendar year till date. Against this backdrop,  technology is unable to keep up with the pace of growth."
He added that today's move by the RBI would have only a limited impact on HDFC Bank's profitability vis-à-vis issuing new cards.