Reliance Industries Ltd (RIL) has taken over some of the debt liabilities of Reliance Jio Infocomm Ltd (RJIL) after gaining approval from the Ahmedabad bench of the National Company Law Tribunal (NCLT).
"We refer to the disclosure made by RJIL, a wholly owned subsidiary of the company, dated March 18, 2020, regarding approval of the scheme of arrangement among RJIL and certain classes of its creditors (the scheme) by NCLT, Ahmedabad bench, for transfer of certain identified liabilities to the company," RIL said in a filing to the stock exchanges on Wednesday.
While RIL did not disclose the amount of liabilities, it had earlier said Rs 1.08 trillion of RJIL debt will be transferred. In October last year, RIL had announced the separation of its digital business into a new step-down subsidiary, called Jio Platforms Ltd.
RIL will invest Rs 1.08 trillion in the new subsidiary through optionally convertible preference shares (OCPS).
RIL has said the move will not lead to any change in its overall gross debt which stands at Rs 2.87 lakh crore. The new subsidiary is also a key element in RIL's plan to be a zero debt firm by March 2021.
Market observers do not rule out the possibility of the company bringing in strategic investors in JPL, the parent of Reliance Jio Infocomm, in the coming months.
RIL chairman and managing director Mukesh Ambani had earlier said given the reach and scale of its digital ecosystem, it has received strong interest from potential strategic partners and that it will induct the "right partners" in the platform company, creating and unlocking meaningful value for the RIL shareholder.
However, the current selloff in the markets amid fears of a global recession could delay its plans. RIL has also announced plans to bring in Saudi Aramco in its oil-to-chemical business (O2C).
"There are concerns that Aramco's transaction to pick up a 20 per cent stake in RIL's O2C division may be in jeopardy. But with Saudi Arabia keen to increase its market share sharply, it needs to do a tie-up with large buyers such as Reliance," Nomura has said.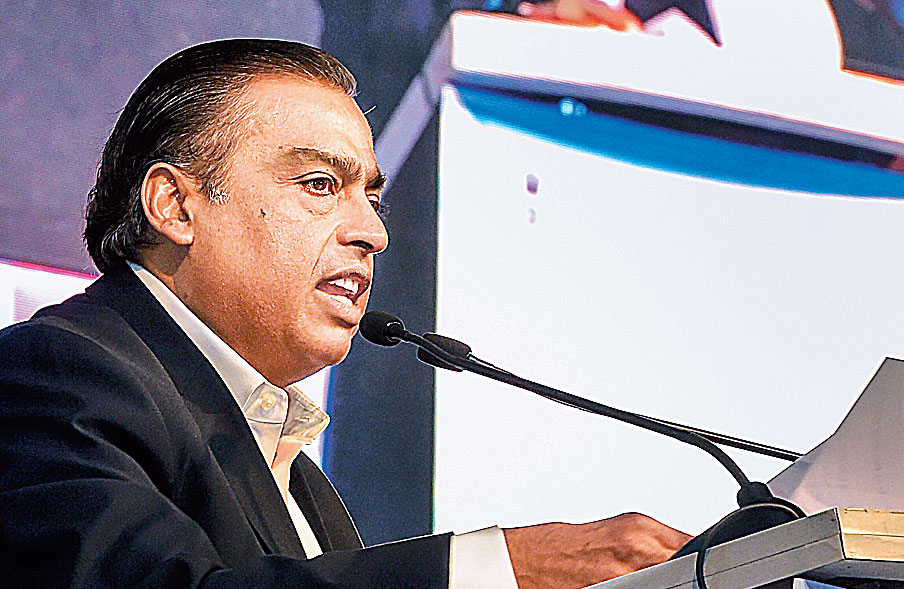 Mukesh Ambani in New Delhi. PTI
Ambanis in share buy
New Delhi: Mukesh Ambani, his wife, and three children have marginally raised their personal shareholding in RIL by acquiring some shares of another promoter group entity.
Overall, the promoter group shareholding in the oil-to-telecom conglomerate remains unchanged at 47.45 per cent, the company said in a regulatory filing.
Devarshi Commercials, a promoter group company, sold down its shareholding to the Ambani family and other promoter group firms. PTI