Reliance Industries Limited mulls leadership rejig
This is the first time that Mukesh Ambani, 64, is speaking about passing on the baton to the younger generation.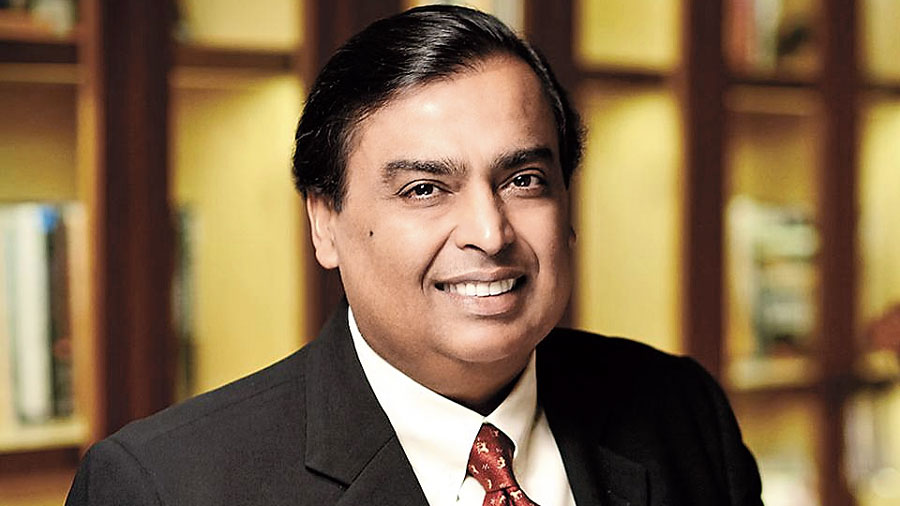 Mukesh Ambani.
File photo
---
Mumbai
|
Published 29.12.21, 01:48 AM
|
---
Mukesh D Ambani, the country's richest individual, on Tuesday mentioned the leadership transition at his
Rs 2.65 lakh crore conglomerate, in an indication that he would give more responsibilities to his three children — Akash, Isha and Anant Ambani.
This is the first time that Ambani, 64, is speaking about passing on the baton to the younger generation.
The occasion was the Reliance Family Day that is held to celebrate the birthday of its founder Dhirubhai Ambani.
Ambani made these comments as he spoke about three imperatives that Reliance must undertake to make it their way of life.
Stating that he attached "special importance" to the third initiative, Ambani said that achieving big dreams and impossible-looking goals is all about getting the right people and the right leadership.
Pointing out that Reliance is now in the process of effecting a "momentous leadership transition", he hinted that this will involve the seniors belonging to his generation making way to the next generation of young leaders.
More importantly, Ambani said that he would like this process to be accelerated. "All seniors — myself included — should now yield to the highly competent, extremely committed and incredibly promising young leadership talent at Reliance. We should guide them, enable them, encourage them and empower them …and sit back and applaud as they perform better than us,'' he told the Reliance family.
Ambani even pointed out that his children had the same enthusiasm and ability that Dhirubhai Ambani had for making a difference not only to society but also to contribute to India's growth.
"At Reliance we must build an organisational culture that outlasts its leaders... I have no doubt that Akash, Isha and Anant as the next-gen leaders will lead Reliance to even greater heights.
"I can see and feel their passion, commitment, and devotion to the cause of Reliance every day.
"I see in them the same spark and potential that my father had for making a difference to millions of lives and contributing to India's growth. Let us all wish them good luck in their mission to make Reliance ever more successful with even more transformative initiatives and achieving even greater accolades for our Reliance,'' Ambani said.