Prahlad Kakkar: The man behind the ads
Adman Prahlad Kakkar talks about his love for ads and the ocean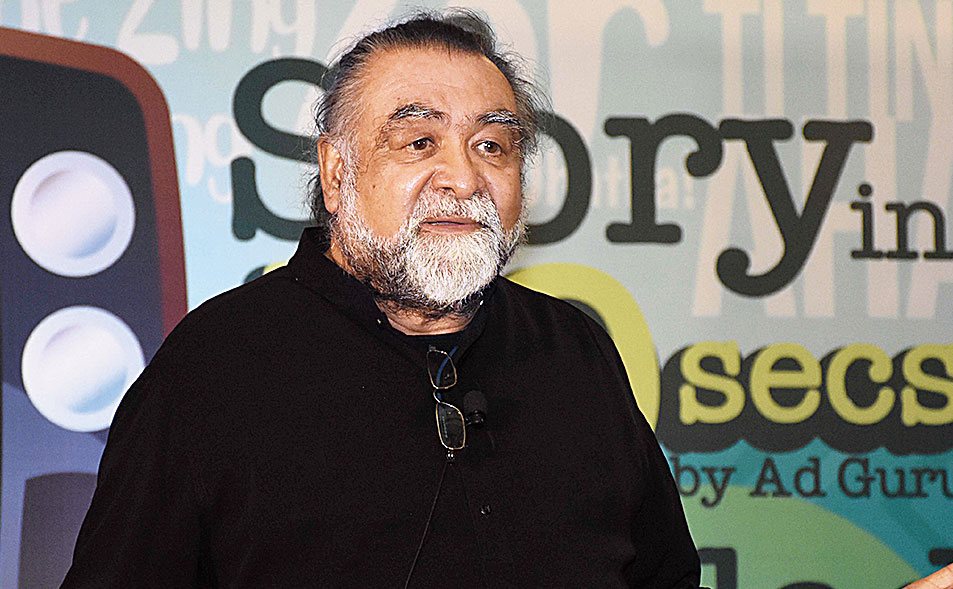 Besides being an adman Prahlad Kakkar is also an avid diver and a keen conservationist
Picture: Shuvo Roychaudhury
---
Published 01.08.19, 01:16 PM
|
---
What is the toughest campaign that you have worked on till now?
I think the toughest was Pepsi because our relationship with the client was so tight that we had the privilege of taking ownership of the brand. We didn't have to follow briefs and anything that we didn't believe in. Even when Pepsi lost the World Cup bet to Coke in 1996, we came up with the brilliant campaign saying "Nothing official about it" and that just wiped everyone out! There was an organic humour in it.
What are some of your career highs and lows?
Every day was a new high and there were no lows. I am still a student of the craft and when you're still learning, you don't really worry about what your favourite (ad) film is. But some of the Pepsi commercials were definitely some of my highlights. We also did a film for Kawasaki Bajaj in the desert and that was one of my high points because we suffered so much in the heat — you could fry an egg in your hand! A lot of Britannia and Nestle films were also breakthrough. The Pepsi commercial with Aamir Khan, Mahima Chaudhry and Aishwarya Rai was also great because Aishwarya went on to become so famous and we all laid claim on her because we discovered her!
How has the ad world changed since you first started and how do you keep up with it?
One thing I'd say is that kids today are doing better work than what we did. The only thing that frazzles me is that the industry has suddenly become corrupt. Everybody is on a kickback; from agencies and art directors to the clients. And the kickbacks are very subtle and shaded. So the quality of work, in terms of supervision and expectations... it's become so competitive now that I suppose the new ones have to pay money because they don't have any body of work to show for it.
And how has social media affected the profession?
Social media has affected the profession very badly because clients now think that because you're making films for social media and that is cheaper than advertising, the budgets have come down. Every day you're shooting a film, you're shooting on digital and it's still a very expensive camera; you still have models and sets. So why do you say that it is going to be cheaper? It can be 10 per cent cheaper but not half.
How did diving happen?
It was accidental as I had gone to Mauritius in 1990 and a friend of ours was diving and I went along to take a look. I didn't realise that I would be seasick as a dog so the boatman asked me to just jump into water to feel better. I was so desperate that I put on a mask and jumped in and I could see everything under water so clearly! I was fascinated and next morning, I convinced the instructor to take me for a first-timer dive. I panicked and hyperventilated but I found a book under water on the reef and brought it back and it turned out to be a Quran! Exactly four years later, I set up Lacadives — the first diving school in India — on an island with a 100 per cent population of Muslims in Lakshadweep. So it was kind of prophetic.
We kept going back to Mauritius every year to certify properly and we all became dive-masters. There was nobody back then doing this and everyone told me I was mad. I said we were not doing it for the money but were doing it because we loved it. Eventually we did break even, even though it took us about 10 years of losses. The ocean actually changed all our lives in a very quantum kind of way. 
Tell us about Reefwatch and what marked your foray into conservation...
Reefwatch was a natural extension of Lacadives because during diving we all saw what we wanted to save and raise awareness about. When you're saving a forest, you need to take kids to a forest and show them what they're going to save. Until you go down into the sea and see the coral forests, you don't realise how beautiful it is and what we wanted to save. So we set up the non-profit, specifically for children to be taken into the sea and be explained about under-water conservation. Reefwatch was set up two years after Lacadives and it has really grown since then.
What do you have to tell the next generation of ad makers?
It's all about storytelling and putting together pretty pictures with good music. It's not even about how good you are at the language of cinema. Cinema is not just a craft, it's a language. You have to learn it just how you learn any other language. Say, if you're in love with a Greek woman and want to woo her by writing poetry, then you will take the trouble of learning the language well enough to write that poem na and then only will she acknowledge your effort. Otherwise if you keep raising your hands and doing pantomime for her, she'll laugh at you. So ad films also need you to know the craft to the extent of writing poetry with it — it has to be poetry! If you can tell a story in a room full of people without any of them looking at their phones, you are a good storyteller and that is what you have to translate onto film.
What's your favourite ad on TV right now?
I love the Google ad by Amit Sharma — it's stunning and like a feature film! Look at the control that he has of the craft and the way he has told that story, which is why his film Badhaai Ho did so well! He is a natural storyteller!
How do you know that a person loves what he does for a living? Not when he wins awards and accolades but when he overshoots his time-limit by an hour while talking about his craft, which is what pioneering ad-man Prahlad Kakkar did to leave a packed hall pleasantly surprised at A Story in 30 Seconds, presented by the Calcutta chapter of FICCI FLO, at Taj Bengal on July 20.
"This is probably the first time that a speaker spoke for an extra one hour na?" laughed Kakkar when I caught up with him later. While it is this veering off of the stiff "time is money" notion that is the best manifestation of the man's love for the craft of advertising, the fact that he held the attention of his audience is the best testimony of his work that has stood the test of time. But beyond the reel, Kakkar is also an avid diver and a keen conservationist of the oceans who has firmly put his money where his mouth is by establishing India's first diving school back in 1994 and setting up a non-profit for the same. Here's decoding ads, ad-making and his love for the deep:
How did the shift from economics to advertising happen?
I did my college in Pune where I studied economics and military science. After sitting for a campus interview for a multinational bank, I cleared it and was waiting for my final results. I was horrible with numbers because I was dyslexic. Before that, I went to one of their branch offices to just take a look and they were balancing the ledger of the day manually and man, it looked like one desperately bad job! I ran for my life and never returned!
My parents were in Delhi and I walked into an office and it seemed like a cool place. I went to the reception and tried my best getting an interview. At the interview, I was shown an ad for shirts that had scandalised everybody and I loved it, though the man interviewing me didn't and I told him he didn't like it because he was on the wrong side of 35 whereas the shirt was meant for young men like me! (Laughs) I didn't think I'd get the job but I did and the rest is history! I ran away from Delhi because I hated it and came to Mumbai and one of the first things I did was train with Shyam Benegal.
What's that one product whose campaign you would have done differently?
Every single one. The true test of a good advertising professional is that if you see a competitor's film that is very well done, you wish that you had done it and every film that you had done, you'd love to do it better again. That is a fact of life. You're as good as your last work always!